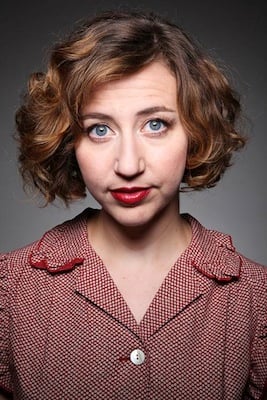 Kristen Schaal has made a career out of acting unhinged. The 35-year-old comedian and actress is
perhaps best known for her role as deranged fan Mel on the HBO show
Flight of the Conchords. Or as deranged NBC page Hazel Wassername on
30 Rock. Or as the voice of deranged, bunny-hat-sporting nine-year-old Louise Belcher on
Fox's animated hit
Bob's Burgers. Sensing a theme? Schaal's combination of innocent-seeming blue eyes, distinctive
lisp, and penchant for off-the-rails absurdist humor (which has garnered more than
one comparison to the late Andy Kaufman) have earned her gigs on an astounding list
of well-regarded TV comedies—
The Daily Show, The Simpsons, Modern Family, Aqua Teen Hunger Force, Archer—not to mention numerous movie appearances. She also cowrote
The Sexy Book of Sex with her husband, former staff writer Daily Show Rich Blomquist, and hosts the weekly
Hot Tub variety show with friend and comedian Kurt Braunohler.
Amid all that, she's somehow found time to organize the MirmanHodgmanSchaal Sandwich-to-Go
Tour with buddies
John Hodgman and
Eugene Mirman, who voices Gene, the brother of her
Bob's Burgers character. The tour stops by George Washington University's Lisner Auditorium tonight,
one of just six engagements around the US. We caught up with Schaal by phone to talk
about the tour, her headline-making standup special, what's coming up on the current
season of
Bob's Burgers, and why she can no longer eat Starbursts.
What can you tell me about the MirmanHodgmanSchaal Sandwich-to-Go Tour?
Mainly, there's the three of us, and we're each gonna do about 20 minutes to a half
hour of material. I'll probably do new stuff as much as I can, and then maybe some
old standby stuff I know people really like.
You just came off the first ever Funny or Die Oddball Comedy & Curiosity Festival.
How did it go?

We just finished, and it was pretty amazing. It was 15 different cities over the course
of five weekends, and it was great. I was nervous because the audiences were so enormous,
and also there were so many acts that I thought it would be hard to hold everybody's
attention, but it was actually really nice. It didn't even matter whether it was 500
people or 22,000 people—they were all there to enjoy a concert. It was crazy—they
were all just focused and watching. It was very exciting.
That tour had so many big comedy names all in one
place—Dave Chappelle, Demetri Martin,
Hannibal
Buress.
Do you feel like comedy is a small world?

I do. If you look at all the careers in the world, the people who actually do standup
as their bread and butter I could count on almost all my digits. I was thinking about
that the other day—I have some friends in the UK that do standup and I won't see them
for a couple years, but there's a bond there, this bond between comedians because
there are so few of you doing it.
You've been involved in so many projects this year, between movies and TV shows and
touring. Are you still auditioning for everything, or do people approach you?

There are a couple things they've asked me if I'd like to do them, and then some things
I've auditioned for. There are lots of things I'd like to do that I can't even audition
for—they're, like, closed to me—but some things they ask if I'd like to do them, and
that's really exciting. And usually those are the most fun projects, because they've
had you in mind and it's just comfortable. You don't have to prove it to them that
they made a good decision. Like
Cloudy With a Chance of Meatballs 2 [Schaal voices the character of Barb], which people should all go see!
Of all your projects, does one stand out as the biggest thrill for you?
Oh, they're all big thrills!
30 Rock was exciting because that was a show I loved before doing it, and being on the set
of
30 Rock was like . . . it's weird to feel like you hopped inside your television.
Is your

30 Rock

role the one you get recognized for the most?
Sometimes I'll get that.
Flight of the Conchords mostly, though—still, even though it's been off the air for almost five years.
I actually came across a Starburst commercial you were in a few years ago.
I remember that Starburst commercial because we shot it in the jungle in Mexico, and
I remember I didn't put sunscreen on my chest and I had a burn there forever. Oh,
and they were like, "You should spit out the Starburst," and I was like, "That's okay,"
and I ate all of them all day and got super sick.
How many do you think you ate?
I don't know, maybe like 50. I ate 50 Starbursts, and then we broke for lunch and
sat down, and it was ceviche, which kinda looks like Starbursts, so I looked at it
and was like, "Excuse me." It was a weird one, but it was fun.
Did you have to stop eating Starbursts for a while after that?
I still can't! But there's all these moments too where I'm . . . like in
Conchords they put me on a bike and lifted it up over the street, or in
Wilfred I was holding a dog and having a talking dog next to me, and it never fails to amaze
me. I can't believe I'm in this business.
Talk to me about your Comedy Central standup special, which apparently not everyone
understood.

That was . . . I wanted to do a live bomb on stage. I just wanted to show a meltdown
and sort of have it go off the rails into a surreal place. That was my dream, and
that's kind of what I was able to do, so that's what it is. And I think people were
confused because I also had to promote it, so people thought that . . . well, I was
just too convincing, I guess, all around. I wanted to take the standup special that
everybody's used to and just turn it on its head and have people sit and home and
be watching it and have the thing happen that's not usual, and then have them have
a moment of wondering whether what they're watching is real or not. And I thought
that would only last two minutes, because I think it's pretty clear as it goes on
that it's planned, but some people didn't [catch on]. I guess in general it's just
a weird thing to try to execute anyway, so whatever.
Were you surprised at those reactions?
Not totally. I mean, I guess, yeah, I guess I was surprised. I thought it would work
for a little bit, but not that people would really think the whole show was a bomb.
. . . But also I think it's cool people were talking about it and wondering about
it, and however they wanted to respond to it at least they're responding, so [puts
on a goofy voice] that's what an
artist says, I guess.
Are there things you'd do differently if you were going to do it again?
Yeah, definitely. I would have liked to have left the stage, and I had lots of ideas,
like I wanted to run across the bridge at the end and blow up the bridge. That was
a draft that was I finally like, "What
can we do?" I'd like to go in with a bigger budget, for sure. That's the first chance
you get to do something weird like that, and then you look at it after. So of course
there are things I'd like to tinker with, but it is what it is. You only get one shot.
Since the fourth season of

Bob's Burgers

just started, can you tell me anything about what's coming up?
Oh, yeah, um [pauses] . . . we record the scripts and then it takes a year before
they're on TV so I have to think back a year—which is really nice because then I don't
remember what happens and I get so excited watching. I know Dan Mintz [who voices
the character of Tina] actually wrote a script about those pony expos, the My Little
Pony expos . . .
You mean
BronyCon?
Yeah! That's an episode coming up. And I think there's an episode where Linda gets
her old high school band back for their high school reunion.
So a lot of Linda breaking into song.
Yeah, they like the singing. They break up the season so weird too that it's hard
to remember what goes with what season. But it's gonna be great!
When you first got asked to work on the show, did you have any idea it would turn
into the hit it is now?

I didn't. It started as an experiment: They would have us record a scene together—we
were all in New York at the time—and then afterward, we'd be like, "That was weird."
I never even met Lorne; we talked over the phone in San Francisco, and my friend Holly
Schlesinger put the cast together. So we'd record a scene and then go and have a beer,
and six months would go by and they'd have us back to do another scene. That went
on for two years. I never even told my agents about it or anything, because I didn't
know what it was, really, and then all of a sudden it was a show, and we were like,
"Okay, cool!"
The character of Louise was written for you, right?
I think so. I think they use a lot of me in it, and the cool thing about TV is that
characters get a long time to find themselves, as opposed to a movie. So I feel like
with Louise, little pieces of her are being discovered that I'm really pleased with,
and I think there's gonna be more along the way. She started off as really diabolical
in the beginning, and I think we're finding some sweet little girlness to her, which
I really love because I think it makes her more dynamic.
Louise is always wearing a bunny hat; do you ever get them from fans?
I've gotten a couple bunny hats. Someone crocheted me a bunny hat! I've gotten some
great bunny hats, for sure.
Speaking of animals, you grew up on a cattle farm. Any life advice you learned from
the experience that you can pass on?

If you have a cow and they get out of the fence, they're not gonna know how to get
back in. They are STUPID.
The MirmanHodgmanSchaal Sandwich-to-Go Tour is at Lisner Auditorium Wednesday, October
16, at 8 PM. Tickets ($30) are available online.