ABC's Scandal has returned, which means we're back to getting our weekly work-fashion fix from miss Olivia Pope. The fictional fixer (played by real-life style icon Kerry Washington), who emulates crisis management attorney Judy Smith, caught our attention in seasons past with her sleek, high-fashion wardrobe that serves as proof that DC's working women don't have to dress dull to exude power and professionalism alongside striking femininity. We swoon every Thursday over Olivia's Italian-label-laden ensembles (composed of Armani, Valentino, and Prada, to name a few)—but know her designer duds aren't exactly realistic additions to our closets. That's where Shop Around comes in. Each week, we'll focus on one trend we feel Olivia has mastered, and give you three chic yet ultra-affordable ways to get the look. Here's the first, inspired by Olivia's outfit in last night's episode: the quintessential collarless blazer paired with a long strand necklace.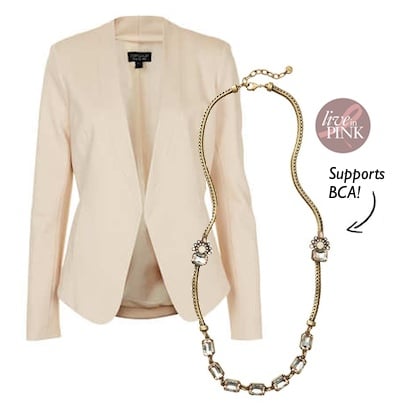 This flattering, feminine blazer made the list for its gentle pastel hue–an easy yet transformative upgrade to a collection of dark power suits (and something Olivia wears on the regular). Collarless panel jacket, $99 at Topshop; Live in Pink necklace, $59.50 at Loft.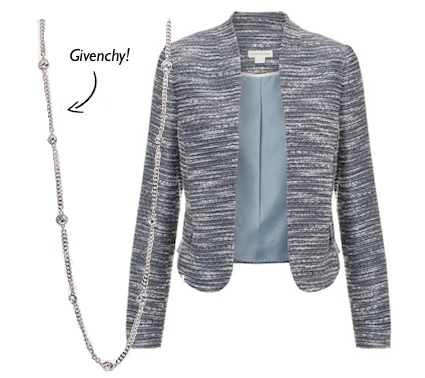 The gemstones on this designer necklace bring out the slight fleck of sparkle in its boucle jacket pair, offering a hint of girlishness without going overboard. Lila Lux tweed jacket, $122 at Monsoon; Givenchy long station necklace, $65 at Nordstrom.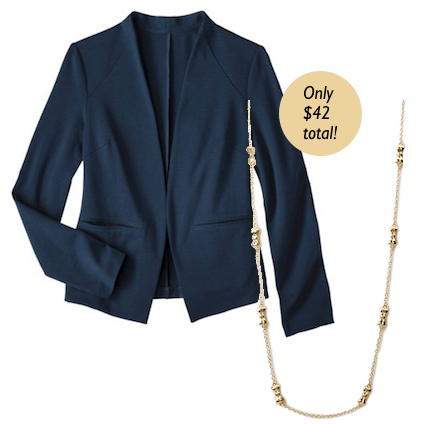 Wallet-friendly and available in black, red, graphite, and navy, this Mossimo blazer is about to make its way to our closet–four times. Collarless ponte blazer, $34.50 at Target; Classic bow necklace, $6.80 at Forever21.