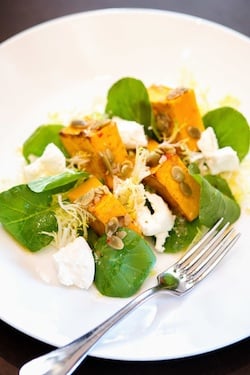 As a food writer, I get the chance to sample a lot of salads. It's always good to have vinegar-dressed greens on the table when you're tasting a lot of different—and often heavy—dishes. At a recent meal at J&G Steakhouse, a friend suggested we share this butternut squash starter as a healthy way to begin a meal of many meats. To our surprise, it was our favorite item that evening—with bright acidity from two vinaigrettes bringing out the sweet earthiness of the squash, measured dollops of goat cheese adding a touch of richness, pumpkin seeds lending crunch, and frisée and watercress offsetting the heft of the orange vegetable.
The best news: As the recipe below reveals, the uniquely delicious flavors come from ingenious ingredient combinations rather than time-consuming or challenging techniques.
Watch as it steals the show at your next fall dinner party.
Roasted Butternut Squash and Goat Cheese Salad, Pumpkin Seed Vinaigrette
Serves 4
For the squash:
1 small butternut squash
Extra-virgin olive oil
Kosher salt
Black pepper
1 small dried red chili, ground
1½ teaspoons coriander seed, crushed

For the pumpkin-seed vinaigrette:
¼ cup butter
1⁄8 cup pumpkin seeds
1 teaspoon salt
1 tablespoon shallot, minced
1⁄8 teaspoon red Thai chili, minced
1 tablespoon fresh lemon juice
2 tablespoons sherry vinegar
For the lemon vinaigrette:
3 tablespoons fresh lemon juice
3 tablespoons extra-virgin olive oil
1⁄8 teaspoon salt
1⁄8 teaspoon black pepper, freshly ground
For the salad:
Roasted squash
Lemon vinaigrette
1 bunch watercress, washed and stems trimmed
2 heads yellow frisée, washed, trimmed, and cut into 1-inch pieces
Pumpkin-seed vinaigrette
8 tablespoons fresh goat cheese, crumbled
4 basil leaves, torn in small pieces
Fleur de sel to taste
Roast the squash: Preheat oven to 375 degrees. Peel squash, then cut in half lengthwise and remove seeds. Cutting lengthwise, divide into quarters. Rub generously with olive oil and place in a roasting pan. Season generously with salt, black pepper, coriander, and ground chili. Roast for at least 30 minutes, until soft and golden brown.
Make the pumpkin-seed vinaigrette: While the squash is roasting, heat butter in a saucepan, whisking constantly to prevent the milk solids from sticking to the bottom of the pan. Add the pumpkin seeds and salt and stir constantly until the seeds are golden and puffed. Add the shallot and Thai chili and cook for one minute, then add the lemon juice and sherry vinegar. Keep warm.
Make the lemon vinaigrette: Combine all ingredients in a squirt bottle and shake well. Give dressing another generous shake before each use.
Prepare the salad: Toss the watercress and frisée lightly in the lemon vinaigrette and mound greens onto four cold plates. Warm the squash in the oven, cut each quarter into four pieces, arrange on top of the salad, and top with crumbled goat cheese. Mix the pumpkin-seed vinaigrette and spoon over the squash. Finish with torn basil and fleur de sel to taste.
See also: