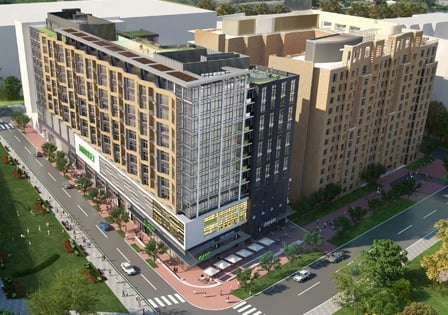 Whole Foods will anchor a forthcoming mixed-used development in Southeast DC, the developer behind the project told Navy Yard residents at a meeting last night. The announcement satisfies years of rumors that the upmarket grocer has been eyeing the burgeoning neighborhood.
Brad Fennell, the senior vice president of W.C. Smith, which is building the complex at 800 New Jersey Avenue, Southeast, told residents that a separate announcement from Whole Foods will follow in November, but the two companies have signed a lease agreement for the 35,000 square feet of ground-floor retail that will accompany 336 apartments spread across eight floors
The store is still a long way off; construction on the site isn't slated to begin until the second quarter of 2014, as W.C. Smith completes a neighboring development at 880 New Jersey. David Garber, a member of Navy Yard's Advisory Neighborhood Commission, says the developer plans to move its construction crews down the block, aiming for a 2017 opening of the Whole Foods and new apartments.
Navy Yard—or Capitol Riverfront, as development firms like to call it—has been without a full-service grocery store since new condominium and apartment buildings started shooting up there several years ago. The nearest supermarket is a Safeway at Fourth and M streets, Southwest, about a mile away. In 2011, W.C. Smith executive Chris Smith told the Washington Post a Whole Foods at 800 New Jersey could attract more shops and restaurants to Navy Yard, just as the Whole Foods on P Street, Northwest, near Logan Circle set the pace for the redevelopment of 14th Street when it opened in 2001.