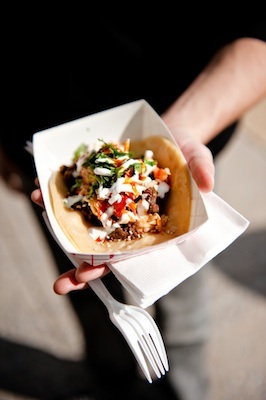 One of Washington's first food trucks continues its expansion, announcing a second brick-and-mortar location in the Twelve12 complex at Yards Park. The first permanent spot for TaKorean opened last year inside Union Market. The Capitol Riverfront space is still in the construction phase, with an opening projected for mid-summer 2014.
The Navy Yard location will be native Washingtonian Mike Lenard's biggest yet. TaKorean fans can expect a similar lineup of fusion tacos, including corn tortillas stuffed with bulgogi beef, sweet-spicy chicken, or hoisin tofu and topped with kimchi or cabbage slaw. New menu items could include rice bowls and pork roasted with Korean chili paste. A liquor license is also in the works for beer and possibly small bottles of soju.
TaKorean is one of many new restaurants planned for the ever-expanding Navy Yard development, including Osteria Morini, Nicoletta Pizzeria, a branch of Sweetgreen, and the newly opened Bluejacket Brewery.