The District is giving the much-coveted rights to rebuild Walter Reed Army Medical Center as a mixed-use development to a joint venture between Hines and Urban Atlantic, says Victor Hoskins, the deputy mayor for planning and urban development.
Three proposals competed for the 67-acre site, but Hoskins tells Washingtonian the one led by Hines won out because it "offered the best economic deal for the city," though he will not specify just what exactly those economic benefits are. (He attributes this to the fact that the city still needs to complete an agreement with the Army to get the keys to Walter Reed.)
But there is already one casualty of today's announcement besides a couple of losing development firms: Wegmans. An outlet of the Rochester, New York-based supermarket chain was an anchor of a proposal submitted by Roadside Development, but now Wegman's is unsure if it still wants to open its first DC store at Walter Reed.
"We are disappointed in the decision, because we have a good partnership with Roadside and thought they developed a great plan," Jo Natale, the supermarket's director of media relations, says in an e-mailed statement.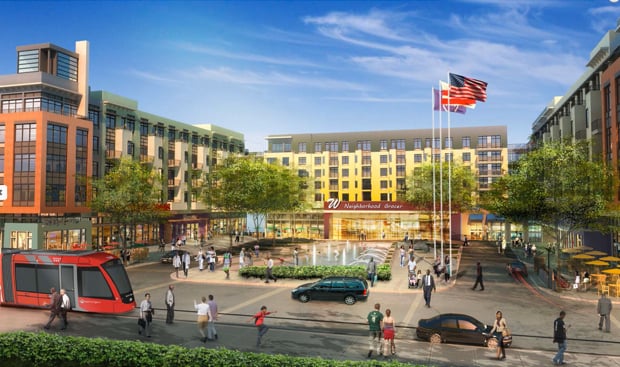 Renderings from the Hines-Urban Atlantic proposal suggest plenty of amenities besides a certain brand of supermarket, though. Two retail areas are planned, one anchored by a big-box store and the other by a smaller grocery store. There are also plans for a research and conference center that has drawn interest from professors at George Washington University and the Massachuesetts Institute of Technology, artists' studios, and small neighborhood parks.
The current plans do not specify how many residential units—split between apartments and townhouses converted from the old hospital—Hines and Urban Atlantic plan to build out of the old hospital, but Hoskins says there will be 318 affordable units, 75 of which will be set aside for senior citizens.
Hines, based in Houston, is probably best known in the District as the lead developer on the massive CityCenterDC project, the first parts of which are set to open next month. Bethesda-based Urban Atlantic built the Rhode Island Row development in Northeast. "Of all three teams that came in, they really were compatible with the urban reuse plan," Hoskins says.
The next step is for the city to formalize its agreement with Hines and Urban Atlantic, which will then need the approval of the Department of Housing and Urban Development, which should arrive in early 2014, clearing the way for the District to take over the site from the Army. The Walter Reed campus is spread across about 100 acres. The State Department will take over the 43-acre portion that is not going to DC.