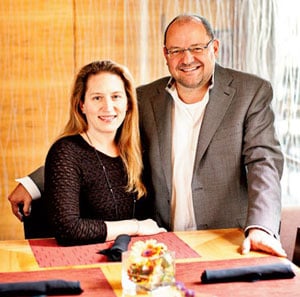 For restaurateurs Jeff and Barbara Black, it all started 18 years ago with Addie's. The husband-and-wife team—both fresh from the kitchens of some of Washington's culinary leaders, including Bob Kinkead and caterer Susan Gage—converted a Rockville home into the only chef-driven eatery in the neighborhood. Now after expanding their restaurant group to include seven concepts (plus Takoma Park's Republic, slated for December), the couple are readying to shutter their inaugural venture on November 27 unless a new lease agreement can be made with the landlord.
"My lawyer is still working with the landlord's lawyer, but it didn't seem fair to the staff to leave them in limbo," says Jeff. "We need to get all the cards on the table and make this [closure] healthier than what I've seen done in the past."
Nearly two decades of wear and tear on the old building have taken their toll, and Jeff estimates that a million-dollar renovation is required. The Black Restaurant Group is willing to invest, but not unless the landlord significantly extends the current lease. No agreement has been reached thus far, and negotiations are at an impasse. As of now, the Blacks plan to keep Addie's open until the day before Thanksgiving, featuring "greatest hits" on the menu including pan-seared halibut with sausage and mussels, scallops over cauliflower-olive purée, and any other dishes longtime patrons suggest. After regular business ends, catered events will be hosted in the space until the lease terminates in December.
Fitting for the yellow-hued home, there's a sunny side to the story: The Blacks are actively looking for spaces in which to reopen their original concept. The remaining staffers have all been promised jobs elsewhere within the restaurant group, including chef Rick Cook, whom you may see in a front-of-the-house role.
"We'd like something old that has some personality to it. I have to respect my grandmother's name," says Jeff, who titled his first eatery after the late Addie. "We'll do it bigger and better."
In the meantime, there's always the one dish that's a constant on every Jeff Black menu: Addie's mussels.