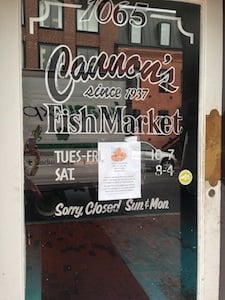 The mystery started on August 11 when a sign went up in the window of Cannon's Fish Market in Georgetown. It said the store, which had operated there for almost 50 years, would be closed "for the next few months" for "medical reasons." There was no more information, until this Wednesday, when owner Bobby Moore contacted Washingtonian to announce he's decided to close the business for good and lease the space to his 31st Street next-door neighbor, Il Canale Italian restaurant.
Moore, 47, says the "medical reasons" are simple wear and tear on his body. "I've been working there since I was 12, working on concrete, wet floors, lifting fish every day of my life—plus football, motocross, everything," he says. "My back is killing me. I had surgery a few years ago for herniated disks, two knee surgeries, [and] I had my right hip replaced seven years ago. It's been giving me problems again, and my other hip is shot." He says he sat down to discuss it with his family recently, and they decided to "close [the restaurant] altogether."
Closing Cannon's was a tough decision, Moore says, because he enjoys the business and the clientele. "My dad bought that building in 1966. We've been in the seafood business since 1937." For now he plans devote his time to "raising two beautiful kids, who are eight and nine years old," and to losing weight and getting in shape. "I've just been having too much pain," he says.
It could be six months before the Il Canale expansion is approved and started, Moore says. At the moment they are in the 30-day architectural approval stage. He's careful to point out he is simply leasing the building. "I don't want to sell it," he says, "because I don't know what I'll want to do down the road." His current business project is to try to collect "on accounts that owe me and are not paying," in the neighborhood of $35,000.
Cannon's closure is a loss for Georgetown and for Washington, where there are fewer and fewer free-standing fish markets. We asked Moore where he would recommend his patrons shop for fish. He named Wagshal's Market in Spring Valley, but he also had another idea, for Georgetown butcher Jamie Stachowski. "Maybe Jamie can go into seafood, too."