Washington Coliseum today is a near ruin, its only job as a daytime parking lot. But those chipped walls, cracked seats, and crumbling risers recall a time when it was virtually the center of the universe, at least for Beatles fans—in 1964, the Fab Four performed their first US concert there. For decades after its 1941 opening as Uline Arena, the venue north of Union Station was DC's cultural hub. The '68 riots scared away suburban patrons and brought that era to a close. But the current owner, developer Doug Jemal, plans a rebirth. A $40-million renovation is to begin in 2014, transforming the space—in the neighborhood now known as NoMa—into a retail and office complex. Still to be decided: the name. Hey, why not Beatles Place?
Yeah Yeah Yeah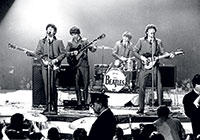 When the Beatles performed at the Coliseum on February 11, 1964, before a capacity crowd of 8,000, their 12-song set began with "Roll Over Beethoven." A ticket cost $4. The next year, Bob Dylan's concert there was the setting of the photograph that now graces the cover of his Greatest Hits.
Sports (and laughs)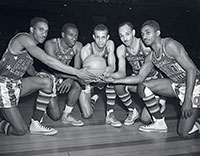 Before the Capital Centre, the Patriot Center, or the Verizon Center, Washington Coliseum was the area's premier indoor sports venue. Among its regular visitors were the playful Harlem Globetrotters (shown here in 1951).
Rallying 'Round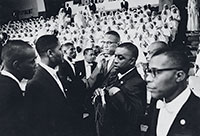 In addition to sports and entertainment, the Coliseum hosted political gatherings, such as an inaugural ball for President Eisenhower and various rallies. Civil-rights activist Malcolm X (center, in glasses) spoke there more than once, including this August 1963 appearance with the Fruit of Islam.
This article appears in the November 2013 issue of Washingtonian.