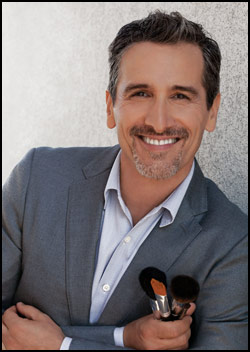 Celebrity makeup artist Vincent Longo has worked on famous faces including Heidi Klum, Naomi Campbell, and Linda Evangelista, and has worked backstage at Giorgio Armani. You can also find his line of black-and-green-packaged pearly eyeshadows, feminine blushes, and more lining the shelves of department stores. Now you have a chance to meet the high-fashion guru, who's in town tonight to host the Beauty Blush Hour cocktail party at Nordstrom Tysons Corner. Stop by between 6 and 8 to meet the makeup pro, and read on for a peek at the five products he makes sure are always in his makeup bag.
1) Tocca Kyoto Candela
"I particularly like the Tocca Kyoto Candela, as it reminds me of my favorite destination in Japan and all the meetings I had attended with my product developers when creating my water canvas crème-to-powder foundation." $38 at Nordstrom.
2) Sally Hansen Salon Airbrush Legs
"When working on models, and especially celebrities, one of the most unpredictable thing is what they will be wearing and whether their legs will be showing on camera. Sally Hansen's Airbrush Legs works magic on legs and feet, ensuring my clientele look good from head to toe." $12.99 at Ulta.
3) La Mer Crème de la Mer
"As a makeup artist I've had the luxury of trying almost all skin moisturizers on the market and using them with and without makeup to see which one performs best. My greatest satisfaction came with the launch of Crème de la Mer, as it was something far different and more effective than most other moisturizers." $155 at Bloomingdale's.
4) Vincent Longo Water Canvas Base/Primer
"My secret weapon and celebrity favorite is the Water Canvas Base/Primer. It's a non-greasy, transparent gel that lengthens makeup wear while hydrating, brightening, and smoothing out inflammations, enlarged pores, and lines for a morning-to-evening finish." $44 at Nordstrom.
5) Reviva Labs Collagen Fibre Eye Pads
"These are always in my makeup kit to help prep celebrities' skin if they are overrun or have been traveling. I use the pads on my celebrity clientele to rehydrate and revive their skin while they are getting their hair done. The pads are infused with Nyxinol and are great for relaxing under-eye tissue to smooth wrinkles and dark circles in minutes. You get better makeup results." $22.99 at Vitacost.
You Might Also Like: