There was no way Hera McLeod was leaving her house on day two of the 2010 "snowmageddon" blizzard. Two-foot-high mounds of white powder entombed the cars on her street in DC's Glover Park. Trees had frosted over, twisted, and collapsed. So McLeod plopped down on her couch, snapped open her laptop, and responded to an e-mail from a guy who'd found her on Match.com.
After three months on the dating site and a string of awful dates—the Capitol Hill staffer too awkward to carry a conversation, the artist who couldn't keep his hands to himself, the guy who got sloppy-drunk at lunch—McLeod wasn't terribly optimistic about finding someone through Match.com.
But right away, Joaquin Rams seemed different. He described himself as a 26-year-old R&B singer backed by a major record label, McLeod says, and sent her a picture of himself standing in front of a wall of framed records.
McLeod wasn't sure why an aspiring musician needed Match to meet women. "Do you really run into nobody honest and normal in your everyday life?" she asked Rams in her e-mail.
"Yes sweetie it is hard as hell," he replied. Plus, his publicist had met her husband on Match, so, he said, "this was more her idea."
"I have to be honest I'm new at this," Rams continued, "so are you interested in getting to know me and if yes =) do I give you my number? Lol . . ."
"Ha- yeah," McLeod wrote. "Call me if you want to talk."
On the phone that evening, the two shared their online-dating horror stories. McLeod thought Rams seemed charming and easy to talk to, and she agreed to go to lunch. After so many disappointing dates with the usual BlackBerry-toting Washington types, it was refreshing to meet someone as interesting as Joaquin Rams.
If only he were real.
• • •
McLeod had it all, almost. After graduating from George Washington University in 2003, she joined Teach for America, spent two years working at a grade school in Los Angeles, then got cast with her dad in the 2005 season of CBS's The Amazing Race. (They placed seventh out of 11 teams.) Back in Washington, McLeod landed a federal-security clearance and a six-figure job as an intelligence analyst for the government-contracting giant Booz Allen Hamilton. What she didn't have was a family of her own.
At age 29, McLeod wanted a marriage like her parents'. Gus and Mary McLeod had been together 35 years. They owned a medical-supply company in Gaithersburg and had been successful enough to send Hera McLeod and her siblings to private high schools; McLeod attended St. George's, an Episcopal boarding school in Rhode Island. As she approached her thirties, she worried she was running out of time to start a family.
McLeod and Rams arranged to meet at Tysons Galleria for their first date. When McLeod spotted him, her stomach clenched. Rams appeared a decade older in person than he did in his photographs. He wore baggy sweatpants and an oversize T-shirt, his black hair hitting his chest.
But over lunch at Lebanese Taverna, Rams put McLeod at ease. He talked up his technology company and how he saw it as insurance, a way to pay his bills if his music career ever fell through. He also told her how much he loved being a dad, saying he had custody of his ten-year-old son. McLeod was impressed.
They saw each other again. And again. Rams made all the right moves. He sent McLeod text messages in the middle of the day to let her know he was thinking about her. He respected her wish not to sleep together early in their relationship, and he didn't mind when she vented about a bad day at the office. McLeod fell hard for him.
So hard that in the summer of 2011—17 months after McLeod and Rams met—she gave birth to their son, Prince McLeod Rams. He was nine pounds, one ounce, with big brown eyes. They named him for his high-pitched cry, which reminded McLeod of the singer Prince.
The couple wasn't married, but Rams had proposed and they planned to make their union official. McLeod had her family. Or so she thought.
When Prince was two weeks old, Rams asked McLeod if he could take her 19-year-old sister to a Lil Wayne concert with him. As McLeod recalls it, Rams pitched the evening as a networking opportunity for her sister, who was interested in a singing career. McLeod was fine with the idea. That night, she took Prince and Rams's other son to her parents' house in Gaithersburg for the evening.
After the concert, Rams and McLeod's sister returned to Rams's house near Manassas, where he and McLeod lived. What happened next is in dispute: McLeod's sister, who asked not to be named, told Washingtonian that Rams threatened to have her gang-raped if she didn't have sex with him. Rams testified in a Montgomery County court that the two had consensual sex.
The next day, after McLeod's sister told her parents her version of the story, the McLeods drove to the home that McLeod and Rams shared. McLeod's mother, Mary, used her cell phone to call McLeod from the street. "Don't ask me any questions," she said. "Bring Prince down with you and come to the front door."
After the McLeods got Prince outside, Prince William County police arrived and McLeod packed a bag to go stay with her parents. Among the items she took was the video camera Rams had used to film Prince's birth. The camera also contained something else: video footage of Rams's sexual encounter with McLeod's sister. He recorded it without her knowledge, she says.
Investigators eventually asked McLeod to return the camera, only to discover that the footage had been erased, says department spokeswoman Sergeant Kim Chinn. The police were able to recover and watch the video, concluding that it substantiated Rams's account of consensual sex, Chinn says. They charged McLeod's sister with filing a false police report and McLeod with obstruction of justice for erasing the footage and lying about the camera. The charges against McLeod were dismissed; documents show that McLeod's sister wasn't prosecuted and her record was expunged.
The McLeods—who insist that their daughter was raped—returned to their Gaithersburg home devastated. "We were just in shock," Mary says.
It was about to get worse.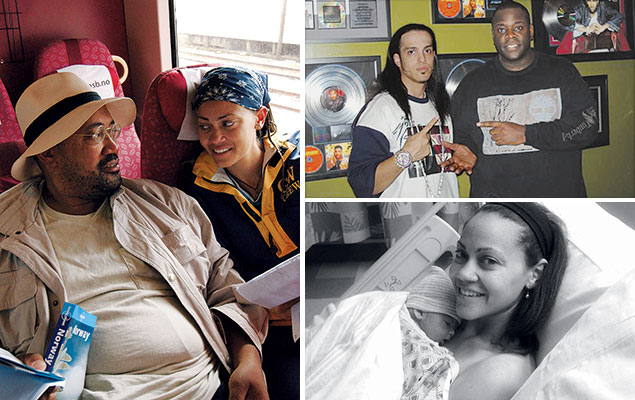 McLeod began to replay the previous 17 months in her head. In retrospect, she realized there were things about her fiancé that had seemed amiss.
His music career, for one. Rams said he'd performed on-stage with Britney Spears, Justin Timberlake, and Christina Aguilera. But the only mentions of Rams's concerts that McLeod ever found online were on his own social-media networks. A bio on his Facebook page boasted of the 39,000 copies his debut album, Joaquin, had sold and traced his ascent from child actor to song-and-dance sensation. "When he turned 10, Joaquin got his first taste of the limelight, a small role as the paperboy in the Broadway play, Checkmates, starring Denzel Washington," the page read. "Denzel later said, 'This young man is extremely talented.' "
McLeod says she asked Rams why she couldn't find any references to his shows, and he explained that because he was just an opening act, he was often overshadowed by the boldface names he performed with.
That seemed plausible. Rams clearly lived like a working musician. A spare bedroom in his home had been convert-ed into a state-of-the-art recording studio, complete with sound-canceling microphones and keyboards hooked up to computer monitors that McLeod figured must have cost a fortune. He spent hours in the studio, his voice carrying through the walls. McLeod overheard Rams chatting on the phone with people he identified as his music-industry contacts, including the singer Usher. Occasionally he put on a suit and tie and headed out to meet with his entertainment lawyer or to record at an outside studio. He sometimes traveled to New York for modeling shoots.
Money didn't seem to be a problem, at least initially. Rams owned a four-bedroom house on a quiet cul-de-sac. He drove a Mercedes-Benz SUV. Once, he paid more than $10,000 at Best Buy for a massive 3-D television and an elaborate speaker system, McLeod says. Who but a successful musician spends money like that?
McLeod had wondered about Rams's relationship with his son, Eric (not his real name). Over time, she noticed how much Rams seemed to want his son to excel at golf. On one occasion, he got so furious over Eric's poor playing that he threw a golf club at the boy, barely missing him, McLeod says.
There was also a night when, after discovering that Eric was watching TV instead of practicing golf as he'd been told to, Rams threw a fit, according to McLeod. She went into the basement to see what the fracas was about. Eric was sobbing in one corner, and Rams was on the opposite side of the room.
Eric subsequently told a counselor at his school that Rams hit, slapped, punched and kicked him," according to a March 2012 report by an independent custody evaluator appointed by the Circuit Court for Montgomery County. "[Eric] also said that he was made to stand outside in the cold with no shoes and only a T-shirt and long johns on." Police charged Rams with domestic abuse on a juvenile in December 2010, according to the custody evaluator's report.
But Eric changed his story, telling the school counselor that "he might have been confused about some of the facts about what had occurred that night," according to the report.
The incident left McLeod conflicted. Rams insisted to her that he'd only spanked Eric, she says. In the end, McLeod simply refused to believe that the father of her unborn baby was a child abuser: "I wanted my son to have both of his parents." McLeod told a social worker investigating the alleged abuse that she didn't trust Eric to tell the truth. Rams was never convicted of the charges.
Determined to make the relationship work, McLeod began accompanying Rams and Eric to counseling sessions with a psychologist. "A day hasn't gone by that I haven't wanted to be by your side," McLeod wrote to Rams in a 2011 Father's Day card obtained by the Washington Post. "I love that you are a great father."
McLeod also took on more responsibilities at home, especially after she noticed that Rams didn't seem to be as flush as he once appeared. He said it was because his music label had put his career on ice after learning of the abuse charges against him, McLeod recalls. She says she began paying the bulk of Rams's $3,200 monthly housing costs.
The strangest period of all might have been just as McLeod's due date was drawing near. Rams stopped eating and showering, and he talked about killing himself so McLeod and Eric could obtain his life-insurance proceeds, McLeod says. She called the psychologist to see if Rams should be on medication. "It's getting scary," she said.
A bombshell came out in a counseling session. McLeod learned that Eric's mother hadn't died in an accident, as she says Rams first told her. She was murdered.
"What do you mean she was murdered?" McLeod says she asked Rams. He told her that his ex lived in a dangerous neighborhood. "I just got so invested in the idea of the relationship instead of the actual relationship," McLeod says. "I wanted to believe the story that he told me."
After the mess between Rams and her sister, McLeod and her family plowed through the internet looking for information about Rams. They say they found his name linked to a pornography website. In some of the images posted on the site, McLeod recognized the bedroom she shared with Rams.
"I was like, holy shit—who is this guy?" McLeod says.
To find out, she hired a private detective.
• • •
Rams was born John Anthony Ramirez in 1972, police records show. That would have made him 37 years old—not 26—when he first met McLeod.
His mother, Alma Collins, had gotten pregnant during an affair with a married man who wanted nothing to do with the baby, according to Joseph Velez, Rams's half brother. Collins, an office administrator, raised Ramirez and his two half brothers in a townhouse in the Bronx, Velez says.
Although Collins loved all of her children, she was especially fond of Ramirez. "She spoiled him," says Elva Caraballo, Collins's sister. When Ramirez took an interest in performing arts, Collins found room in the family budget for singing and acting lessons. "All he ever wanted to do is be rich and famous," Velez says. "He wanted to be a star."
In the early 1990s, Collins's job took her to Annandale, and Ramirez joined her. Around this time, he began calling himself Joaquin Rams. His family had called him Joaquin as a child. (He legally changed his name to Joaquin Shadow Rams in 2002.)
Collins supported Rams financially while he pursued his music, his family says. She bankrolled the production of Rams's demo CD, bought equipment for his home studio, and hired a manager to guide his career. Rams once appeared as a back-up dancer in another artist's music video—family members can't recall this artist's name—and he had one performance at what is now called Jiffy Lube Live in Bristow, family members say. But, they add, that's as far as Rams's music career went—except in his own mind.
Rams invented onstage achievements and celebrity connections, according to family members. "He turned this one little episode into he's the greatest artist on the face of the earth," says Caraballo, his aunt. "He was telling everybody how he was opening for Britney Spears and opening for every [pop artist] and their mother, which was not true."
It wasn't just Rams's family who heard stories about his star power, private detective Robert Barone learned during his investigation for McLeod. Sheryl Mason—who had met Rams in the mid-1990s when her daughter Shawn began dating him—told Barone in an e-mail that Rams "was promoting himself to everyone as this big shot who associated with well-known artists in the music industry. He would constantly try to impress us by offering to get tickets to major concerts that, according to him, he was the opening act for." (Mason declined to speak to Washingtonian.)
Mason also told a social worker for the Prince William County Department of Social Services that "the things [Rams] says do not add up," according to a report by the social worker. The social worker concluded: "It is doubtful if Mr. Rams sings with an international star like Beyoncé or models for Tommy Hilfiger. This worker has never interviewed anyone like Mr. Rams. It is not known if Mr. Rams' stories are real to him or if he is just attempting to impress, but he clearly does not exhibit normal behavior."
Shawn Mason lived with Rams for about four years, and in 1999 she gave birth to Eric, according to the Prince William County social worker's report. It says that when the couple broke up, Shawn received primary custody of Eric, and Rams visited him when Shawn had to work.
Until March 2003, when Shawn was murdered by a single gunshot to the head.
• • •
Rams, who reportedly discovered Shawn's body in her Manassas home, became a suspect, according to court testimony by Manassas police sergeant Christine Perry. Rams believed he was a beneficiary of a life-insurance policy Shawn had, the Prince William County social worker's report said. Police couldn't solve the case, and it went cold.
Daniel Morissette, Rams's lawyer, didn't respond to repeated requests to make Rams available for comment. Rams has denied involvement in Shawn's death. In a January 2013 post to his blog, he wrote: "At the time of the initial investigation, I FULLY cooperated, took several polygraphs, gave DNA, took a gun residue test and had a clear and documented alibi with numerous witnesses and video footage as to my whereabouts at the time of her death."
The technology firm that Rams had told McLeod about on their first date wasn't a figment of his imagination, but it was imaginative. Former employee Matthew Keith told Washingtonian in an e-mail: "Our first project as it was proposed was a New England to Florida motorcade ending in a multiple performing artist concert coupled with video game tournaments using the Madden franchise, as well as wet T-shirt contests."
After that project fell through, Rams came up with a new idea. "He decided to turn the business into an outright pornography company," Keith says. "I agreed to take photographs of women performing sex acts and posing nude for the content of our website." (After Keith left the firm in 2005, Rams sued him for breach of contract and defamation. The case was settled.)
Rams promoted his new web venture as Adults Online, "The Other AOL," according to court papers; its logo showed AOL's iconic running man performing a sex act. The Internet media giant sued Rams for trademark infringement in 2006. An arbitrator sided with AOL.
Barone's investigation uncovered one more event in Rams's past that McLeod knew nothing about. It had to do with his mother's death.
The private detective got hold of a report by the Virginia chief medical examiner's office stating that Collins had killed herself. The 2009 report says that Rams's girlfriend at the time found the 62-year-old Collins in her bedroom with a plastic bag near her head. There was a suicide note, and the medical examiner concluded that Collins had used the bag to suffocate herself. Prince William County police ruled it a suicide.
That wasn't what Rams told McLeod, she says: He said Collins died of a stroke.
Barone's findings terrified McLeod. She rented out her Glover Park condo and moved into her parents' house with Prince. Gus, her dad, installed security cameras throughout the property.
McLeod sued for full custody of Prince and requested that any visits Rams was entitled to be supervised by an off-duty police officer. Rams also sued for full custody of their child.
At their custody hearing in March 2012, McLeod didn't need to prove beyond a reasonable doubt that Rams wasn't a good father because in family court parents face a lower burden of proof than the one used in criminal cases. McLeod's task was only to prove that leaving Prince alone with Rams wasn't likely to be in the child's best interest.
Her star witness was Rams's ex-girlfriend Alexis Washington. She had appeared in Adults Online videos and had turned against Rams after their breakup because he'd allegedly texted nude photos of her to her brother and cousins, according to court records. (Rams and Washington sued each other over the issue, agreeing later to drop the lawsuits.)
Washington—who declined to comment for this article—didn't hold back on the witness stand. She testified that she and Rams had sometimes made pornography in the bedroom next to Eric's, according to a transcript of the hearing. She said Eric had once gotten a gash on his head and that Rams had refused to take his son to the hospital out of concern that he'd be accused of child abuse. Instead, Rams had applied liquid adhesive to Eric's head to stop the bleeding. Washington also testified that Rams had asked her to offer sex to home-service professionals, such as a cable-TV repairman.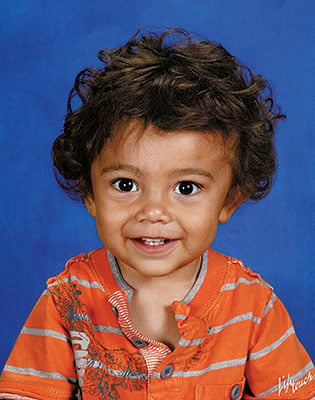 McLeod had others speak on her behalf. Sergeant Perry, the Manassas police officer, testified that Rams was a suspect in Shawn Mason's murder, and Joelle Hall, a social worker assigned to Prince's custody case, told the judge that in December 2010 Rams had been charged with domestic abuse on a juvenile.
But of all McLeod's witnesses, Washington delivered the most inflammatory material. McLeod's lawyer asked her to recount a conversation with Rams that took place before Shawn Mason's murder. Rams and his ex were going to court over custody of Eric, Washington said.
ALEXIS WASHINGTON: "[Rams] said that 'I don't want to lose my son, I would do anything so I won't lose my son.' And he asked me if I could help him out. And I asked him, 'What do you mean help you out?' And he said, 'Do you know anyone that could take care of the situation?' "
MCLEOD'S LAWYER: "And what did you, how did you respond?"
WASHINGTON: "I asked him exactly what did he mean. I didn't know what he meant."
MCLEOD'S LAWYER: "And what did he say?"
WASHINGTON: "To have her killed or know anyone that would do that."
Washington was dismissed as a resentful ex-girlfriend by Prudence Upton, Rams's lawyer. She reminded the judge that Rams had never been convicted of child abuse. Nor had he been charged for Mason's murder.
"This is a 'where there is smoke there is fire' argument," Upton said. "But that is not how a court works. We have to actually look at facts."
Rams's only witness, Maggie Avedisian, the psychologist who had counseled him and Eric, testified that she'd never seen anything that concerned her about how Rams took care of the boy. When Rams took the stand, he begged for the opportunity to be part of Prince's life. "I cherish the things that my sons are going through and all the things that I'm missing: his crawling, his first words," Rams told the judge. "That hurts the most, because once those are gone, they're gone."
• • •
Nobody wants to end up in family court—a place filled with desperation and spite.
Sometimes that even goes for judges, who must sort through the thicket of he-said/she-saids and issue life-altering decisions. Montgomery County Circuit Court judge Michael J. Algeo admitted as much after listening to all the testimony in Prince's case. "I'm in family law because I have to be," Algeo said in court. "It's a required 18-month rotation. I don't like it. And if I could choose not to do it, I would not do it. And it's for these kinds of cases."
Because Rams had no job, was living with friends, and had produced pornography, McLeod's attorneys thought it was unlikely that he would win custody of Prince. They believed that the more complicated question before Algeo was how much access to his son Rams should have. The judge had to decide which was more likely to be in Prince's best interest: supervised or unsupervised visits with his father.
Algeo, a former prosecutor, said he approached his decision "as if this child were mine." He discounted Washington's testimony because she "likes to get undressed and go on websites." He said he gave "no moment" of consideration to Mason's murder because Rams was never charged with it.
"It's a lot of smoke," Algeo said, agreeing with Rams's lawyer. "The difficulty is with all that smoke I can't see clearly."
Algeo gave McLeod full custody of Prince and ordered that Rams's visits be supervised for the time being. He said Rams needed to undergo a psychological evaluation and return to court in three months for a final decision about visits with his son.
Rams's evaluation was performed by Margaret Wong, a psychologist who specializes in childhood autism and rarely evaluates adults but who worked at the same practice—Ashburn Psychological Services—as Rams's and Eric's therapist, Maggie Avedisian. Wong told Judge Algeo at the follow-up custody hearing in July 2012 that her assessment included interviews with Rams as well as conversations with his housemates, Avedisian, his tae kwon do instructor, and the retired police officer who sat in on his visits with Prince. She testified that Rams had no mental-health disorders.
This time, Rams put more witnesses on the stand. Sue Jestice, one of his housemates, testified that Rams hadn't been involved in pornography since moving into her home, and Roger Jestice, Sue's husband, told the judge that Rams was now a general manager at Tropical Smoothie.
Algeo decided it was okay for Rams to visit with Prince every other Saturday. There was no need for the visits to be supervised.
• • •
The third Saturday of October 2012 was Rams's day with Prince. That morning, the boy had a fever.
Throughout the previous several months, Prince had been having what are known as febrile seizures. These fever-induced spasms occur in about 4 percent of otherwise healthy children six months to five years old. The root cause of the seizures is unknown, and they're typically harmless.
Even though Prince's fever that day didn't trigger a seizure, McLeod thought about keeping him home. But she says she didn't want to violate her custody agreement, so she dropped him off for the visit and headed to her office.
That afternoon, McLeod was alerted by police that Prince had been flown to Inova Fairfax Hospital in Falls Church. She rushed to the hospital, where for three hours she and her family waited for information on Prince's condition.
When she finally saw her son, Prince was lying still in a small bed in the pediatric intensive-care unit, tubes running from his nose and mouth. His lips were blue.
McLeod ran her fingers through her son's hair and lost it. "Why is he so cold?" she asked.
A doctor explained that Prince had suffered cardiac arrest and wasn't responding to stimulus. "We believe he's brain-dead," McLeod recalls the doctor saying.
Manassas Fire and Rescue had been dispatched to the house where Rams lived at about 2:20 pm. The EMTs found Prince lying naked on the living-room floor, according to the department's report. He had dried blood in his nose and a bruise on his forehead. His body was cold and wet. He didn't have a pulse.
• • •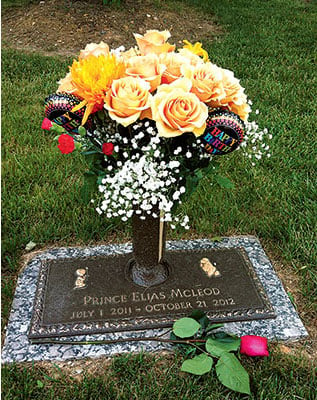 McLeod says she stayed at Prince's bedside for the next 24 hours until her son expired. He was 15 months old.
On January 25, 2013, police in Manassas arrested Rams and charged him with the first-degree murder of his son Prince. Investigators discovered that Rams, who had been in financial trouble for months, had taken out life-insurance policies—reportedly worth more than $500,000—on Prince, according to police records. On one policy, Rams said that McLeod had died in a car accident at age 27, the records show.
Rams denies killing Prince. On the day of his son's death, Rams told EMTs that Prince had had a febrile seizure and that he'd put Prince in a cold bath to cool him down, according to the EMTs' report. The Virginia medical examiner's office, after doing an autopsy, came to a different conclusion: The office said Prince hadn't had a seizure. He drowned, police records show.
In April 2013, Timothy Olmstead, Rams's lawyer at the time, told reporters Prince had died as a result of his ill health. "I did not harm my son," Rams told the Post in a statement. "It breaks my heart to think that anyone would believe that I did. I'm still shocked to learn how sick Prince was."
In July, a Prince William County grand jury upgraded the charge to capital murder. If convicted, Rams, who is in jail, could face the death penalty. No trial date has been set.
The arrest jump-started another criminal investigation. This past November, Rams was indicted for murdering Shawn Mason. Police have also interviewed Rams's family about his possible role in his mother's death, Caraballo, his aunt, says. "My mother was suffering from early stages of Alzheimer's," Rams wrote in a blog post last year. "She left a two page suicide note found by the police clearly indicating why she chose to end her life as to not be 'a burden' to her son."
McLeod has filed a $20-million wrongful-death lawsuit against Margaret Wong and Ashburn Psychological Services, alleging that Wong's "negligent and careless" evaluation of Rams had convinced Judge Algeo that Prince would be safe with his father, according to the lawsuit.
Algeo told Washingtonian in a statement that court rules bar him from discussing Prince's case. "I was required to apply [Maryland] law and exercise my best judgment," the judge said, "but an innocent child has died, a fact which has had a profound impact on me both professionally and personally. My heart goes out to the mother and family of Prince over this, and I think of them every day."
McLeod is once again focused on starting a family. Last fall, she gave birth to a baby girl. "I want to be a mom," she says. This time, there's no father in the picture. She used an anonymous sperm donor.
This article appears in the January 2014 issue of The Washingtonian.