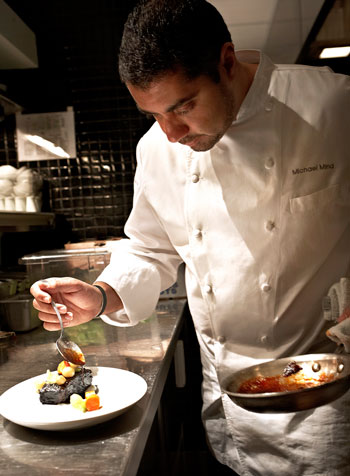 In a town filled with power restaurants, Bourbon Steak reigns among the top. The Four Seasons spot opened its doors in 2009 and is well-known among food lovers and people watchers alike, having played host to visiting Hollywood elite and the Obamas on their 20th anniversary. Now Michael Mina, the celebrity chef-restaurateur behind it all, is in town for the restaurant's fifth anniversary celebration. We spoke with the toque about his future in Washington, catering to celebs, and philosophy on managing 19 restaurants.
We're coming up on Bourbon Steak's five-year anniversary. Has it grown in the way you originally expected?
I would say, knock on wood (in a very positive way), even more so. I remember when we opened people in DC were positive, but the one thing they kept saying was 'why a steakhouse?' And I kept saying: just because the word 'steak' is in the name doesn't mean we're limited to that. A big part of what we tried to achieve—and are still trying to achieve—is to be a great restaurant, not just a steakhouse.
Do you think DC is a more steakhouse-friendly town than others?
The word 'steak' in the title helps in any city. Often when you have larger parties that can't decide where to go, they'll lean towards a steak restaurant. There are definitely nights in San Francisco when Bourbon Steak will do more covers than Michael Mina. I wouldn't say it's a DC-related. People love steak all over the United States.
What is your all-time favorite kind of steak?
It's called the rib cap. It's a very limited cut. You know when you go out for an old school prime rib, and there's a little piece on top that's always overcooked? That cut when you butcher it out—before you cook the ribeye—is called the rib cap. It's as tender as a filet, with the flavor of a ribeye.
If you could design your dream meal at Bourbon Steak, what you order?
I'll usually start with shellfish, like a tasting platter on ice. When I'm with people I'll do a steak tartar and a tuna tartar, so they can taste the difference. And there's a dish on the [DC] menu right now from chef John Critchley that's a rockfish tagine. It's a little unexpected; he pressure-cooks pine nuts so they're like beans, and it's a really fun play on a tagine. And then I'll always do the rib cap, a truffle mac and cheese, and about three or four seasonal sides. Dessert is the Macallan custard with beignets.
What do you see for Bourbon Steak DC in the next five years?
I think that Bourbon Steak DC is constantly evolving. When restaurants start to mature—and usually the five-year time is the time when the restaurant starts to settle in and have its own personality—your job is to grow it. We have the great outdoor bar there, and we're trying to cover part of it so we can use it more months out of the year. That's one big goal for us over the next couple of years.
With 19 restaurants in the Mina Group, what's your approach to reviews, both from professional critics and online forums like Yelp?
My philosophy has always been that it's really important to look at all your Yelp scores, to read your reviews, and be in tune to what they are. The easy way out is to say 'people don't know what they're talking about.' There's always room to improve in a restaurant. A restaurant is better or worse every day than it was the day before. It's impossible not to be, because it's human. The way to make it better is to keep pushing, keep everyone on their toes and thinking. A lot of times when you get a bad review, you say to yourself 'wow, they're not pushing.' Having said that, there are times when I don't believe reviews, when people start taking personal shots at you.
Like when?
I was really bothered early on by people taking shots at chefs for expanding to more than one restaurant. I thought it was really unfair that you'd have a 'restaurateur'—who nine times out of ten was a lawyer who'd taken advantage of a chef—and they had multiple restaurants and were geniuses. Yet when a chef did it, it wasn't right. Now you see chefs have done it, and the food in this country is continuing to get better. There are great restaurateurs too, don't get me wrong, and I won't disagree that it's tough to do multiple restaurants early on. But as you build, young talented people come to work for you, all the sudden you're learning from them. If I'd never gone out and done more than one restaurant, my food wouldn't be as good as it is today. I've learned a lot from people who work for me.
If you could give one piece of advice to a young chef with aspirations to own multiple places, what would you say?
I'd say the whole focus needs to be growing people around you, and keeping a core of people together. You'll never be able to do it all yourself. And how to keep people around you is sharing everything. I worked for a couple chefs early on who you couldn't get a recipe from, and it makes no sense. It's all about transparency.
Bourbon Steak DC is known as a popular celebrity go-to. Is there a key to catering to celebrity clientele?
You want to be as unobtrusive as possible, but they'll let you know if they want a special meal. We always offer for the chef to cook for them. It's 'here's the menu, the chef would love to cook for you as well if you'd like that.' Sometimes they'll say yes, and other times they'll say no and based on how they order—if they order really light—we'll send out a little something. Otherwise we'll usually send out one course in the middle, and leave it at that.
You just opened Bourbon Steak & Pub in Santa Clara's Levi's Stadium. Will you have Redskins specials when they play?
It's all about who's into football, so I would invite José [Andrés] to come cook with me; I'm inviting chefs to every game. When we're playing against other teams it'll be a combination of dishes from there, and what the team is known for. For The Hogs [a nickname for the Redskins offensive line] I'd do a whole pig, and then I'd do some regional dishes, like soft shell crab or a Maryland crab dish and a San Francisco-style crab dish.
Is Bourbon Steak & Pub a one-time venture, or can we hope for one in DC?
It's a one-time venture now, but you never know where life takes you. Right now Bourbon Steak DC is such a big restaurant in terms of volume, plus we did the two restaurants in Baltimore. I'll tell you the one comment I get constantly is 'when are you going to bring Pabu to Washington?' That would be one that I feel would fit, but I don't have any plans of doing it now.
If you could open any kind of restaurant in the world, and it could be be completely outrageous, what would it be like?
Since it can be fictional, it would be on a beach. I'd be able to get products from all over the world, and it would be all no-shoes, tables in the sand. There would be only two ways you could cook: live-fire, and everything else would be raw.