As a second-year associate at Patton Boggs, Dalia Abu-Eid is just starting her career. Which means she has a lot of suits ahead of her, in both the legal and the fashion sense. "While I'm not required to wear a suit every day, I still tend to wear one a few times a week," says Abu-Eid, 29, who grew up in Northern Virginia and now lives in DC.
"Patton Boggs tends to be on the less conservative side of the big law firms," she says, but reflecting personal style in her work attire is still tricky. For inspiration, she turns to her favorite stores and designers. Abu-Eid relies on Zara and Anthropologie for off-duty looks, but she heads for Calvin Klein, Saks Fifth Avenue, and Nordstrom for work ensembles, which she shops for two to three times a year.
"I like to think of myself as urban-chic when it comes to clothes," Abu-Eid says. "I'm lucky to have two very fashionable sisters." One is a fashion designer in New York City, the other a vintage-clothing aficionado in San Francisco. "They have definitely influenced my style for the better."
We helped Abu-Eid try a few of the season's trendsetting cuts and shapes to spice up her ever-growing suit supply. We've also included choices with a casual feel, a day-to-night bent, and a dressy look perfect for cocktails.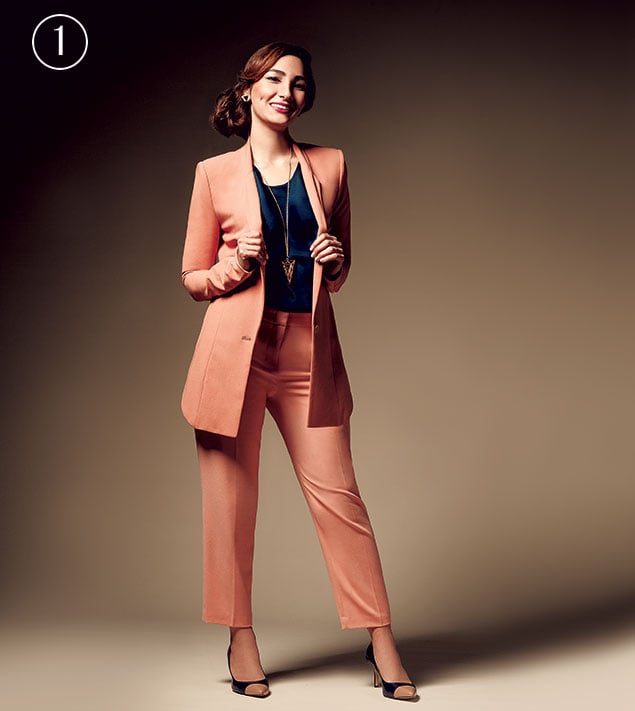 1. Peach Perfect
"Jack" blazer, $248, and "James" cropped pants, $138, at BCBG stores. "Violet" silk top, $250 at Thomas Pink (1127 Connecticut Ave., NW; 202-223-5390). "Eryn" cap-toe kitten heels, $128 at Ann Taylor.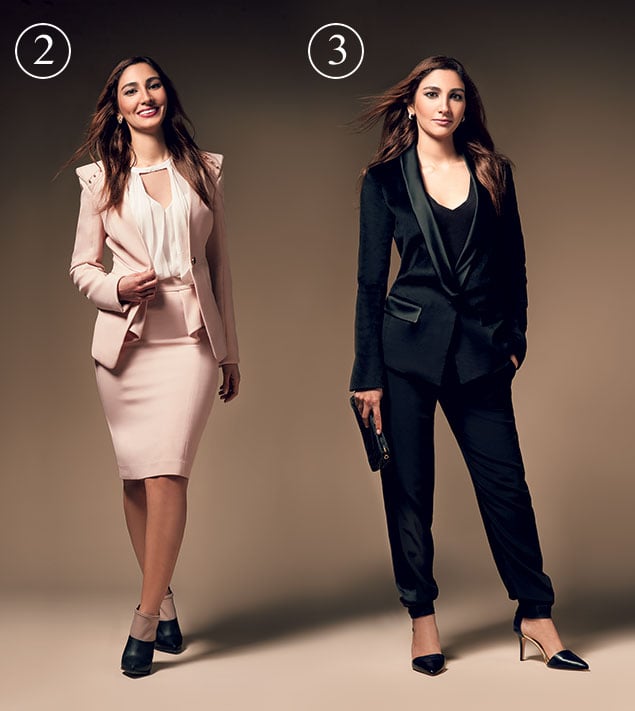 2. Pretty in Pink
Valentina Shaw "Giovanna" jacket, $1,350, and "Vittoria" skirt, $525; similar styles at neimanmarcus.com. "Keslyn" silk blouse, $198 at BCBG; "Kirby" booties by Tibi, $525 at Saks Fifth Avenue (Chevy Chase).
3. Luxe Tux
Stretch-velvet tuxedo-style blazer, $498, and satin pants, $345, at tibi.com. "Juliette" ankle-strap heels, $128 at Ann Taylor.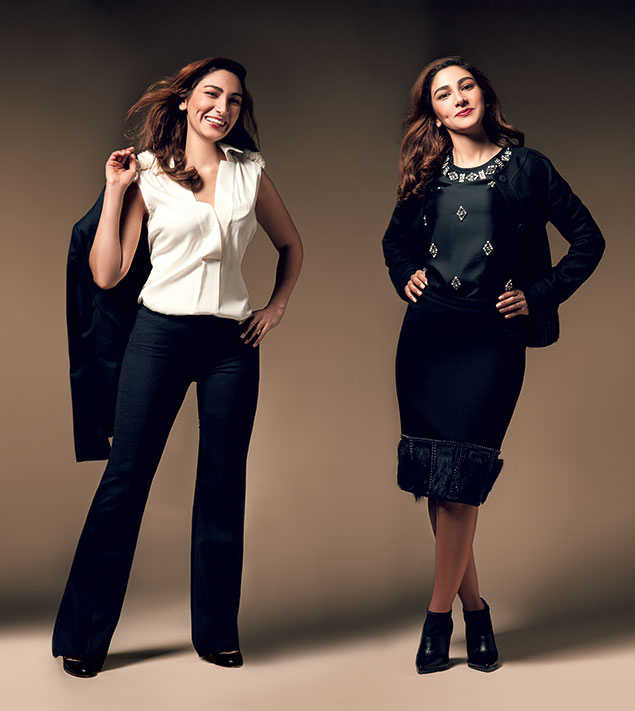 4. Classic Pinstripe
Rachel Zoe "Christina" jacket, $425, and "Rachel" pants, $250, at Hysteria (125 S. Fairfax St., Alexandria; 703-548-1615). Rachel Zoe "Leighton" blouse, $225; similar style at Cusp (Georgetown).
5. Time to Shine
"Becca" jacket and skirt, $795 each, and "Vesper" silk shirt with crystal embellishment, $395, at toryburch.com. "Kirby" booties by Tibi, $525 at Saks Fifth Avenue (Chevy Chase).
This article appears in the January 2014 issue of Washingtonian.