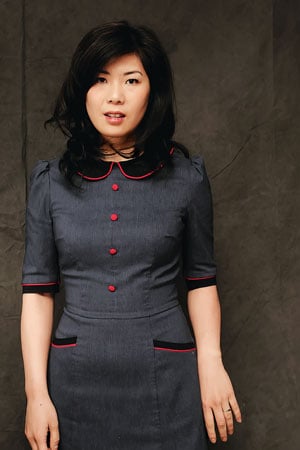 Natsu Onoda Power is known for her technically elaborate and acclaimed productions of Astro Boy and the God of Comics at Studio Theatre and A Trip to the Moon at Synetic, both shows she devised and directed. This month, the Georgetown theater professor comes to Theater J to direct Yellow Face, David Henry Hwang's 2007 comedy about a playwright named David Henry Hwang who protests when a white actor is cast as an Asian in the musical Miss Saigon but who is then flummoxed when an actor he casts in an Asian role in one of his plays turns out to be white. The show runs January 29 through February 23. Here's a conversation with Power.
What drew you to this production?
First of all, I really do think they chose me because I'm Asian. There aren't that many Asian-American directors working in Washington, and while I think this is a well-crafted play that any competent director would do a good job with, being Asian gives me license to really go with it. There are decisions I can make that might be considered offensive if others made them but that might not be with me. So I took it as an opportunity to go with bold choices. And I thought it was an interesting dynamic: me at Theater J [whose focus is primarily the Jewish experience]. It seems ethnically and stylistically like such an unlikely fit.
You're known for your physical, experimental productions, so this is a change.
A huge change! I'm like, is this a play? Am I holding it upside down? What do I do with it? I'm trying to take it as an opportunity to grow.
You mentioned bold choices. Can you talk about what they might be?
The play is really about casting. Some of the characters are famous people, like [then-senator] John Kerry and [actress] Jane Krakowski. I was thinking: What if I cast this Asian woman in the ensemble as Kerry? What if I had an African-American man play Krakowski? What if I had a blond woman play Hwang's mother with a Chinese accent? It could be offensive, but it could also be great. The theme of the play so much is: Are you what you say you are?
Why do you think Hwang made himself a character?
It's such a token thing to say, but it does blur the line between fiction and reality. It's interesting because he presents himself in a very unflattering way: He's insecure, goes to a porn store, and sexually chats with a minor online. It's a really self-deprecating image of himself, but then the character is the opposite. Really, the white character, Marcus, is written as the more dignified and empathetic character.
Besides race, which is one of the more obvious ones, what themes will you explore?
To me, the play stopped being about race a while ago, but it came to me in an interesting way when I was writing a show over the summer at Forum called The T Party, based on my interviews with members of the transgender community. The thing about gender identity is that it characterizes identity as based on desire and allegiance rather than biology. Can the same be said about race? Who are we to say that the character of Marcus isn't Asian? That kind of changed the theme of the play for me from racial identity to identity in general.
Tickets ($25 to $65) at theaterj.org.
This article appears in the February 2014 issue of Washingtonian.