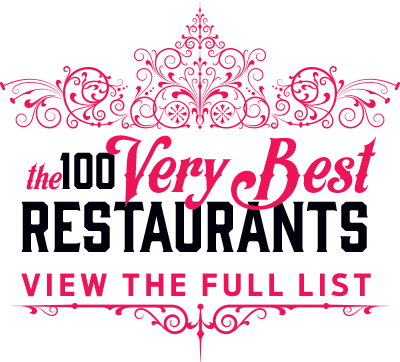 Look to one end of the dining room at Fabio Trabocchi's Penn Quarter Italian restaurant and you'll see cream leather banquettes overarched with gleaming midcentury-modern lamps. But turn your gaze to the other side and it will be met with a craggy stone wall that looks imported from a Tuscan farmhouse. The contrast between rustic and sleek extends to the kitchen, too.
Trabocchi, the area's top Italian chef, is famous for his pastas, and he handles homey (a wonderful cacio e pepe on the bar menu) as deftly as he does delicate (his signature purses of lobster in a subtle ginger sauce). Entrées hover in the $40 range, but portions are big—most salads and starters seem sized to be shared, even if the servers don't always tell you that. And there are good deals at lunch, when a three-course menu runs $28.
Open: Monday through Friday for lunch and dinner, Saturday for dinner.
Don't miss: Burrata with beets and pesto; oysters with limoncello; Wagyu-beef tartare; seared foie gras with figs; tuna carpaccio with roasted tomatoes, yuzu, and lemon; pappardelle with wild-boar ragu; spaghetti with prawns and sea urchin; ricotta doughnuts; cream-filled brioche with burnt-honey gelato.
---