It was pure chance that led Sharon Dougherty to meet Timothy Trifilo. In March 2012, she bumped into her brother Paul at the Four Seasons Hotel having a client dinner with Timothy. "I thought she was the most beautiful, elegant, compassionate, and compelling woman I had ever met," says the groom, a partner at PwC. "It all came to me as I regarded her walking out of dinner." Sharon was similarly struck by Timothy, and they had their first date at Rasika soon after. It took them only nine months to decide they were meant for one another; they sealed the deal with an engagement at Piedmont Park in Atlanta, Georgia. Their wedding, five months later, paid homage to the 1940s.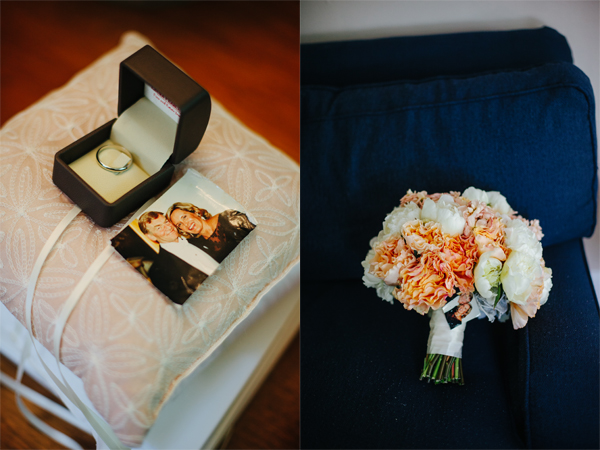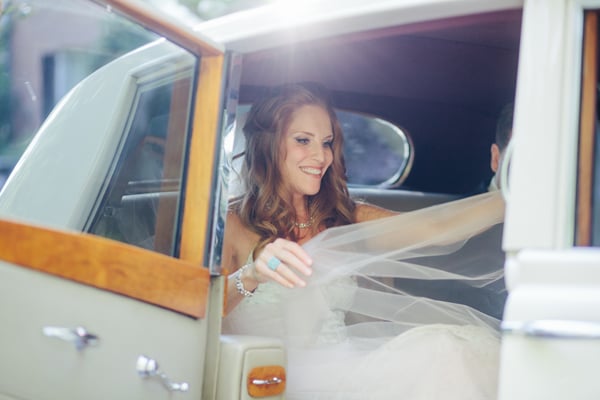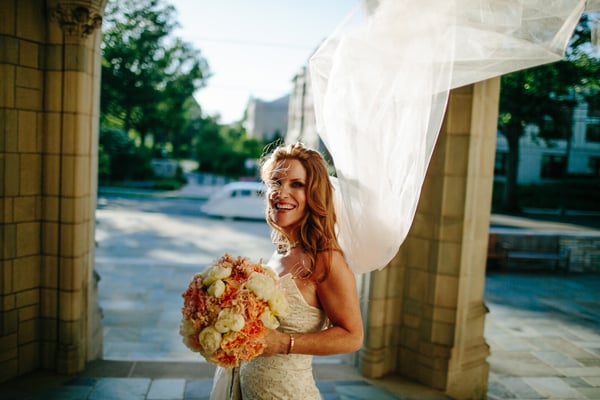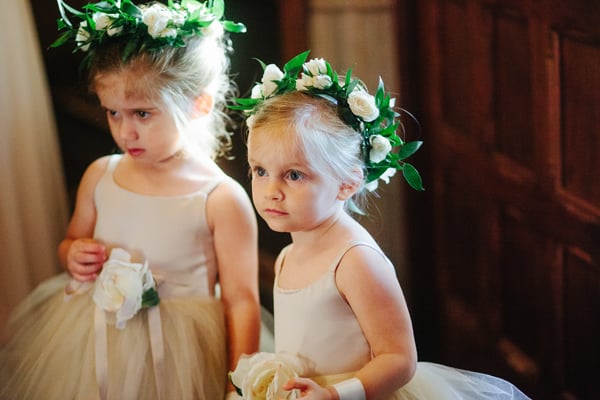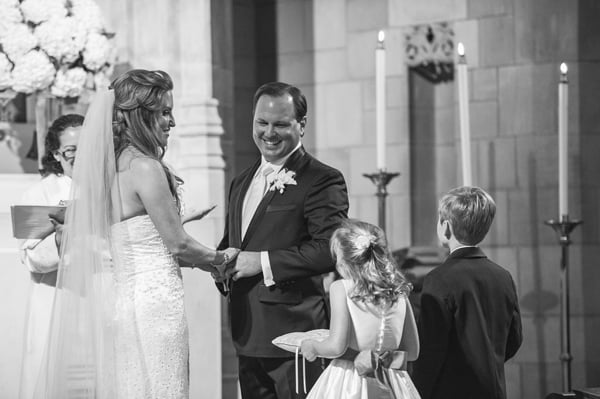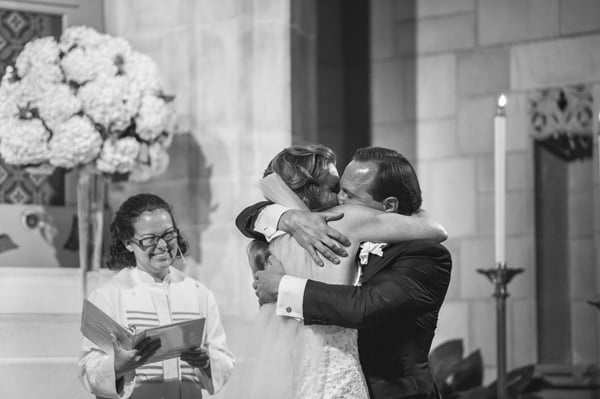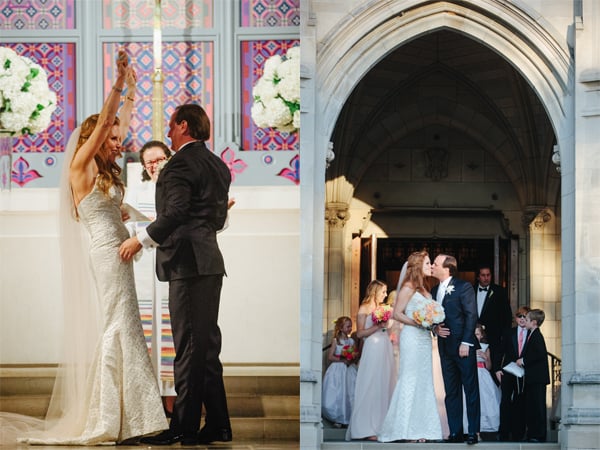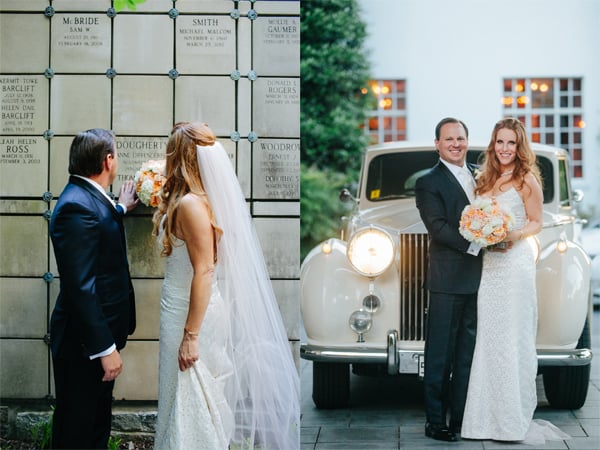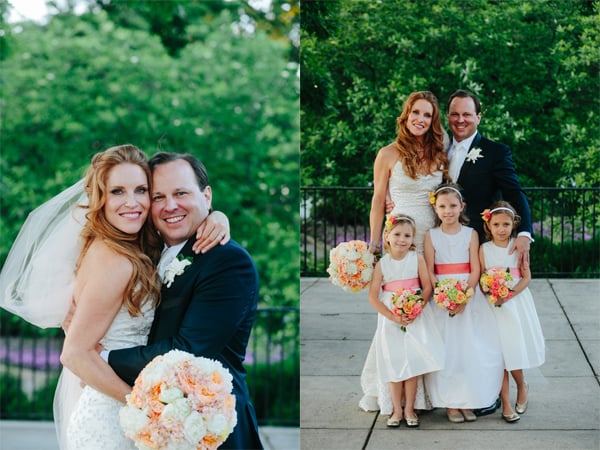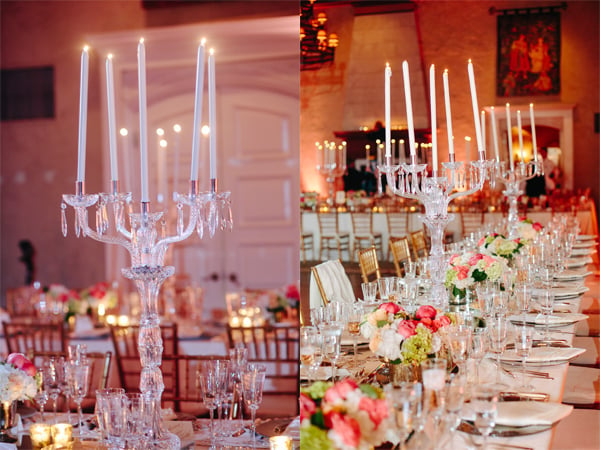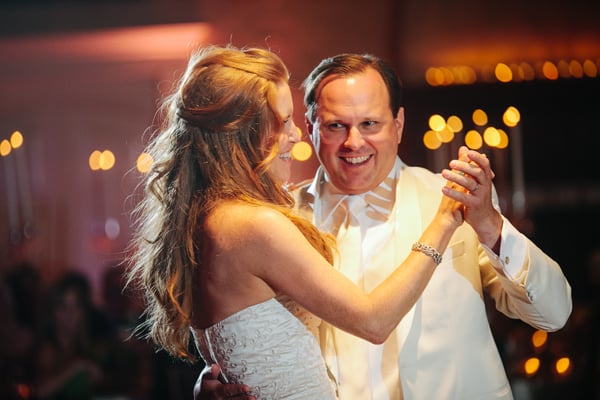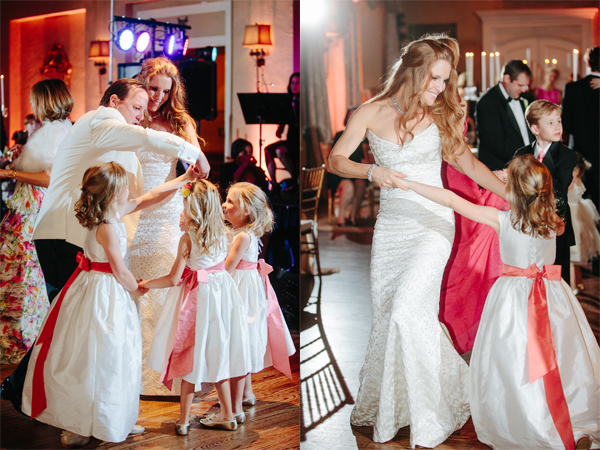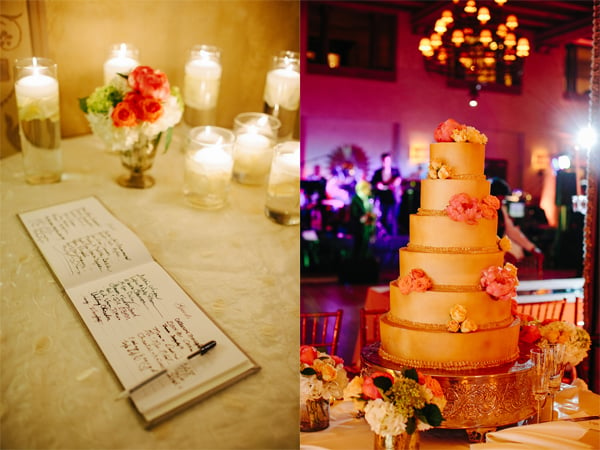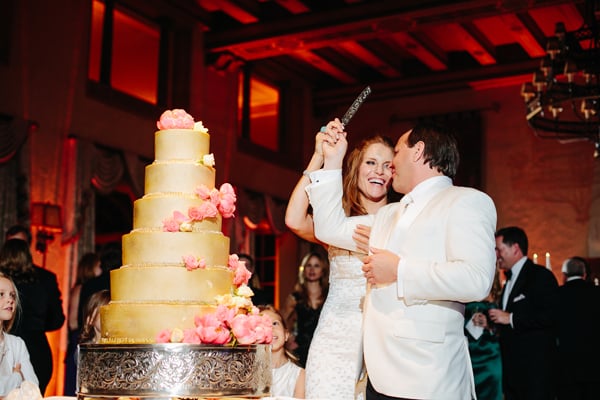 Details:
Photographer: Jennifer Domenick, Love Life Images
Wedding Ceremony Venue: Metropolitan Memorial United Methodist Church
Reception Venue/Caterer/Cake: Congressional Country Club
Bride's Gown: Elizabeth Fillmore, Bergdorf Goodman
Hair: Christophe Jouenne
Makeup: Victoria Stiles
Groom's Tux: Custom tuxedo and dinner jacket by Matt Landsberg of Eric Finn
Florist: Philippa Tarrant Floral Design
Flowers: Peach garden roses, white and peach peonies, and peach stock with one yellow rose in memory of the bride's parents for the wedding bouquet; bunches of white hydrangeas for the ceremony; peach and coral roses, peach and white stock, green and white hydrangeas, and coral and peach spray roses for the reception
First Dance Song: "Laughter in the Rain" by Neil Sedaka
Music/Entertainment: The Pat Patrick Band and DJ D-MAC & Associates
Videographer: David Morley, Zinnia Films
Invitations: Simply Put, Bella Figura
Decor: Party Rentals, AFR Event Furniture, Twigz Studios, and Amaryllis
Lighting: EventEQ
Calligraphy: Susan Hammer, Fontastic Calligraphy
Transportation: Clifford Burke, Vintage Limos
Bride's Favorite Detail: "The tables at the reception. We had five long tables with crystal candelabras on mirrored runners with mercury votives, and the most beautiful flowers and place settings with amazing place cards and menus."
Groom's Favorite Detail: "The joy of the joining of family and friends from all over the world to celebrate with us, and the elation of my three daughters and bride while we all danced and celebrated together."
Most Memorable Moment: Watching the groom's three daughters walk down the aisle along with all of their godchildren.
Biggest Surprise: "Forgetting my bouquet and having to run back home. I looked like a runaway bride!" says Sharon.
Decor Details: A photo booth with the bride's extensive sunglasses collection as props and the rose-colored lighting and candles throughout.
Theme: Classic, elegant, 1940s with a 19-piece orchestra
Honeymoon Spot: Paris and Morocco
Where They Currently Live: Atlanta, Georgia, and Washington, DC