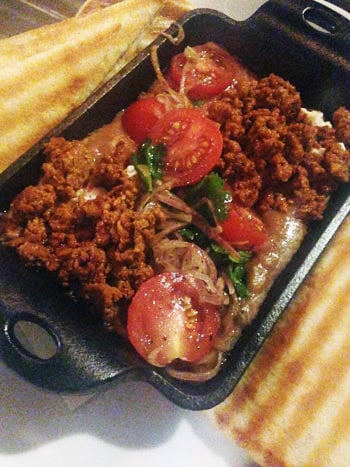 Bean dip is one of those party staples that's often purchased premade but is so much better when you start from scratch. Bidwell chef/owner John Mooney started making his version more than ten years ago, inspired by Mexican frijoles borrachos, or drunken beans. Dried pintos are stewed with beer, tomatoes, and chipotle and made into a creamy purée, which he tops with quick-marinated tomatoes and goat cheese.
The dip and chopping can be done in advance; just add the oil and vinegar to the tomatoes right before serving. Meat fans can sauté fresh chorizo and crumble it on top along with the goat cheese for a version like the one you'll find at Mooney's Union Market restaurant. Either way, this formula will get you to swear off the jarred stuff for good.
Drunken Bean Dip
Serves 6 to 8 as an appetizer
Ingredients
Bean dip
½ medium white onion, roughly chopped
4 cloves garlic, chopped
½ cup dried pinto beans
1 can ale, such as Pork Slap pale ale
1 pint vegetable stock (or substitute water)
1 teaspoon canned chipotle in adobo pepper
2 whole canned tomatoes
¼ bunch cilantro
Marinated tomato topping
1 whole shallot, thinly sliced
20 cherry tomatoes, cut in half
10 cilantro sprigs
1 teaspoon sherry vinegar
1 tablespoon extra-virgin olive oil
To finish
4 ounces goat cheese
2 flatbreads, warm flour tortillas, or corn chips
Salt and pepper to taste
Make the bean dip:
1) Set a large sauce pot over low heat and add enough oil to coat the bottom. Add the onions and garlic and sweat them until translucent.
2) Add beans, beer, stock, chipotle, and tomatoes. Bring to a simmer for 1½ hours, or until beans are soft enough to purée.
3) Remove pot from heat. Add ¼ bunch of cilantro and purée in a blender until smooth. Season with salt and reserve. The bean mixture can be made up to three days in advance.
Make the tomato topping:
In a small mixing bowl add shallots, cherry tomatoes, and cilantro leaves with sherry and extra-virgin olive oil. Season mixture with salt and pepper.
To finish:
Place bean dip in a warm cast-iron skillet and sprinkle with dollops of goat cheese. Top with marinated tomatoes. Serve with points of flatbread, warm flour tortillas, or corn chips.