Who says Valentine's Day decor has to be all frills and fluff? No, thank you. But just because you're not going to redo your whole home in ruffles and pink doesn't mean you can't indulge in the occasional heart shape—for festivity's sake, of course. Here's the trick: Go for crisp color-blocking, modish graphic designs, and interesting shapes. A splash of playful text doesn't hurt, either. Here, we've hunted down ten V-Day finds—to keep or to gift—that won't make you look like you've sold out to Hallmark.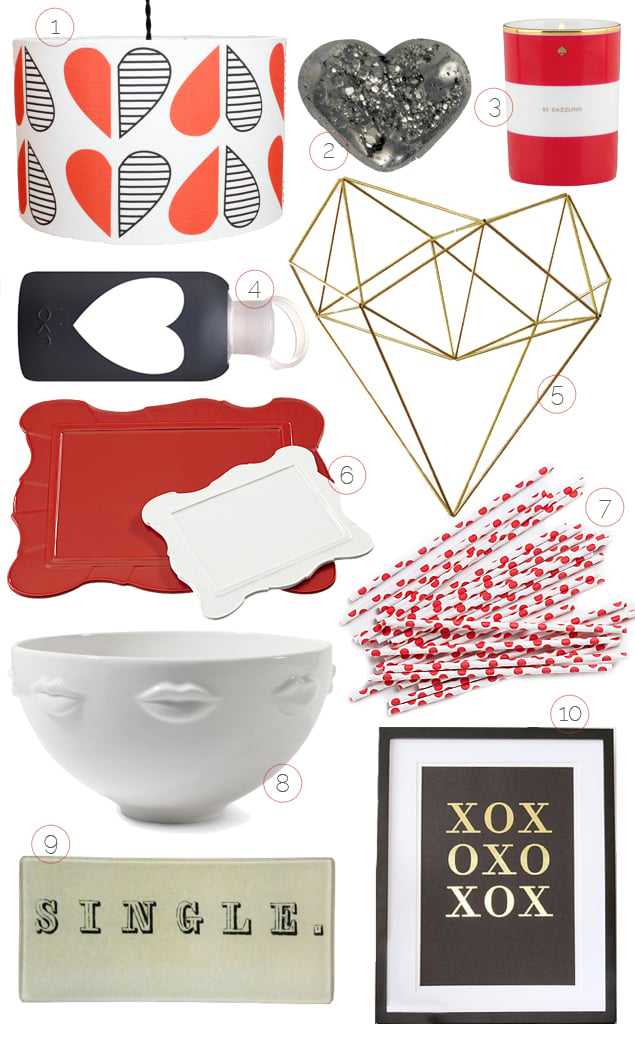 1) Mood Design Studio lampshade, $98 at Etsy.
2) Pyrite heart, $52 at Jayson Home.
3) Be Dazzling candle, $40 at Kate Spade.
4) BKR glass water bottle, $34 at BKR Shop.
5) Hruskaa brass heart hanging mobile, $75 at Etsy.
6) Vicki platters, $9.95 to $29.95 at CB2.
7) Kikkerland polka-dot straws, $8 at Anthropologie.
8) Muse bowl, $98 at Jonathan Adler.
9) "Single" glass tray, $66 at Jayson Home.
10) Miss Poppy Design XOXO foil print, $17.44 at Etsy.