The architecture teams competing for the job of remodeling and possibly expanding DC's flagship Martin Luther King Jr. Memorial Library released renderings of designs today of their proposed overhauls of the Ludwig Mies van der Rohe-designed building.
The teams—composed of Patkau Architects, Ayers Saint Gross, and Krueck + Sexton; Dutch firm Mecanoo and DC-based Martinez + Johnson Architecture; and STUDIOS Architecture and the Freelon Group—were announced in December as the finalists.
The designs are likely to revive criticism from those who want to see the 1972 building left unchanged. The structure has local and national historic landmark status, and also falls under the purview of the National Capital Planning Commission, a federal board that oversee's the capital's skyline.
But library officials have long complained the MLK Library is in poor condition, with bad wiring and failing heating, air conditioning, and ventilation systems. Its innards are caked with asbestos, and the windows that haven't been replaced yet are inefficient. The District government plans to lay out $103 million over the next five years to restore and expand the building, though total costs for the project could exceed $250 million.
City officials asked the architecture teams to come up with two designs each—one that leaves the MLK Library at its current, three-story dimensions, and one that includes additional floors with space for commercial tenants and ground-floor retail.
The renderings will be display tomorrow in MLK Library and several branch libraries, and on DC Public Library's website. The public will get its first crack at the proposed redesigns on Saturday, February 15 during a formal presentation at the central library.
By STUDIOS Architecture and the Freelon Group: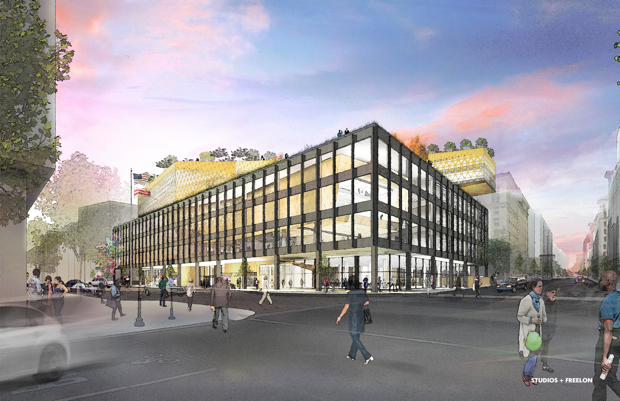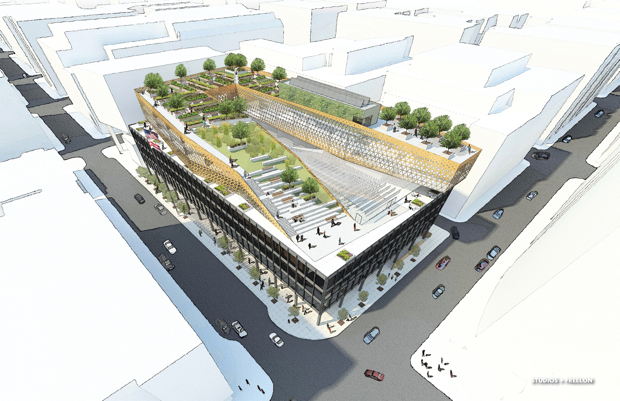 By Mecanoo and Martinez + Johnson Architecture: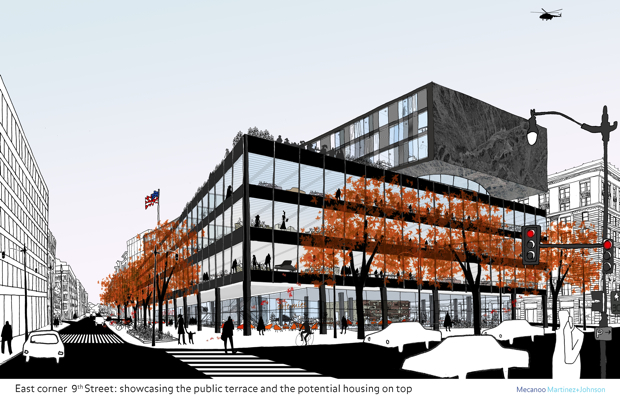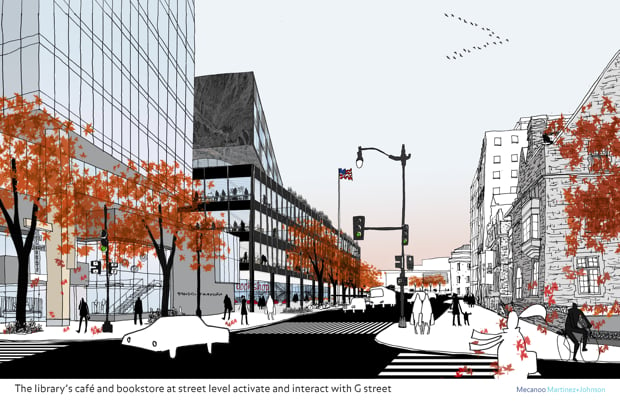 By Patkau Architects, Ayers Saint Gross, and Krueck + Sexton: