When Beth Stewart set out to redecorate her Logan Circle loft, she knew she needed help. She had a clear idea of the style she wanted to go for—assertive yet feminine—but the space presented some unusual challenges. The walls were white cement blocks, for one. The living room was a double-height space, but the bedrooms were much more petite. And huge, red-framed windows were the dominating feature. "They're a great example of why I needed a designer. I see red windows, and my pedestrian instinct is to match them. I would have ended up with a nautical-themed apartment," says Stewart. Enter designer Marika Meyer. "One of Marika's great insights was to say, 'No, we'll just treat them as a neutral,'" Stewart explains.
Meyer also sourced items that would introduce additional pops of color and warm up the all-white space. She found a vintage armchair, which she had custom painted and reupholstered in a bold fuchsia velvet that reflects the hue of the window frames while neither matching nor clashing. She added a clear Lucite cocktail table to help retain a sense of space. It was important to Stewart that she keep some of her existing furniture, so the beige sectional and her ivory dining chairs stayed. Then the pair started sprinkling in some major statement pieces: Down came the boring track lighting, replaced by an oversize chandelier. A glam white lacquer table creates a dramatic moment just inside the door.
Upstairs, the bedroom offered similar challenges. "When I walked into this space, it just felt cold. And it was July," says Meyer. "The concrete walls, all the windows—all those great interesting assets, but for the bedroom it was too severe. So it was about softening." Panels of patterned curtains introduced texture and color to the room, and a linen-upholstered bed frame made the space feel inviting and soothing.
Click through the slideshow for a more detailed glimpse at this home.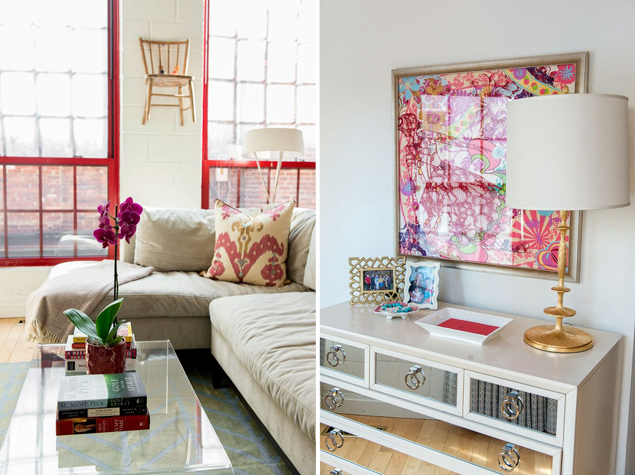 You Might Also Like: