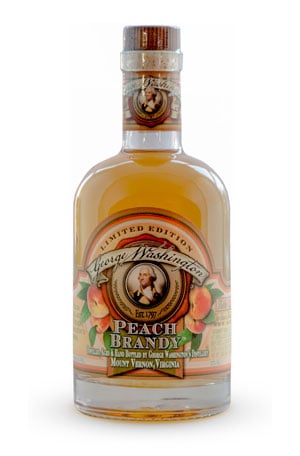 Here's a fun George Washington fact your teachers likely skipped: According to historians at Mount Vernon, the first American president oversaw the production of 11,000 gallons of rye whiskey at his home distillery each year, which he bottled and sold. Even lesser-known is his affection for peach brandy. The same site produced about 60 gallons a year, which Washington mostly poured for guests at the Alexandria estate. Now, for the first time in more than two centuries, you can sip a similar sweet spirit.
The George Washington Distillery, a reconstructed version of the circa-1797 original, announced it has produced 400 bottles of a similar brandy using 18th-century techniques. The project began in 2010 when staff from several distilleries, including Virginia producers Catoctin Creek Distilling Company and A. Smith Bowman Distillery, gathered to advise on the project. The brandy was then double-distilled in copper pot stills powered by wood fires, and aged for more than two years in toasted oak barrels.
History buffs can get a taste come April 1, when purchase vouchers will be distributed starting at 8 AM at Mount Vernon's Gristmill Shop (actual sales start at 10). The 375-milliliter bottles cost $150 and are limited to one per customer.
See also:
A Day of "Whiskey Camp" at Mount Vernon