You've had plenty of time to decide where you stand on the subject of the social relevance of the male of our species. Hanna Rosin raised the issue with her 2010 article "The End of Men" in the Atlantic, where she's a national correspondent. Her argument—that men's hegemony in global society is declining—quickly became a national debate, then a book. Before Rosin, there was New York Times columnist Maureen Dowd, whose 2005 book's title asked, Are Men Necessary?, with the clear implication they are not.
But for those who haven't made up their minds—or just like to look on as four whip-smart women dish on the fate of half the species—now comes Are Men Obsolete?: The Munk Debate on Gender, the transcript of a discussion held last year in Toronto by the Aurea Foundation, which sponsors a series of forums on public policy, named for the group's founders, Peter and Melanie Munk.
Dowd and Rosin, both in attendance, waste no time asserting that men aren't cut out for life in "post-industrial societies," as Rosin says, stressing economic forces. For her part, Dowd blames men's inability to get with cultural shifts. Their nominal opponents in the debate are harder to pin down. Caitlin Moran, author of How to Be a Woman, sees the sexes becoming more fluid and more cooperative about their traditional roles, while Camille Paglia propounds the view—introduced in her controversial 1990 book, Sexual Personae—that bourgeois culture has unfairly devalued working-class men and their accomplishments. (Paglia's use of the word "bourgeois" clangs here, reminding us how long it's been since we've heard the term in serious conversation.)
Unfortunately for anyone still seeking a clear-cut answer, the two pairings—ostensibly pro and con—only end up muddying the issue. Rosin sometimes agrees with Paglia, while Moran, Paglia's teammate, clashes with her. Dowd doesn't debate so much as throw out cocktail-party anecdotes about men's cluelessness.
The reason for this book is not a final adjudication of the matter, however, but razor-sharp repartee. When Rosin tells Moran that certain modern retail shops promote "a sort of ornamentalized masculinity"—referring to "lumberjack shirts, flasks, and Playboys"—Moran quips, "Thank you for telling us about these stores because Christmas is coming up and I do need to buy gifts." Dowd takes a dry pleasure in the idea that "in this political cycle we are spending more time talking about Chris Christie's appearance than Hillary Clinton's, which is a switch."
Those demanding a definite answer to whether it's end times for men will be pleased that the audience—which, unlike the panel, includes a healthy representation of males—votes at the end of the debate. I won't tell you how it comes out, but I will reveal that none of those gathered seriously wants to see men disappear, least of all Moran, who refuses to let them off the hook.
This article appears in the April 2014 issue of Washingtonian.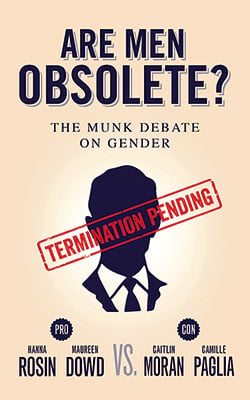 Author:
Hannah Rosin, Maureen Dowd, Caitlin Moran, Camille Paglia
Publisher:
House of Anansi Press
Price:
$11.36