It takes a creative eye to see the beauty in a ratty $5 armchair at Goodwill. And Nicole Crowder has that vision—the former photographer turned a self-learned knack for reupholstering into her own custom design business last June under the moniker Third + Grace. Her creations nail that perfect balance of vintage bones and modern glam. Love pattern mixing and graphic prints? You'll want to check out Thread, Union Market's retail pop-up, this weekend, where Baltimore-based Third + Grace debuts its latest collection. Head over to Shop Around for more details on Thread—and read on to hear all about Crowder and her upholstery shop.
Thread. April 4 from 1 to 7, April 5 from 11 to 7, and April 6 from 11 to 5. 1039 Fifth St., NE.
Tell us about your background. What inspired you to start an upholstery business?
I was a photo editor and freelance photographer for several years before I even thought about upholstery. I've always loved having my hands in various creative projects, and interior design has always been inspiring to me. But it never occurred to me that upholstery was something I could do until just a little under two years ago. In late 2012 I went out and purchased two wooden chairs and spent the afternoon stripping them and reupholstering them. The idea of transforming a practical and tangible item into something that now has a personality through just changing the textiles was an "aha" moment. I loved the physical labor just as much as shopping for the fabrics or sketching the ideas. Entrepreneurship was very new to me, but I began to have lots of friends and even a few strangers ask if I was able to reupholster projects they had at home.
You're self-taught. How did you learn the craft?
YouTube was a really great teacher. I would spend hours looking through various how-to videos on everything from making double-welt cord to how to make a box cushion or where to buy Pli-Grip online. I also purchased a video by an amazing upholstery company in Austin, Texas, called Spruce. I worked full-time during the day, so every evening and weekend I was home working on chairs and benches and ottomans. A lot of it was trial and error, and still very much is. Each piece of furniture is different and requires its own technique, from stripping it to putting it back together.
What are your favorite sources for finding the vintage furniture pieces you reupholster?
These places are so good that I want to keep them to myself! But here you go: My go-to source is Ryan's Relics in Bel Air, Maryland. It's a great spot for midcentury pieces, and the price points are unreal. My other favorite is a place in Frederick called Cannon Hill Antiques. It's just up the road from the more expensive and fancy antiques shops in Frederick. It's old and dusty and gets chilly in the winter and has rickety stairs, but I love it. And another great place is Goodwill. You can find great pieces of furniture with good bones for $5 that would sell for hundreds someplace else.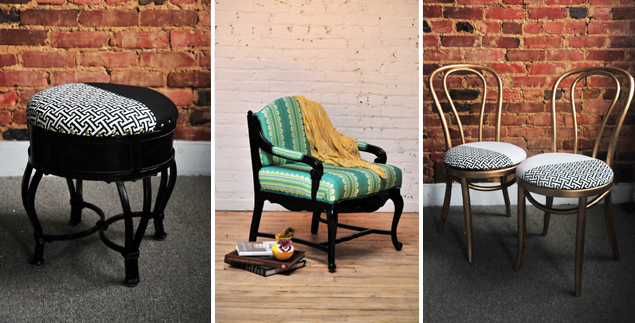 What's your design signature?
My signature design is still forming itself, I think, but I definitely love mixing prints and textiles. I like having one pattern on the front of the chair and a completely different one on the back. It can add whimsy, funk, or even more elegance to a chair. I think it comes from being inspired by the back details in women's fashion. I love shirts and dresses and blazers that have a great detail on the back, so it's visually pleasing as you come and go.
You use a lot of colorful fabrics and interesting patterns in your furniture. How do you choose your fabrics? How do you decide what to pair?
The inspiration for the fabric comes from a variety of places, but primarily from fashion and style. I love how bold many people are with their everyday style choices, and I wanted to translate that to furniture that was cool, functional and beautiful to look at. I labor over the fabric choices sometimes, because every piece has its own personality and I hope to bring that out using the correct fabric. There is one chair I've reupholstered three times because the fabric just didn't suit the chair's frame. I usually get a bunch of fabric swatches and then spend time pairing them together to see which complements the other.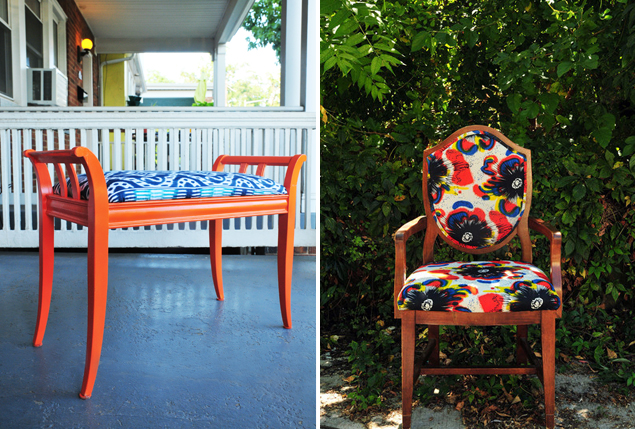 Are there any pieces that are especially meaningful? Why?
The collection I'm debuting at Thread at Union Market this spring is very meaningful to me. Last year I was just starting out with my business and trying to take on as many projects as I could, and I took on too much at once, which was little overwhelming. I knew if I wanted a better work-life balance I would need to minimize some of the workload and maximize quality over quantity. And that's how the Modern Luxury collection came about. It's me slowing down and going back to basics: black, white, and gold. I temporarily suspended any new client work and took my time spending three months working on all the details for this collection. It really reflects my affinity for minimalism in my personal style, and each piece reminds me of the moment I knew I had to change how I worked.
What's up next for Third + Grace?
A project I'm really excited about: I'm currently conceptualizing a new collection of colorful chairs, pillows, and poufs that will be sold exclusively for the website Brika. That will be available in July 2014. I'd also love to branch into working with boutique hotels and shops on a few design ideas.
You Might Also Like: