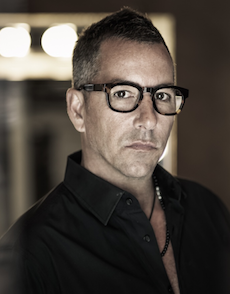 When it comes to beauty, no one in Washington has a more impressive résumé than Carl Ray. Best known for his official gig as personal makeup artist to Michelle Obama, Ray has worked for the Four Seasons' luxe George Salon for more than a decade. He's attracted powerful fans over the years—Justices Sonia Sotomayor and Elena Kagan, Paula Abdul, Kerry Washington, and Jordan's Queen Noor are just a few of his A-list clients—and his work has graced the pages of fashion glossies (Vogue, Allure, Elle) and the runways of bridal and couture shows. So what products does the beauty guru turn to when it comes to his own skin? Read on for five of his must-haves.
1) Nivea A Kiss of Olive Oil & Lemon Lip Balm
"I'm a lip balm addict; I've tried them all, and I change brands and formulas often. But this is one of my favorite lip conditioners—I love the feel, the taste, and the scent." $3 at Ulta.
2) Remede Sweep Gentle Mineral Exfoliant
"I've been using Sweep twice a week for a decade, and it definitely helps leave my skin clear, smooth, and radiant. It's made from crushed white marble." $48 at SkinStore.
3) Kiehl's Ultra Facial Moisturizer SPF 15
"I use this Kiehl's moisturizer on my face when I get out of the shower in the morning. It feels great—a little goes a long way, especially on damp skin—and since it has SPF in it, it saves you a step." $21 to $50 at Kiehl's.
4) Molton Brown Ylang-Ylang Body Wash
"This body wash has calming and relaxing qualities and is made with natural plant extracts. I love the way it makes my skin look and feel, and it's great for a soothing soak in the bath." $30 at Nordstrom.
5) Hanae Mori Men's Fragrance
"You know how sometimes when you put on a fragrance, it's way too strong or just doesn't work for your body chemistry? Not with this. This refreshing, Oriental woody fragrance is my favorite scent ever. I get a lot of compliments on my scent thanks to Hanae Mori." $53 to $74 at Sephora.