Kimberly Truba and Daniel Fitzgerald's relationship has weathered its fair share of curveballs. After connecting via Match.com in 2008, the pair went on one date to a Nationals game before Daniel, now a captain in the United States Marine Corps, got orders to go to Japan. "Phone calls and Skype were our dates over the following few years before he returned to the States," says Kimberly, a social media coordinator for the Marine Corps Marathon.
Luckily, the chemistry from the first date was strong enough to withstand the long distance, and in the summer of 2012, Daniel decided to propose. While they walked around Washington pretending to be tourists, Daniel asked Kimberly to sit on a bench to pose for some photos. "He showed me the pictures on the camera, and behind me in the photos were my parents, holding a poster saying 'Will you marry me?' and then Dan was down on one knee," recalls Kimberly. "Then my parents held up a banner that said, 'We said yes, too!' It was absolutely perfect."
Soon after the proposal, Dan was deployed to Afghanistan, leaving his bride-to-be to plan the wedding. "It was the perfect pastime while he was away," says Kimberly, who soon settled on Nationals Park as the reception venue. "Reflecting on the first date back in our 'rookie season,' the wedding would be just like going home." A year and a half later, Kimberly and Dan had their wedding, complete with cocktail hour in the Nats Park batting cages and baseball-inspired decor and favors.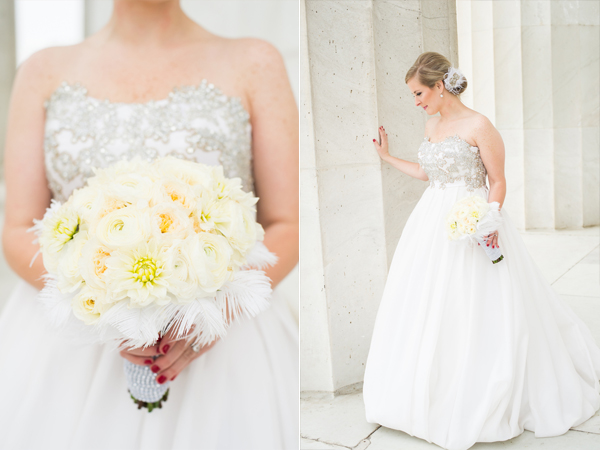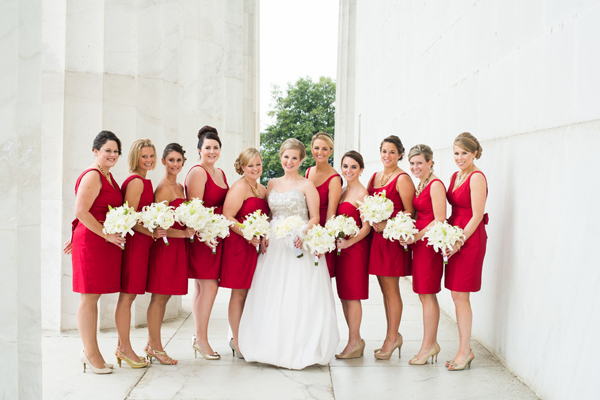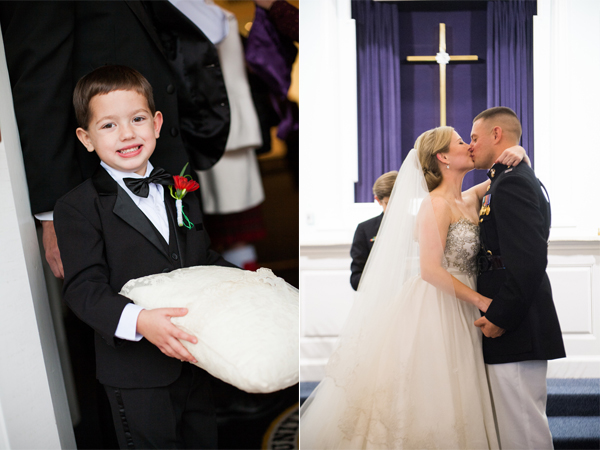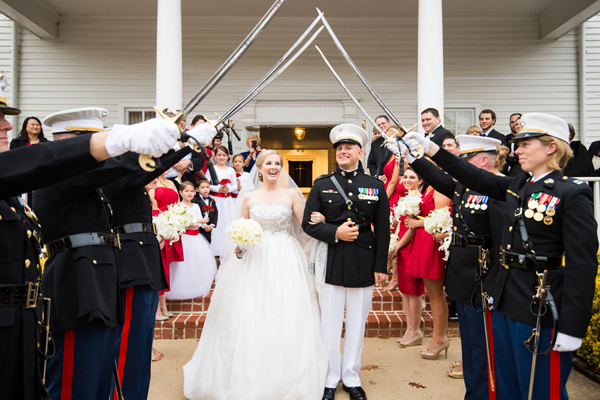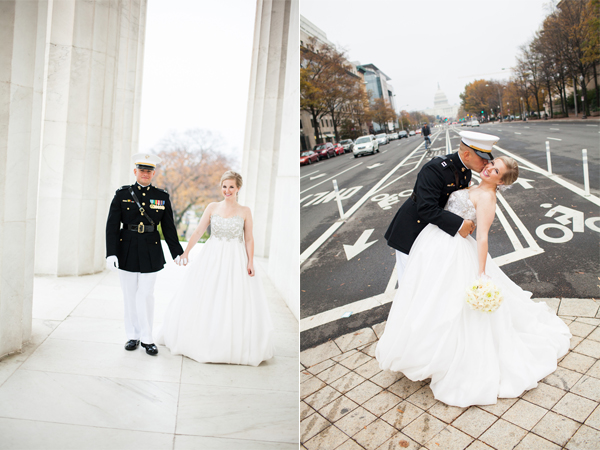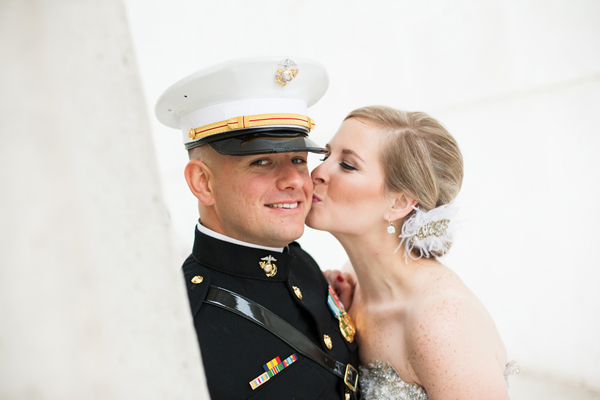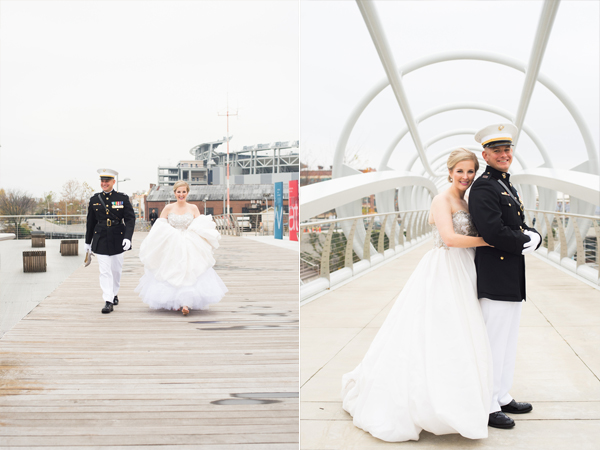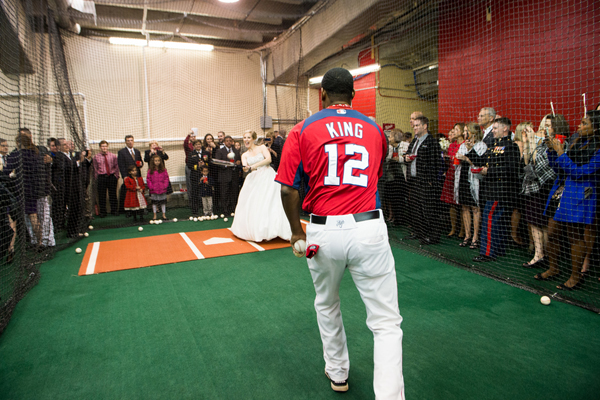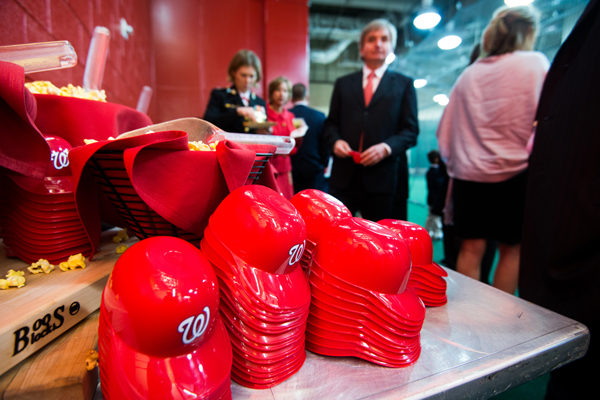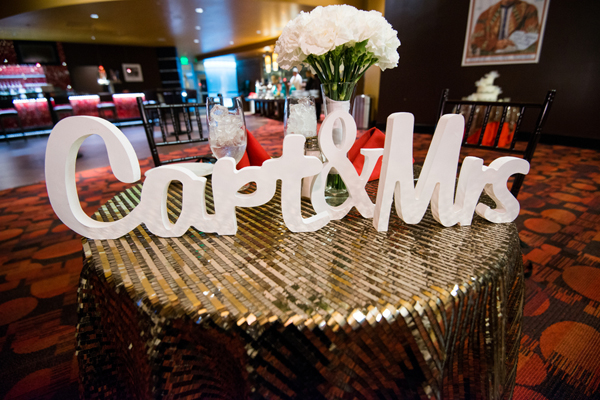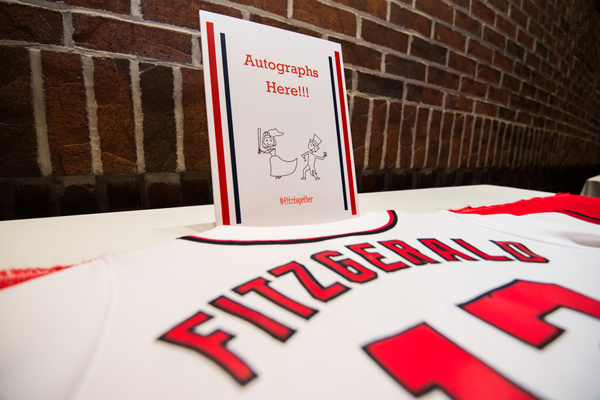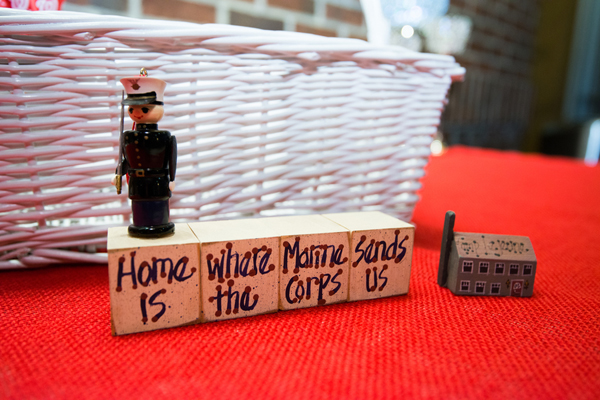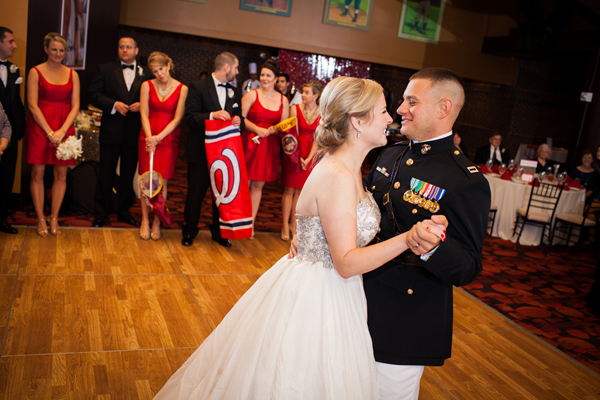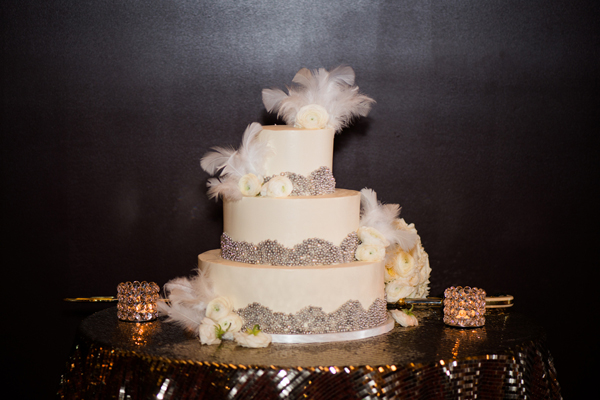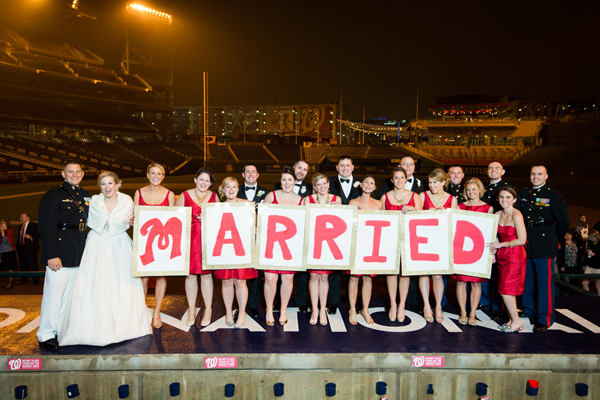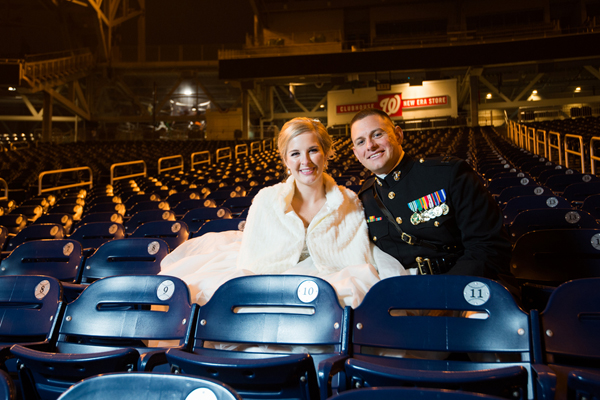 Details:
Photographer: Kami and Nick Swingle of NK Swingle, and Aaron Foster of Enigma Productions Photography
Wedding Ceremony Venue: Chapel on Bolling Air Force Base
Wedding Reception Venue: Nationals Park
Event Coordinator: April Grimmig, Nationals Park
Bride's Gown: Anna Maier, Hitched
Hair: Jane Parr, Victoria Station
Makeup: Jordan K. Winn
Caterer: Levy Restaurants, Nationals Park
Cake and Dessert: Fluffy Thoughts
Cake Flavors: Candy-bar crunch, "berrylicious," and "chocoholic"
Cocktail: "No signature drink, but we had stadium cups with our wedding hashtag #fitztogether to add to the baseball theme."
Florist: L'Artisan Lily
Flowers: Garden roses; white dahlias, ostrich feathers, ranunculuses, hydrangeas, lilies, and freesias; and red dahlias, carnations, and roses
Music/Entertainment: Devin Alexander, MyDeejay
First Dance Song: "Can't Take My Eyes Off You" by Frankie Valli
Invitations: Jenna Coyle
Bride's Favorite Detail: "All the homemade table runners my mom made to match the sparkle in my wedding dress, and the personalized Nationals jersey with 'Fitzgerald' on the back that we had guests sign."
Groom's Favorite Detail: "Signing a baseball that a guest found in the dugout and seeing my wife sign her new name for the first time."
Biggest Surprise: "Cocktail hour was hosted in the dugout and batting cages with actual Nationals players throwing out pitches. The biggest surprise was seeing the guests react as they were led to the dugout, and then watching them do batting practice. One of the wedding guests was a former college softball player, so she was in there, pounding the balls, and the Nationals player had to remind her this was a 'wedding reception, not USA softball.'"
Favors: "In honor of our guests, we made a donation to the Semper Fi Fund, since the military is a huge part of our lives."
Theme: Home run. "Unique, fun, and not what you think when it comes to a wedding—a perfect triple play," says Kimberly.
Four Words That Describe the Wedding: Opening day, diamond, grand
Honeymoon Spot: Breckenridge, Colorado
Where They Currently Live: Camp Lejeune, NC