Born in the vibrant coastal city of Lima, Peru, and raised in Los Angeles, Maria-Alejandra Avellaneda has spent nearly her entire life surrounded by beaches. So when she decided early on in life that she wanted to start her own business—later supported by stints at the Fashion Institute of Design and Merchandising and Marymount University—it came as a no-brainer that her niche would be inspired by her sand- and palm-tree-filled upbringing. "All of the swimsuits I've ever owned have been Peruvian-made," Avellaneda tells us, "and I wanted to bring their unique styles, high-quality textiles, and bright colors to the US."
Thus was born Mars Vida Swimwear. Now based in Northern Virginia, Avellaneda is the sole designer behind the soon-to-launch bikini label, which she began crafting last October. The debut collection—which debuts online Thursday, May 1 (and celebrates with a sold-out launch party)—is full of mustard yellows, neon pinks, and jungle greens in a variety of cuts that are beautifully reminiscent of the luxe beachside vacay we'd wear these to. Read on for more on the inspiration behind the collection and a peek at Mars Vida's first pieces.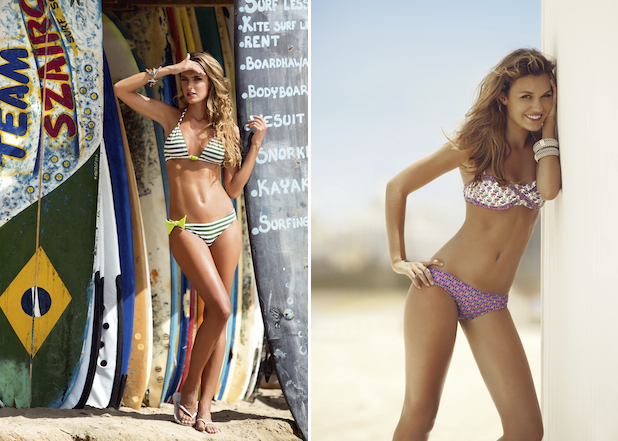 What inspired you to create your own swimwear line?
From a pretty young age I knew I wanted to start my own business, and my parents really helped me pursue that dream. I wanted to create a Peruvian-made swimwear line in particular because I wanted to bring something unique to the existing swimwear scene in the US. Since I was little, I've only worn swimsuits from Peru. I preferred the styles, found the cuts to be more flattering, and loved their bright colors that never faded. I have suits from ten years ago that you could never tell were that old. When I started Mars Vida, I toured the swimwear factories in Peru and got to see the quality of the materials used and the time and patience that go into making each suit. I know Peruvian textiles exceed what most mass-produced manufacturers are offering here in the US. I think that is what will differentiate us from some of the bigger swimwear brands in the US.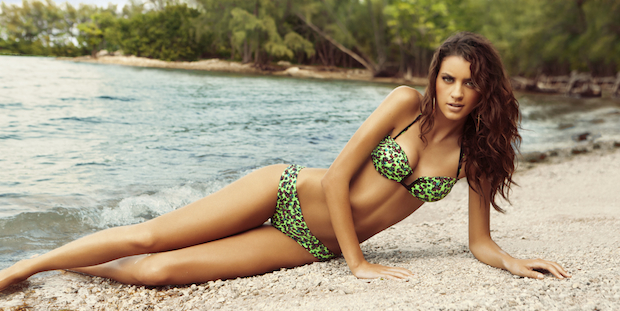 What can we expect from your debut collection?
Our first swimwear collection features 35 different styles with a total of 72 suits all manufactured in Lima. Because this is our first Mars Vida collection, I made sure to have a wide range of colors, cuts, styles, and sizes to get a sense for what our customers like and want. Many of the styles are one-of-a-kind, making them extra-special to me and hopefully to whoever purchases them.
What's your favorite design?
It is so hard to pick my favorite style from our collection! Friends have asked me that same question, and I always pick a different suit. Some styles are flirty and girly, some are sporty, some are perfect to mix and match, so it really depends on my mood that day. There has been one that I've had my eye on for a while now. It is a dark-blue, fringed tube top with a matching European-cut bottom. I picked this piece for the color and the fringe. Though I have many bikinis of my own, I didn't own any fringe ones, and I think the style is great for anyone with a smaller bust—fun and flirty.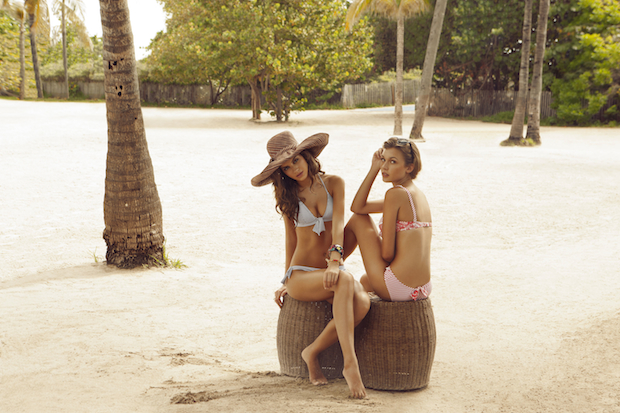 Where do you like to shop in the Washington area?
One of my favorite local spots is She's Unique, a jewelry boutique in Old Town. The owner, Katya, is a fashion blogger and knows all the latest trends in the jewelry world and brings them to her shop. If I'm not ordering shoes online, I'm getting them from the Shoe Hive; it carries some of my favorite designers, like Sam Edelman, Dolce Vita, and Tory Burch. I also like to draw closet inspiration from Anthom, an online clothing retailer based out of DC. The owners, Carla and Ashley, have such a great eye for unique style and up-and-coming designers, and their partner Marshall brings everything together with his great photography.
Now that you've produced a full collection, what's next for Mars Vida?
Launching the first collection is just the beginning. I am currently working on getting our second collection completed, and I expect to have it available online by mid-summer. I've been working closely with our manufacturers and designers overseas, and we have some great projects in mind for future swimwear collections, cover-ups, accessories, beach bags, and more. My hope is for Mars Vida to become a one-stop online shop for all beach needs. Another longtime goal of mine is to create products that will help the lesser-developed cities in Peru. Peruvian artisans in these cities are very skilled and can create beautiful handwoven items from alpaca wool that they spin and dye themselves. I am hoping to create something for Mars Vida with the women who create these items in which proceeds would go back to them to help better their communities.