The architects tasked with redesigning the Martin Luther King Jr. Memorial Library released their latest designs for the planned renovation of the city's flagship public library last Friday, and they clearly envision a streamlined and more engaging campus.
The renderings, from a team comprised of the architecture firms Mecanoo, from the Netherlands, and DC-based Martinez + Johnson are still preliminary, but they move ahead on a plan to stack two additional floors onto Ludwig Mies van der Rohe's original 1972 three-story structure while maintaining its protected exterior appearance.
Some of the ideas floated in these new renderings include an open floorplan at the ground level, with exposed staircases, a sidewalk bookshop and café (possibly called Cafe Mies), rooftop gardens, and and outdoor plaza on the side that faces H Street, Northwest. The library, has local and national landmark status, meaning the architects have to maintain its exterior design while giving the building the extensive overhaul it sorely needs.
DC government officials have said they plan to commit $103 million over the next five years toward rebuilding the library, though the project could cost as much as $250 million. Mayor Vince Gray floated a public-private partnership when the architecture team was announced in February.
The architects and DC Public Library officials are presenting the designs to the public at 6 PM today at the MLK Library.
Here are some more of the renderings, including more outdoor space: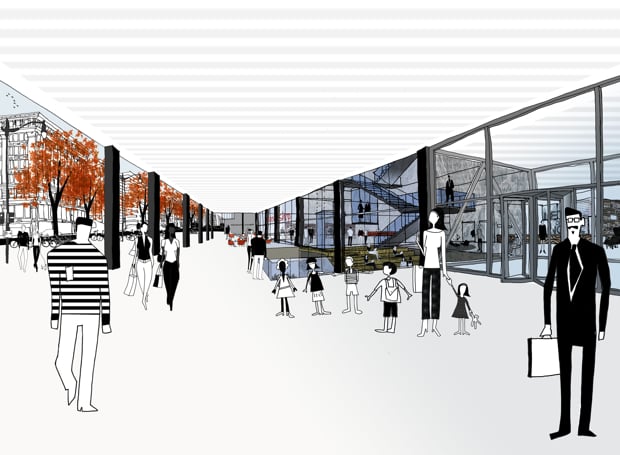 A more spacious ground floor: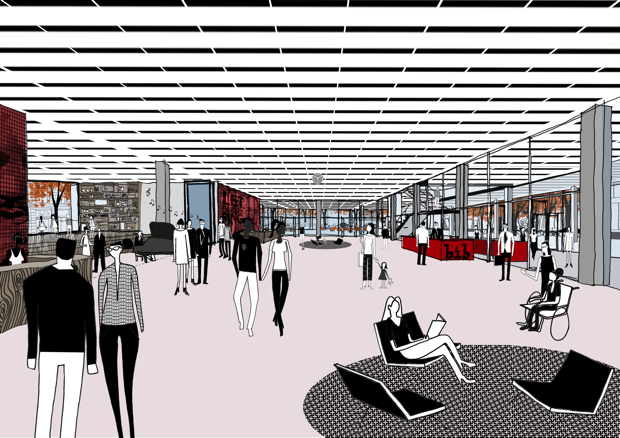 A sidewalk café and bookshop: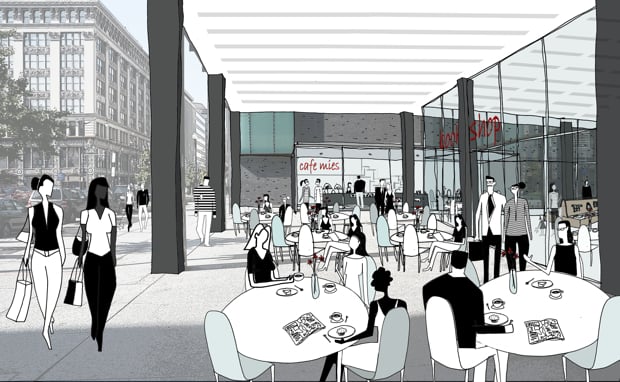 A cross-section of the proposed renovation: