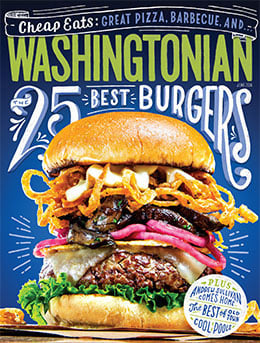 Washingtonians love their burgers. Our upcoming Cheap Eats issue, which hits stands this week, features the area's very best in a roundup of the top 25 most delicious patties in town. We sampled three times as many, from burgers at casual chains to swanky restaurants.
The Américain at Le Diplomate bridges the gap between our favorite fast food and fine-dining versions. It tastes a little like le Big Mac with its two thin patties, "special" Thousand Island-esque sauce, pickles, and onions on a sesame-seed bun. What elevates it: quality Pat LaFrieda blend beef, fresh mayonnaise for the sauce, and house-baked brioche. Beyond that, chef Michael Abt* doesn't get too fancy, keeping the cheese classic American. We could (and have) stopped in for this double-decker on a weekly basis.
If this juicy, messy-in-the-best-way burger has you craving more, pick up a copy of the Cheap Eats issue to find our other 24 favorites, or sign up for digital access.
Le Diplomate's Burger Américain
Serves 4
Ingredients:
2 pounds Pat LaFrieda special blend ground beef, or any blend of 80-percent lean to 20-percent fat
8 slices yellow Land O'Lakes American cheese
1 medium red onion, thinly sliced
20 dill pickle chips, preferably B&G
⅓ cup special burger sauce (see recipe below)
4 brioche burger buns, ideally with sesame seeds, halved
5 teaspoons salted butter, at room temperature
Kosher salt and cracked black pepper
Directions:
Form eight four-ounce burger patties, roughly the shape of a hockey puck. Heavily season the burgers with salt and pepper.
Heat a large, heavy-bottom cast iron pan over high heat. When the pan just starts to smoke, add the burger patties, working in batches to avoid overcrowding the pan. Sear one side of the patty for two minutes, flip, and "smash" it flat with an offset spatula and sear the other side. Add one slice of cheese to each burger, let it melt slightly, then remove the patty. Place the patties on top of each other while resting.
Spread the butter equally on the cut side of the buns. Toast lightly in the same pan as the burger.
Place the bottom bun on the plate. Place two patties on top of each other on the bun. Lay red onions on each burger, followed by pickle chips and 5 teaspoons of special sauce. Place the other half of the bun on top and serve.
For the special burger sauce
⅓ cup mayonnaise (see recipe below)
2 teaspoons dill pickles, chopped
2 teaspoons Heinz chili sauce
1 teaspoon onion powder
Combine all of the ingredients and set aside. The sauce can be stored, covered, in the fridge.
For the mayonnaise
4 egg yolks
4 teaspoons Champagne vinegar
4 teaspoons smooth Dijon mustard
1⅓ tablespoons lemon juice
1 teaspoon Tabasco sauce
1⅓ tablespoons water
2½ cups canola oil
Combine all of the ingredients except the oil in a medium bowl. Pour the blended oil in a slow, steady stream into the egg mixture, while whisking vigorously. Continue until all of the oil has been emulsified into the yolk mixture. If the mayonnaise becomes too thick, thin with the water. Set aside.
*This post has been updated from a previous version.