Hike the Heights of West Virginia
3 hours
Dolly Sods Wilderness, in West Virginia's Monongahela National Forest, is so picturesque—with lush forests, sloping countryside, and pristine rivers—that some climbers call it the "mini-Grand Tetons." Hikers, horseback riders, and climbers set their sights on ascending Seneca Rocks, a rugged 900-foot formation rising over the North Fork of the Potomac River. Visit the new Seneca Rocks Discovery Center at the foot of the Rocks (Roy Gap Rd., Seneca Rocks; 304-567-2827) for hiking maps of the area, then take the gentle 1.5-mile Vista Trail to the top. Experienced climbers can scale the face on their own, and beginners can clip in with a rock-climbing guide from Seneca Rocks Mountain Guides (304-567-2115). For more high adventure, there's a 3½-hour zipline course at Nelson Rocks Outdoor Center (141 Nelson Gap Rd., Circleville; 877-435-4842). You can also tour the otherworldly cave formations at Smoke Hole Caverns and stay at the adjacent Smoke Hole Caverns Log Cabin Resort (from $69).
—Renee Sklarew
Camp Near Camp David
90 minutes
Pitch your tent at Catoctin Mountain Park's Owens Creek Campground—a little-known gem of a Maryland campsite set amid thick oaks, poplars, and a bubbling stream—and you'll be in good company. You pass the entrance to Camp David along the way—it's the one with the signs alerting visitors that they aren't allowed to enter or take photos. Sites cost $25 a night, and the campground opens for the season on May 1. For more information, see its website.
—Joe Sugarman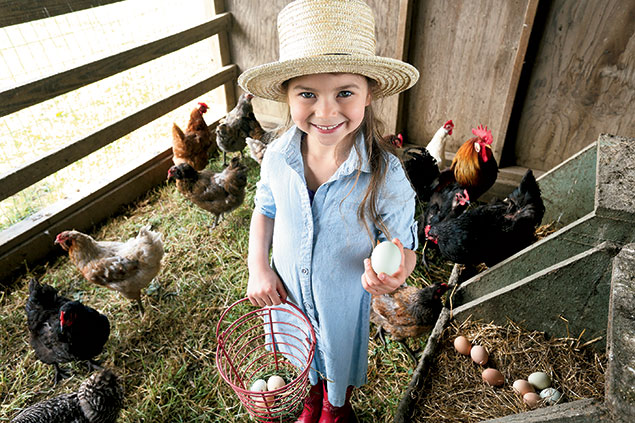 Go Back to the Farm
2 hours
A rebirth of farm-to-table restaurants in Lancaster County, Pennsylvania—such as John J. Jeffries (300 Harrisburg Ave., Lancaster; 717-431-3307), at the trendy Lancaster Arts Hotel—has renewed interest in the area's robust farming community. To bask in country life, bunk at a farm. At Verdant View Farm Bed & Breakfast (from $79), in the town of Paradise, you and the kids can bottle-feed calves, chase resident ducks, and help gather eggs for breakfast.
—Andrea C. Poe
Take Your Best Shot
If you're seeking to release your inner hunter-gatherer, head to the Point at Pintail or Schrader's Outdoors, two hunting clubs on Maryland's Eastern Shore. Both boast challenging sporting-clay courses, guided hunts, and a place to bunk, with the Point at Pintail offering the more luxe accommodations. Schrader's Outdoors in Henderson is about an hour and a half from DC and has various hunting packages. The Point at Pintail in Queenstown is an hour away; the manor house rents for $2,500 a night and has 11 beds.
—Joe Sugarman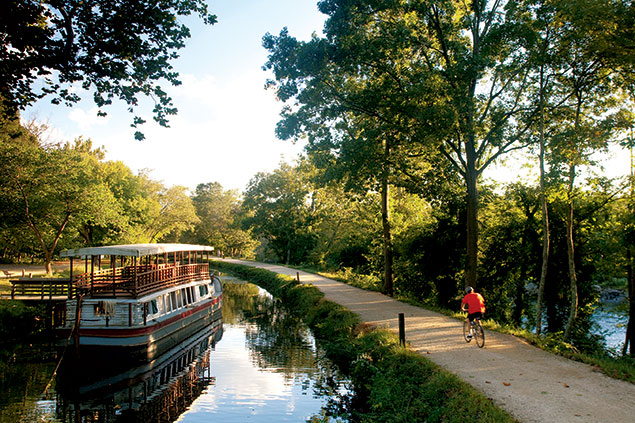 Bike Along the Water
If traveling through three states on two wheels for three or four days sounds like one unforgettable adventure, consider taking bikes (in a one-way rental truck) to the end of C&O Canal National Historical Park in western Maryland.
The historic towpath, which parallels the old canal and the Potomac River, extends to Georgetown and offers 184.5 miles of shaded canopies, flat but challenging gravel terrain, and water views much of the way, with charming small-town bed-and-breakfasts in between.
Starting in Cumberland on the first morning, break at mile 166.7 at Schoolhouse Kitchen (19210 Opessa St., SE, Oldtown, Md.; 301-478-5189), a home-style haunt in a former school cafeteria. If you're lucky, a local will offer to show you the classic cars stored there. Ten miles later, you come to Paw Paw Tunnel, a dark and drippy passage and a well-deserved cool-down. Bill's Place (12719 High Germany Rd., SE, Little Orleans, Md.; 301-478-2701), a restaurant, bar, and grocery store at mile 140.8, is a fun afternoon beer-and-snack break.
Lay your head for the night in Hancock at the 1828 Trail Inn (rooms from $122), at mile 124.1. Don't leave town without trying the blueberry or cherry pie two blocks away at Weaver's Restaurant & Bakery (77 W. Main St.; 301-678-6346).
You'll pedal through fewer towns on the second day, but you will pass Fort Frederick, Maryland's 1758 frontier during the French and Indian War. Continue to mile 99.4 for lunch at Tony's New York Pizza in Williamsport (10 E. Salisbury St.; 301-223-6266).
Stop for the night at the Jacob Rohrbach Inn (from $135), a stately Sharpsburg house from the 1800s that's a few miles from the towpath at mile 76.8. Catch live music at Captain Benders Tavern (111 E. Main St.; 301-432-5813), or rest for the morning, when the inn's breakfast might include eggs, fresh fruit, and house-made pastries.
When you get to Harpers Ferry, West Virginia, after a couple of hours on day three, you'll see more people on the trail than you have the whole trip. At mile 35.5, you'll cross the river into Virginia on White's Ferry (301-349-5200). End the journey in Leesburg or stay at the Comfort Suites (from $125), which can shuttle you and your bike from the trail (because a highway connects the trail to town). If you're finishing the 36 miles to Georgetown the next day, consider a picnic stop in Great Falls Park.
—Kayleigh Kulp
Segway Down a Mountain
3 hours
Garrett County, Maryland, is best known for boating in the summer—on Deep Creek Lake—and for winter skiing. But that's only the tip of the iceberg when it comes to outdoor fun. You can try rafting on the world's only manmade mountaintop whitewater course at Adventure Sports Center International (250 Adventure Sports Way, McHenry; 301-334-7495). The center also offers riverboarding, kayak instruction, rock climbing, and guided hikes. At nearby Wisp Resort (from $89), you can go mountain-biking, fly along the zipline canopy tour, ride a mountain coaster, see the lake on a standup paddleboard, and enjoy what may be the stupidest fun ever: mountain Segway tours. Participants drive Segways up and down ski slopes—gentle, beginner-level terrain—and through the woods.
—Matthew Graham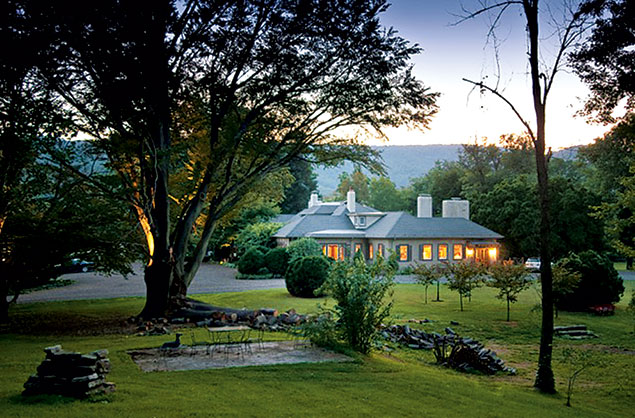 Saddle Up at a Historic Estate
80 minutes
When the Duke and Duchess of Windsor stayed at Glen Gordon Manor in the 1930s and '40s—Wallis Simpson's cousin lived there at the time—they awoke to Hunt Country breakfasts in an elegant dining room. Not much has changed at this tony property in the Blue Ridge Mountain setting of Huntly, Virginia. Horses whinny softly outside your window as the chef and current lord of the manor, Dayn Smith, a Culinary Institute of America graduate, prepares breakfast using organic blue eggs from the B&B's Easter Egger chickens and herbs from the garden. Between meals—don't miss Smith's refined five-course dinner ($85 or $125 with wine pairings)—guests can walk the estate's 46 acres, lounge by the pool, or take riding lessons. Experienced riders can opt for a two-hour guided trail ride ($150 with picnic). Rooms from $250.
—Jordan Wright
Stay at a Classic Mountain Lodge
4.5 hours
Mountain Lake Lodge in Pembroke, Virginia, is a rare find: a lakeside resort with moderate rates and really good food. Formerly Mountain Lake Hotel—famous as the setting for scenes in Dirty Dancing—the property reopened last May after a multimillion-dollar renovation that updated rooms and added activities but retained the laid-back feel. You can zoom down ziplines, hike 22 miles of forested trails, and canoe, kayak, and swim in the lake. Try disc golf or bocce and, on summer evenings, enjoy s'mores by a campfire. Cabins and cottages all feature porches with rockers and a country-comfortable interior.
Chef Michael Rork uses mostly what's in season for his "new Appalachian" cuisine. If on the menu, try the meatloaf sandwich for lunch and the duck breast with figs or rockfish with clams for dinner.
In nearby Eggleston, the casual Palisades Restaurant (168 Village St.; 540-626-2828) also serves memorable fare—especially the trout, scallops, and duck with dumplings. The chef once cooked at the Inn at Little Washington.
Rooms start at $149, rental homes at $250.
—Candyce Stapen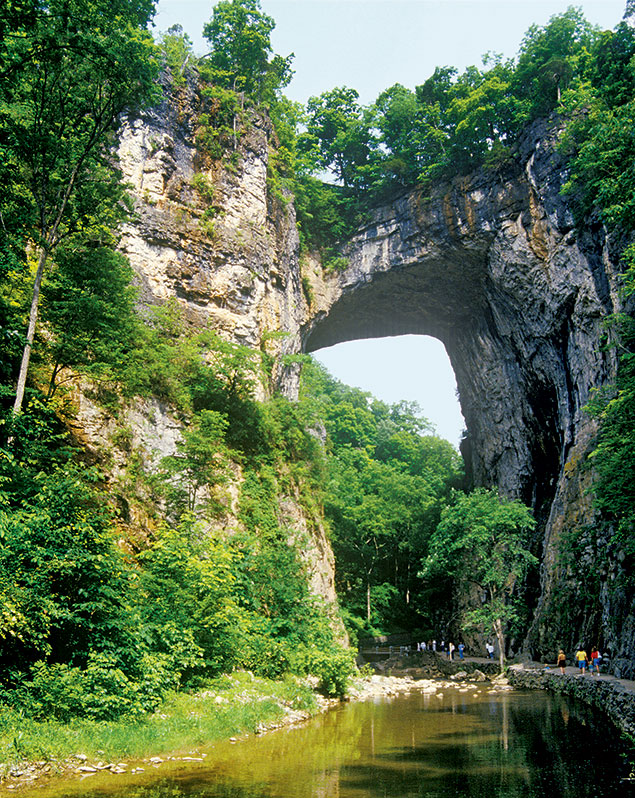 Marvel at a Natural Wonder
3 hours
Thomas Jefferson described Natural Bridge as "an arch, so elevated, so light, and springing, as it were, up to heaven." If you haven't seen this wonder of nature, consider a visit: The top of the limestone bridge is 20 stories high and its walls 40 feet thick. Visitors take a shuttle or descend 137 steps under the arch, then can hike a one-mile loop to Lace Falls.
The bridge isn't the only reason to visit these parts: Fifteen minutes down the road is charming Lexington, Virginia, where Southern hospitality abounds, especially at farm-to-table spots like the Red Hen (11 E. Washington St.; 540-464-4401). The town's famous forefathers, Robert E. Lee and Stonewall Jackson, are showcased at several sites including Washington and Lee University and Virginia Military Institute. Stay at Applewood Inn (from $160), which offers panoramic mountain views, poolside barbecues, and llama treks.
—Renee Sklarew