Bring the Kids to the Other Ocean City
3.5 hours
How kid-friendly is Ocean City, New Jersey? This is a place that hosts an annual Pamper Scamper race of adorable crawling babies, along with taffy-sculpting and freckle contests, and has barred the sale of booze since its founding in 1879. (Liquor superstores just outside of town can quench your thirst.) Its 2.5-mile-long boardwalk boasts tot-size rides and games, and an old-timey main street, sprinkled with funky boutiques between the five-and-dimes, keeps parents happy, too. The family-friendly Seaport Inn Motel (from $155 in summer) offers kitchenettes, free parking, and complimentary passes for the beach, just two blocks away.
—Joe Sugarman
Stroll a Bayside Town
90 minutes
There's a reason St. Michaels is one of the most popular destinations on Maryland's Eastern Shore: Dining, shops, galleries, and waterfront attractions such as river cruises are balanced by the historic town's laid-back charm. You can take in an antique-boat exhibit or climb inside a 19th-century lighthouse at the Chesapeake Bay Maritime Museum (213 N. Talbot St.; 410-745-2916). Gaze at waterfront mansions during an afternoon sail on the Lady Patty, a historic yacht (410-886-1127). Browse through indie boutiques such as Olivins (205 N. Talbot St.; 410-745-2062), a new olive-oil-and-chocolate tasting room. Sample craft beer at Eastern Shore Brewing (605 S. Talbot St.; 410-745-8010), whites and reds at St. Michaels Winery (609 S. Talbot St.; 410-745-0808), and rye whiskey at Lyon Distilling Company (605 S. Talbot St., Suite 6; 443-333-9181). Crack crabs on the deck at the Crab Claw Restaurant (304 Burns St.; 410-745-2900) or try local rockfish with a European twist at Bistro St. Michaels (403 S. Talbot St.; 410-745-9111). Stay overnight in a waterfront room at the Inn at Perry Cabin (from $400), a luxe property where you can borrow bikes and pedal into town.
—Andrea C. Poe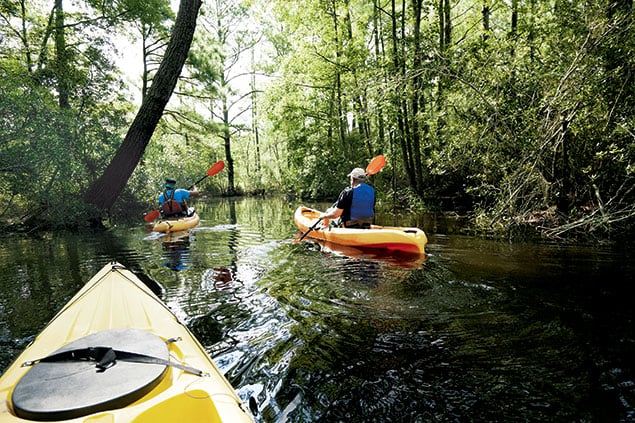 Kayak with the family
3.5 hours
With miles of white-sand beaches, Sandbridge, Virginia, offers wonderful seclusion, yet it's just 20 minutes south of the bustling Virginia Beach boardwalk. Also nearby: great hiking, biking, kayaking, and fishing at Back Bay National Wildlife Refuge (4005 Sandpiper Rd., Virginia Beach; 757-301-7329) and False Cape State Park (4001 Sandpiper Rd., Virginia Beach; 757-426-7128). Sandbridge Realty (800-933-4800) and Siebert Realty (877-422-2200) rent beach houses and condos that accommodate 6 to 32 people.
—Rachel Cooper
Enjoy a Pint at the Beach
2.5 hours
The folks behind Dogfish Head beer are brewing something big for the beach town of Lewes, Delaware: The 16-room Dogfish Inn opens in June. If rooms are like Dogfish's Brewmaster's Suite at the Inn at Canal Square, they may feature six-packs and brewery tours. While in Lewes, rent a bicycle and ride the new Gordons Pond Trail. Scheduled to open in early summer, it connects to the Junction and Breakwater Trail to make a 15.5-mile loop between Rehoboth Beach and Lewes.
—Sherri Dalphonse
Sample Wineries Along the Water
2.5 hours
Virginia's Northern Neck peninsula is still a secret to many, but a recent mini-boom in winery openings may change that.
Most of the buzz starts at the five-year-old Hague Winery (8268 Cople Hwy., Hague; 804-472-5283). Tastings are in a restored barn on land that was held for 11 generations by the family of Robert E. Lee. Try the Chardonel—a crisp hybrid of Seyval and Chardonnay, a perfect pairing with Chesapeake Bay oysters. Accommodations are available in an 1800s cottage.
The granddaddy of Northern Neck wineries is Ingleside Vineyards (5872 Leedstown Rd., Oak Grove; 804-224-8687), with free tours daily and a courtyard for relaxing. The budget-friendly Chesapeake Chardonnay is a favorite summer sipper. Two waterfront cottages are available, too.
Newcomer Jacey Vineyards (619 Train La., Wicomico Church; 804-580-4053) is a good stop when hunger strikes: The winery's menu offers tapas such as Spanish rice cakes and rustic bread topped with Manchego and Serrano ham. Albariño and Malbec star on the small but growing wine list.
Splurge on a cottage and four-course dinner at romantic Hope and Glory Inn (hopeandglory.com; from $200) or book one of the whimsical tents at the inn's Dog and Oyster Vineyard (804-438-9463; from $320).
Nate's Trick Dog Cafe (4357 Irvington Rd., Irvington; 804-438-6363) is another dining option. It pairs small-town friendliness with big-city culinary prowess. Or cross the river to Rappahannock Oyster Company's waterfront restaurant, Merroir (784 Locklies Creek Rd., Topping; 804-758-2871), for oysters fresh off the boat.
The Northern Neck is one of Virginia's most historic regions. Highlights include Robert E. Lee's ancestral home, Stratford Hall (483 Great House Rd., Stratford; 804-493-8038), as well as the George Washington Birthplace National Monument (1732 Popes Creek Rd., Colonial Beach; 804-224-1732) and the James Monroe Birthplace (4460 James Monroe Hwy., Colonial Beach; 804-214-9145).
On your way home, stop at Denson's Grocery and R&B Oyster Bar (117 Washington Ave., Colonial Beach; 804-224-4121) for made-to-order oyster stew with fresh bivalves from the bay.
—Nancy Bauer Collier