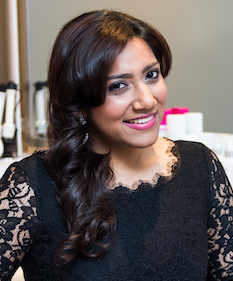 When she's not at her day job as a financial executive for Marriott, beauty guru Maha Sharma can be spotted holding down the fort at DC's newest blow-dry salon, Blo. We met Sharma when she opened her new spot dangerously conveniently close to Shop Around's downtown HQ back in March, alongside celebrity guest Whitney Port, and we immediately took notice of her polished look: spring-appropriate pink pout, clear, glowing skin, and, of course, silky-smooth waves. Naturally, we took the first opportunity to ask for her beauty tips. Read on to see the five items this pro always has in her makeup bag.
1) Unite 7Second Refresher
"It is the perfect pick-me-up after the gym. Lightweight and refreshing, it helps keep your blowouts looking red-carpet-ready. Best of all, it doesn't leave behind the chalky, powdery residue that a lot of other dry shampoos on the market tend to." $24 at Drugstore.com.
2) Heidi's Hair Ties
"Function meets fashion, with a sparkle. These soft, stretchy elastics won't damage or break hair, and they are pretty enough to wear as bracelets!" $10 to $16 at Heidi's Hair Ties.
3) Crème de la Mer Moisturizing Cream
"I can't leave the house without this moisturizer. It has a very thin consistency that smoothes on perfectly under my everyday foundation and keeps skin soft, supple, and healthy." $155 at Neiman Marcus.
4) Tom Ford Lipstick in Nude Vanille
"I am obsessed with this perfect nude shade. It has a really nice creamy texture that leads to a smooth finish. It's perfect for day and night." $49 at Nordstrom.
5) Geurlain La Petite Robe Noire Eau de Parfum Spray
"I can't leave the house without spraying this on. It's the perfect amount of perfume; not too heavy, and not too light. Even more amazing, it changes scent during the day, switching from roses to almonds to cherries." $67 at Sephora.