&Pizza
7614 Old Georgetown Rd., Bethesda; 240-800-4783
Open daily for lunch and dinner. Inexpensive.
This quickly expanding local chain, which will also soon open in Gaithersburg and Germantown, takes the Chipotle ordering approach and applies it to pizza. You choose a crust (wheat, traditional, or multigrain), then, as you walk down the counter, doll it up with accessories both expected (pepperoni, mushrooms) and esoteric (pineapple salsa, tzatziki). The pie cycles through an electric oven and is in your hands in minutes. The variety of toppings can feel daunting, but we were happy with a few of the preset combinations, including the spicy Farmer's Daughter, laden with sausage and a runny egg, and the Moonstruck, an array of mushrooms and goat cheese zigzagged with sweet fig-marsala sauce. This location's snug space means that most treat it as a carryout. Regardless of whether you grab a stool, your pizza will be handed to you in a box, not on a plate.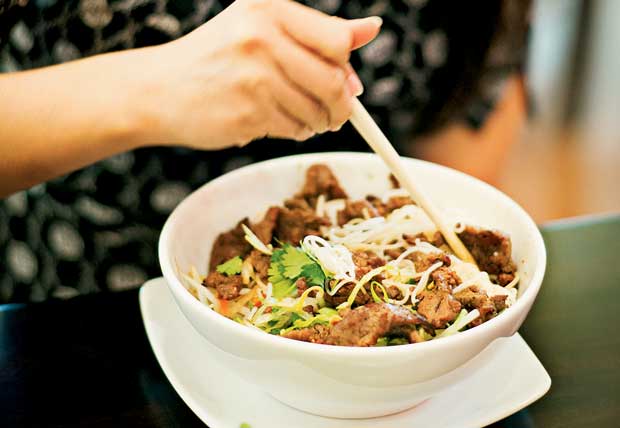 Four Sisters Grill
3035 Clarendon Blvd., Arlington; 703-243-9020
Open daily for lunch and dinner. Inexpensive.
The original Four Sisters, in Merrifield, is one of the most revered Vietnamese kitchens in the area, along with one of the most varied—its menu boasts more than 130 items. At this sunny fast-casual spinoff in Clarendon, there are a mere 25 dishes, including such greatest hits as crunchy, oversize pork spring rolls and a lovely mint-flecked green-papaya salad with shrimp and shavings of pork, along with a roster of bánh mì. Bun—vermicelli that you toss with carrots, cilantro, basil, and nuoc mam (fish sauce), plus toppings including expertly grilled shrimp—is the surest bet. The Vietnamese subs were flavorful but bready, and a filet of lemongrass chicken had languished on the grill for too long and turned almost jerky-like.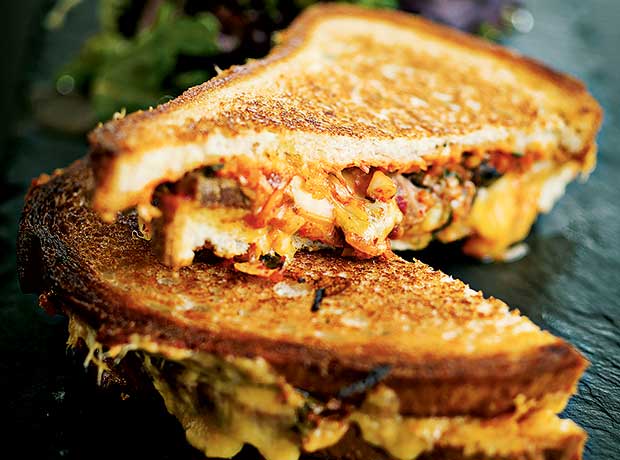 GCDC
1730 Pennsylvania Ave., NW; 202-393-4232
Open Monday through Friday for lunch and dinner. Inexpensive.
Grilled cheeses occupy a special place in the hearts of most Americans, conjuring kiddie memories of Kraft Singles and Wonder Bread. You'll find none of those nostalgic remnants here, though. These grilled cheeses (or "cheese dreams," as my grandmother called them) are of the fancier variety, with fillings like Gruyère or chorizo. While we appreciated the buttery, airy white bread and the crusty bits of cheese that had oozed out and crisped, we were underwhelmed by some of the ingredients. The wanly cooked onions in one sandwich could have used more caramelized sweetness, while the chicken in a hot-sauce-and-blue-cheese version came in unappetizing, thinly cut squares. We'd stick to a classic cheddar melt or, better yet, focus on the deliciously gooey tater tots smothered in cheddar sauce, jalapeños, and bacon. They're a meal in themselves.
This article appears in the July 2014 issue of Washingtonian.