By day, Rachel Mlinarchik, 32, is director of development at CARE, a nonprofit that supports global poverty-fighting projects. By night, the Dupont Circle resident shares her stylish takes on sustainable fashion on her blog, My Fair Vanity, where she focuses on items that are made in the USA, fair-trade, handmade, or secondhand or that incorporate "upcyling" techniques.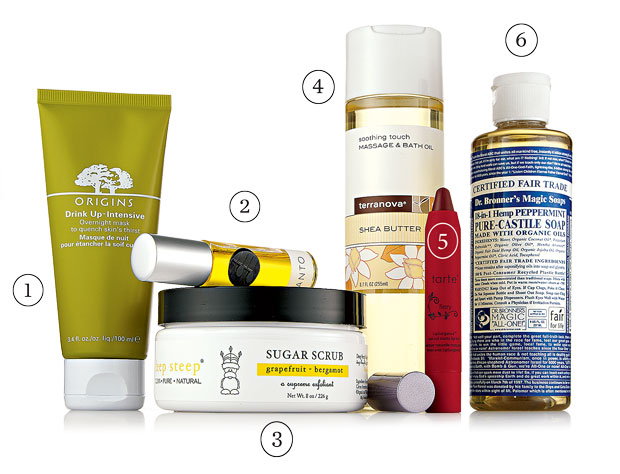 1. Moisture Mask
"I use this mask year-round for chapped winter cheeks or when I've had too much fun in the sun. I sleep with a thin layer on and wake up with happy skin. I use several Origins facial products because they have natural, skin-soothing ingredients." Origins Drink Up Intensive overnight mask, $24 at Origins.
2. Scent Story
"This small business churns out edgy, all-natural scents using only organic grape alcohol and essential oils. Walking into their store [in Hudson, New York], is to swoon with scent happiness, and I love knowing it's unlikely anyone will be wearing what I'm wearing." 2Note perfumes, $70 oil and $100 spray, at 2noteperfumery.com.
3. Two-in-One Scrub
"I hold this scrub above all others not just because of its organic ingredients but because it includes shea butter and coconut oil, which means I don't need to use lotion after the shower. It's also great for preventing ingrown hairs from waxing or shaving." Deep Steep Sugar Scrub in grapefruit bergamot, $10.95 at deepsteep.com.
4. Oil and Water
"I'm obsessed with this oil. A few drops in the bath and my skin feels baby soft, plus I love the delicate scent." TerraNova Shea Butter Soothing Touch Massage and Bath Oil, $22.35 at beautyencounter.com.
5. Matte Moment
"I love Tarte lip products because of their vibrant colors and because they're formulated without parabens, mineral oil, phthalates, or sodium lauryl sulfates." Tarte LipSurgence matte lip tints, $24 at Sephora.
6. Minty Clean
"I swear by Dr. Bronner's liquid soap in peppermint. The peppermint oil gives a tingly, fresh feeling." Dr. Bronner's Castile Liquid Soap in peppermint, starting at $8.99 at Whole Foods.
This article appears in the July 2014 issue of Washingtonian.