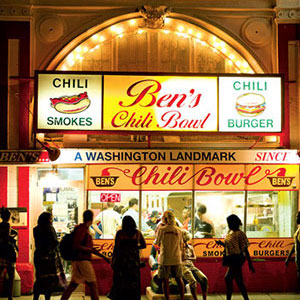 Travelers through Reagan National Airport will be able to taste one of Washington's iconic dishes with the opening of Ben's Chili Bowl Wednesday. The outpost of the Ali family's historic U Street spot serves its chili half-smokes in the pre-security area of the B/C Terminal.
This year has been an expansive one for the family-owned brand. March saw the debut of the first standalone sister restaurant in Arlington (a kiosk, similar to the one in the airport, serves FedEx Field and Nationals Stadium). An H Street branch is expected to open later this year. Still, much remains the same on the menu of fries, half-smokes, and, of course, chili.
Find Anna Spiegel on Twitter at @annaspiegs.