"This tree's been down too long. I'm just going to go grab it."
Duff McCully flips open the door to his truck and sprints into the thick of morning traffic on DC's Pennsylvania Avenue, Southeast. On the median strip, an adolescent tree has been felled by a car. He dashes back to the truck for tools—at five-foot-six and sturdy, McCully is surprisingly nimble. A few minutes later, the stricken tree lies in his truck bed alongside two saplings he found earlier, toppled in a sidewalk redevelopment. All three are casualties in the war between traffic and trees, in which McCully—one of 20 arborists who work for the District of Columbia—often plays the part of a battlefield medic.
It may come as a surprise to some Washingtonians that they live in a forest, albeit an urban one, or that last year the nonprofit American Forests named the District one of the nation's ten best cities for urban forests. If DC can boast that trees are winning the war against concrete, it's because McCully and his fellow arborists have many days when they plant or save more trees than they lose—the direct result of a commitment the city made nearly 15 years ago.
In 2000, then mayor Anthony Williams charged the DC Department of Transportation's Tree and Landscape Division with restoring the city's canopy and renamed the office the Urban Forestry Administration. Over the next three years, Williams increased UFA's budget from about $1 million to more than $8 million. He also gave it a voice in dealing with the city's rapid growth. Trees now figure into the equation whenever city planners discuss water- and air-quality improvement, energy efficiency, and public health.
"We are part of the change coming from both the public and private development process," says John Thomas, head of UFA since 2005.
It took the better part of the next decade for the District's arborists to grow into their new role. In 2003, a tiny staff still worked out of a dismal trailer beneath a highway overpass. (Those days are still referred to by veterans as Under the Bridge.) Four arborists struggled to clear a backlog of thousands of service requests for pruning, removals, and planting, under an inefficient system that divvied up the work according to tasks.
"If you were managing pruning, you'd drive all over with those," says arborist Ranjit Babra, who came to UFA in 2004. "Removals, you'd drive all over with those. Planting, someone drove all over looking for those. It made no sense because you'd be passing each other all over the city."
In 2006, the year Duff McCully joined UFA, the office took two giant leaps forward. First, a painfully backward paper system was scrapped in favor of a digital one. Today, arborists carry tablet computers that allow them to map the city's trees on the go. The office also reorganized its work orders by neighborhood and ward instead of by jobs to be done.
The result is local—and often intensely personal—tree management. McCully and his colleagues walk their assigned areas daily, examining individual trees for damage or sickness and updating the trees' status on their tablets. Each city-owned tree is cataloged by species, date planted, and other details.
• • •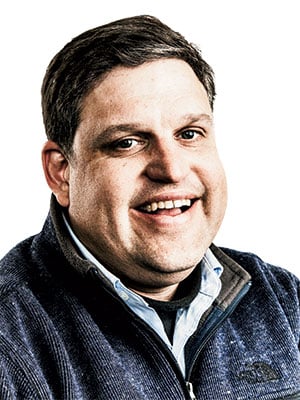 McCully approaches this meticulous work with a patience that borders on meditative: "I'm looking for a tree to give me a sign that things are not quite well with it." He speaks in a soft, Carolina-inflected tone that might make even a tree want his shoulder to cry on. "I'm using cues I've been trained to look for. Is it thriving or is it in decline?"
Trained at Warren Wilson College near Asheville, McCully spent the 1990s at the North Carolina Botanical Garden and then the Frederick Law Olmsted National Historic Site in Brookline, Massachusetts, a national park commemorating the landscape architect responsible for the US Capitol grounds and New York's Central Park. He came south in 2000 to work at the US Botanical Garden, then switched to the DC Department of Parks and Recreation before coming to UFA in 2006.
At the time, the prognosis for the city's trees had been in slow decline. The tree cover—the area planted with trees as a ratio to all land—had sunk from its high of 50 percent in 1950 to 35 percent, according to the nonprofit Casey Trees. Between 2006 and 2011, however, Williams's push began to pay off and the canopy started to recover, climbing by 2 percent. In 2011, Mayor Vincent Gray released a sustainability plan, including a goal to "tree" 40 percent of the District by 2032, and enlisted the federal government and private property owners in the effort. To execute the plan, the Urban Forestry Administration set itself a simple and ambitious goal: to plant every available public tree space.
In the past year, the city planted more than 7,300 new trees; it aims to plant at least 8,000 more by the end of this year, while improving maintenance of existing trees and removing some five acres of pavement, to reach a total of more than 1,000 covered acres.
"What's been happening for the past ten years has been fantastic," says Mark Buscaino, executive director of Casey Trees. Organized just over a decade ago, Casey has essentially grown up as a citizen organization alongside the city's own tree-planting efforts—both supporting and scrutinizing DC's initiatives. Buscaino calls UFA "one of the premier street-tree-management organizations in the country now."
The challenge is maintaining the momentum and playing the wild card of what happens on private property. Of DC's 39,300 acres, only 31 percent is in direct local control; the rest is almost evenly divided between private owners and the federal government. In Wards 5, 8, and 3 particularly, the loss of mature trees to development has offset the city's planting efforts. Nearly 80 acres have been lost to the Shops at Dakota Crossing and the former St. Elizabeths hospital campus development in just the last five years.
"I used to try to save every tree on a construction site," says McCully. "Now I've learned you can't do that." For one thing, the damage done by development isn't always immediately apparent. "You can try to save them, only to have them die later."
Other privately owned trees are felled by a checkbook. Knocking down a large older tree requires a permit, the fees from which go to a tree-planting fund. But developers clearing the way for a multimillion-dollar project hardly feel the pinch. The law, revolutionary when it passed in 2002, "needs to be revisited," says Buscaino. "It's past time."
• • •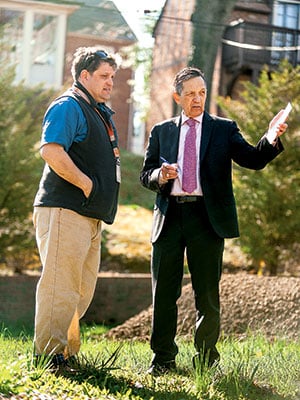 For now, the city focuses on planting where it can, preserving existing specimens, and enlisting the public to help with both.
Early this spring, McCully stopped by a quiet residential street in Congress Heights, in DC's Ward 8, to check on a crew installing dozens of trees along the curb. It had snowed earlier in the week, and his crew was up to its boot tops in mud. A woman watching from her spotless front porch eyed two crew members as they dug.
"I asked for a tree five years ago," she called out. "Furthermore, I didn't ask for all these trees—just one." She pointed to the overhead wires. "Now what's going to happen when they all grow up and start touching the lines?"
McCully and John O'Neill, a member of his team, greeted the homeowner and assumed a listening stance.
"I want your crew to clean the sidewalk entirely before they go," she instructed them. "And I don't want it Ward 8 clean. I want it Ward 3 clean. [Ward 3 includes a large chunk of Northwest DC, including affluent neighborhoods such as Cleveland Park.] Because I know you all don't respect Ward 8," she said. "All right?"
"Yes, ma'am," both men agreed. "Ward 3 clean."
O'Neill took a leaf blower to the sidewalk as the crew continued down the street. "I just had exactly that conversation with someone else this morning," he said.
Attitudes vary across the city. In Ward 4, the northernmost part of the District, "residents are very engaged," says the ward's arborist, Robert Corletta. "They have many more trees than other wards, and many of the older trees. Ward 4 residents don't hesitate to call us."
In Ward 8, east of the Anacostia River, by contrast, residents tend not to go through official channels, such as calling 311, the city-services information number. "They may tell a neighbor who has a relative who works for DC, and that person will relay it to us," McCully says. "Ward 8, they had to create their own 311 for many years."
Nonetheless, the traditionally green, wealthier neighborhoods of Ward 3 lost canopy between 2006 and 2011, even as all other wards picked up between 1.5 and 5.5 percent—due to a combination of new development and the natural attrition of older trees. Some Ward 3 neighborhoods have since requested "tree overlays," zoning provisions that offer stronger protection for trees than city regulations mandate. "Not many residents know that you can do this, but any neighborhood can," says Munevver Ertem, lead arborist for Wards 1 and 3.
The arborists seem to appreciate when residents push them a little. UFA staff routinely meets with the city's 40 Advisory Neighborhood Commissions and respond to daily calls—from a claim that a street tree's roots are breaking up one homeowner's foundation to requests for removals or new trees. In fact, arborists have been known to invite a resident who has requested a new tree to choose a specific species from UFA's list.
Residents can look at the city's map online to see what species are growing outside their doors. "Without those eyes on the street," Ertem says, "we could not do our jobs."
• • •
Hours after the planting crew has left her street, McCully knocks on the door of the homeowner who was watching the crew. He hands her a brochure.
"Here's the number you call if anything doesn't seem right about our cleanup," he says. "And here's a number you can call if you want to adopt this tree." He explains to her about Canopy Keepers, a program that provides a watering bag and instructions to residents who want to help care for trees.
"Oh, I'll adopt them," says the woman. "What are they?"
"This one's an Okame cherry, and that one is a Carolina Silverbell," McCully says. The cherry is daintier than those on the Tidal Basin but does well on city streets. However, McCully is partial to the Silverbell, a tree he grew up with and is trying to get established here.
Back in his truck, he turns onto a street that's a stark contrast to the pretty one he's just left: wider, sparser, empty of people. Here and there, apartment buildings stand vacant. "Now, this street I really like," he says.
It's hard to see what he sees at first. Then it dawns: He isn't looking at unloved buildings or cracked pavement. He's looking at stately elms planted decades ago and the open places where new, young trees could grow.
Lisa Schamess (lisaschamess@gmail.com), whose work has appeared in Planning and Creative Nonfiction, has a Norway maple outside her front door in DC's Columbia Heights. This article appears in the August 2014 issue of Washingtonian.
See Also:
5 Trees to Look For in Your Neighborhood