Ellen Van Dusen has always lived a colorful life: sponge-painting with Mom at home in Chevy Chase, ripping apart fabrics to make clothes, and painting one too many pairs of pants. Today, she designs an eclectic line of clothing for New York City boutiques that's earned attention from fashion giants Refinery29, Nylon, and Vogue—an experience she says feels "pretty weird."
Van Dusen released Dusen Dusen in spring 2010, influenced by her creative adolescence and love for simple shapes and bold prints. This year's spring line is bright, geometric, and fun, and there's plenty more art-inspired design on the way in her fall 2014 collection, set to be shipped to stores later this month.
We talked to the Tufts graduate to learn more about how DC shaped her blossoming fashion career—and the worst thing she's ever designed.
Tell us about Dusen Dusen. How would you describe it?
I've always been really interested in color and shape and art, so I wanted to make clothing that had really simple wearable shapes with bold, bright prints. I'm a big doodler; I love to draw. When I started making clothes in high school, I would buy stuff from thrift stores, then cut them up and sew them. Then I graduated to finding wacky fabrics and making stuff from there. I've always been interested in textiles and patterns and prints, so that's where the line came from.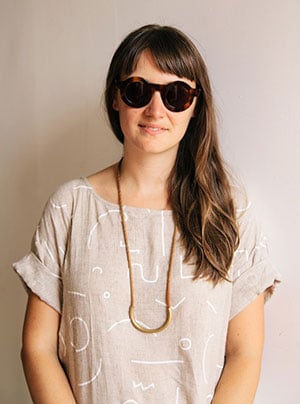 What was it like growing up in DC?
I lived in Chevy Chase, DC. My parents were both architects, so we had an art-plus-design-centric home. Instead of going to church or synagogue, my parents would take us to a museum every Sunday. It was our own little education. We would always go whenever there was a new show at the National Gallery of Art. We spent a lot of time at the Air and Space Museum. We would always do little projects in the backyard. We did tie-dye, we did sponge-painting.
DC is such a beautiful city. I feel like people don't talk about that enough when they talk about DC. The architecture is so nice and so green. The contrast from DC to New York is extreme. New York is nice, but there's a lot of bad stuff, too. My studio is in Williamsburg, and the walk to my studio, is very uninspiring.
Have you always been interested in fashion?
I've always made my own clothes and painted on things—I have pants that I painted a checkerboard on that I would wear to ska concerts. Probably the worst thing I ever made: At the Field School, I took a class called "Picture, Poem, Song." I partnered up with a friend of mine and I painted a pair of pants while listening to music.
There are so many good thrift stores in DC, and I think my passion for making clothes came from thrift stores. I would go to G Street Fabrics in Rockville and make dresses out of quilting fabric. During high school, I had a hat-making business. I got really into it and started selling hats at my high school and made 200 hats over the course of one winter. I charged $15 a hat, which is absurd for a hand-knit hat.
What path did you follow when you moved away from DC?
I went to Tufts. I did a design-your-own-major program there called psychology of design where I was basically studying the visual system from a bunch of different disciplines. I did some internships while I was at school, over the summers, with designers in New York, and learned a good amount. I worked a costume shop at Tufts and picked up a bunch of skills there. I had to make all kinds of weird stuff for plays.
After I graduated, I moved back to DC for a couple months, and worked at Annie Cream Cheese [in Georgetown]. That summer, I made some clothes and sold them at Meeps in Adams Morgan. Then I moved to New York and interned for two designers, and then I started my own line.
What do you miss most about DC?
I definitely miss the space I had in DC. It was very different from the space I have here. I miss some of my old spots. I liked taking my dog to my elementary school park. I miss Rock Creek Park—it's a great place to go jogging.