Look out, Virginians: The Neighborhood Restaurant Group has more eats and drinks for you. B Side debuts Saturday in the Mosaic District, adjoining its sister eatery Red Apron. Here's what you need to know about the 50-seat spot.
The drinks: Abundant. Modeled loosely after the Partisan, B Side is meant to be more of a watering hole than a sit-down restaurant. The Neighborhood Restaurant Group's all-star drinks team of Greg Engert (beer), Jeff Faile (spirits), and Brent Kroll (wine) is behind the generous bar. Drinkers can pick between 200-plus beers and 12 rotating drafts, 20 wines by the glass and another 120 bottles, and specialty cocktails. Faile dubbed the drinks after B-side album tracks, so you can sip a Don't Let Me Down with Sobieski vodka, grapefruit, St. Germain, and Tabasco simple syrup.
The food: Drink-friendly. Chef Nate Anda cross-pollinates the menu from Red Apron, so you'll find plenty of charcuterie and cheeses. A mix of bar snacks, small plates, and mains include pork-belly pupusas, an Italian beef burger stacked with provolone and pickled veggies, and steak-and-ale hot pockets. Fans of fried birds can order "rotisifried" chicken, an herbed rotisserie chicken that gets a turn in the fryer. Specials nights are also planned, like taco Tuesday and breakfast for dinner.
The look: Industrial-chic. What else is there?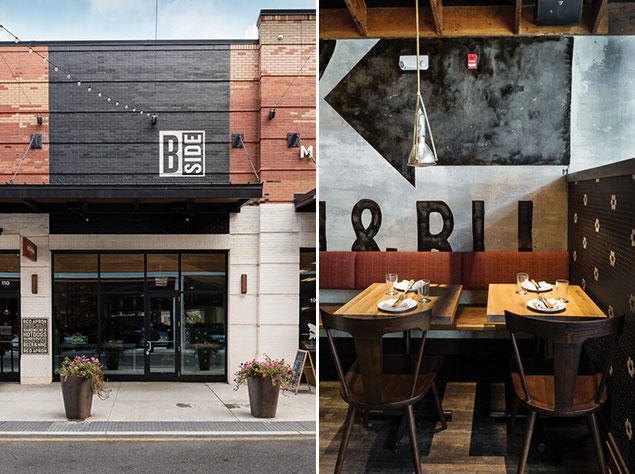 B-Side. 8298 Glass Alley, Suite 105, Fairfax. Open at 4 PM Monday through Friday, and 11 on Saturday and Sunday. Find Anna Spiegel on Twitter at @annaspiegs.