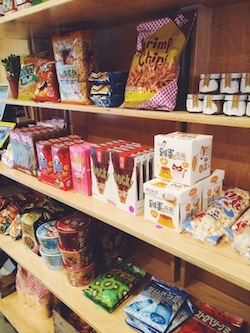 There's even more to love about Union Market these days. In addition to the recent return of delicious soups at the Toki Underground pop-up, chef Erik Bruner-Yang just announced the launch of his Honeycomb Market stall nearby.
Items on the shelves range from locally sourced produce to homemade nuoc cham, hoisin, and kimchee, plus Asian pantry staples such as Kewpie mayonnaise. You'll also find snacks and sweets like Calbee shrimp chips and Pocky sticks (in the best flavor there is, Almond Crush). If you're looking for something more filling to eat on the spot, upcoming Maketto chef de cuisine James Wozniuk whips up Taiwanese-style breakfast sandwiches filled with egg, cucumber, pork floss, and scallions that are sold at nearby Peregrine Espresso on weekdays from 8 to 11.
Honeycomb is open Tuesday through Sunday 9 to 8.