Charred and fresh oranges go into this sunny-day cocktail, which tastes a lot more innocent than it actually is.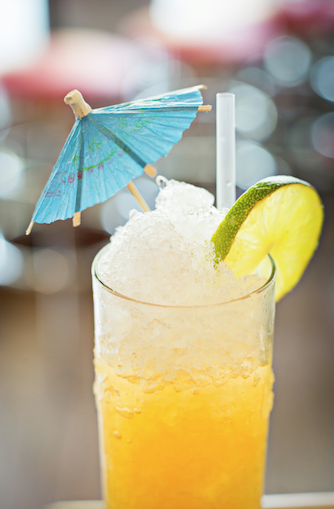 Serves 4
4 oranges, halved
2 lemons, halved
4 ounces vodka, preferably Sobieski
2 ounces aquavit, preferably Linie
3 ounces Combier orange liqueur (you can substitute Cointreau or Triple Sec if necessary)
Crushed ice, as needed
Club soda, as needed
Orange slices, for garnish
Set a 12″ stainless steel or cast iron pan over medium-high heat. Place 4 orange halves cut-side down and char until caramelized, about 3 to 5 minutes; do not char the remaining 4 orange halves. Juice the charred and raw orange halves and the lemon into a large pitcher or carafe. Stir in the vodka, aquavit, and Combier. Pour the mixture into 4 highball or collins glasses over crushed ice, then top with splash of club soda. Garnish each drink with an orange slice.