Restaurants in the CityCenterDC development have largely come courtesy of out-of-town celebrity chefs and big-time chains, including Daniel Boulud's DBGB, Del Frisco's Double Eagle Steakhouse, and Richard Sandoval's upcoming Mango Tree. Now there's a local name in the mix: chef Amy Brandwein, who's leaving her post at Alba Osteria at the end of this week to open her first solo venture, Centrolina. The Italian market and eatery is set to debut in spring 2015.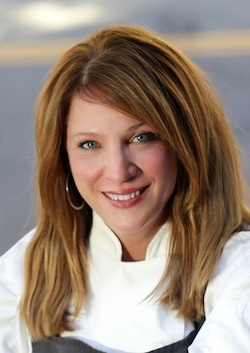 "Italian food is really about the ingredients," says Brandwein, who also cooked at Galileo and helmed Casa Nonna. "It's what I get excited about: taking the product and treating it nicely."
While not as immense as an Eataly—which may or may not be headed our way—the conceit is similar in that there's fluidity between the sit-down menu and what's fresh in the store. Brandwein says she doesn't have specific dishes in mind (too much pre-planning goes against the restaurant's seasonal theme), but diners can expect a concise lineup of 15-odd dishes, including fresh pastas, wood-roasted meats and seafood, and light fare like sandwiches and salads at lunch. Pizza is far less of a focus, and will only be offered during the daytime.
In the market, customers can drop in for local and Italian-made charcuterie, cheeses, fresh meats and fish, house-made pastas, and her sauces like classic pomodoro, Bolognese, and seasonal ragùs. Brandwein also wants to accommodate special orders, so customers could call in for some veal shanks or rabbit if they're cooking at home. Despite CityCenter's ban on liquor stores, customers will also be able to purchase retail craft beers and wine.
As for the name? You won't find it in an Italian dictionary.
"Centro means 'center' in Italian, and 'lina' is the suffix you add to make words small and feminine," says Brandwein. "It's my made-up word."