Mario Batali was in town over the weekend promoting his new cookbook, America Farm to Table: Simple Delicious Recipes Celebrating Local Farmers. While locally minded recipes were the focus of a Sunday lunch at Zaytinya, Batali shared more than just tips for supporting farmers. Once again, the celebrity toque hinted that he may be opening a DC venture in the near future.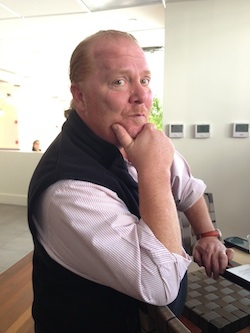 "We have identified DC as a major top choice," says Batali. "We have yet to identify a real estate partner who feels the same way. We want to be here."
So continues the dance, perfected earlier by chefs such as Daniel "We're Still In Negotiations" Boulud and David "We Can't Confirm At This Time" Chang; Boulud has since opened DBGB, and Chang confirmed a Washington branch of Momofuku in an exclusive interview with Washingtonian. Batali isn't necessarily playing coy—Eataly, his Italian mega-market and restaurant concept that's rumored for the Capitol Crossing development, requires a large, unique space. And, as the orange-Croc'd chef hinted, a sweet real-estate deal. If Property Group Partners, the company behind the Massachusetts Avenue development, don't "feel the same way" about Batali as he does about Washington, then a deal may not be as solid as suspected.
Not that all of the usual back-and-forth surrounding the arrival of a celebrity chef in Washington hurts the hype.
In the meantime, we still have José Andrés, who, according to Batali, is "God's gift to DC."