There's a new player in DC's vast burger game as of Monday: Plan B Burger Bar, a chainlet out of New England with six locations in addition to its newest downtown. While the name seems (dubiously) fitting for Washington's oh-so-political climate, this eatery focuses on less, um, weighty choices. The "alternative" here: verified humane beef patties as opposed to fast-food mystery meat, plus a selection of bourbons and 14 draft beers.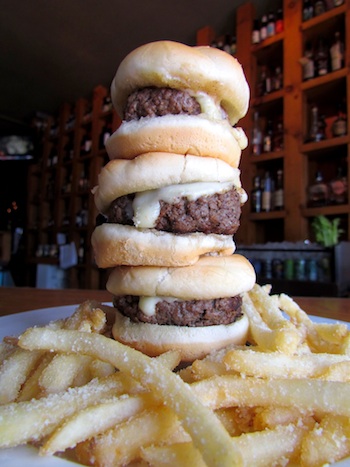 Patties can be ordered "some pink" or "no pink," though unfortunately not "still mooing" for rare-meat fans. The menu's burger combinations get pretty creative; think a New Englander decked out with lobster, smoked Gouda, and corn spread, or the West Coaster with fried egg, avocado, and olive mayo. Diners can also customize their buns, including pretzel and whole wheat, or opt for an iceberg salad base instead. Though the 21-deep burger list takes center stage, you'll find a number of homey entrées like lobster mac and cheese, pot roast, or steak frites, as well as entrée salads and appetizers. The latter lineup includes a number of mini foods, such as lobster sliders, beef Wellington bites, and pup-size chili-cheese dogs.
Yet another alternative: a gluten-free menu with wheat-free buns, beer, and more. Drinkers who don't want to opt for the two main Bs can find a variety of wines and cocktails, including a Plan B Bloody Mary. The perfect solution for the morning after? We think so.
Plan B Burger Bar. 801 Pennsylvania Ave., NW; 202-808-8720.