Tofu with cilantro root and peanuts at Little Serow
About halfway through the seven-course Thai menu at Johnny Monis's tiny, no-reservations destination, your mouth will likely be searing from chili overload. Then this dish arrives, a fairly straightforward preparation with lime, cilantro, red onion, and peanuts. As with many of the dishes here, those flavors seem like they're in Technicolor—but then you taste the richly creamy, crunchy tofu, a gift that (finally) soothes your palate.
Little Serow, 1511 17th St., NW.
Causita cangrejo at Ocopa
It's a measure of chef Carlos Delgado's talent that crab is only a character actor in this picture-perfect arrangement of canapés. Top billing ought to go to the potatoes, whipped to a fluff with lime and the Peruvian yellow-pepper paste known as aji amarillo. Though they could easily stand alone as a side dish, they provide a perfect platform for thin-sliced avocado, delicate crab, and the tiniest, sweetest peppers you've ever seen.
Ocopa, 1324 H St., NE; 202-396-1814.
Faux rib eye and fries at Baby Wale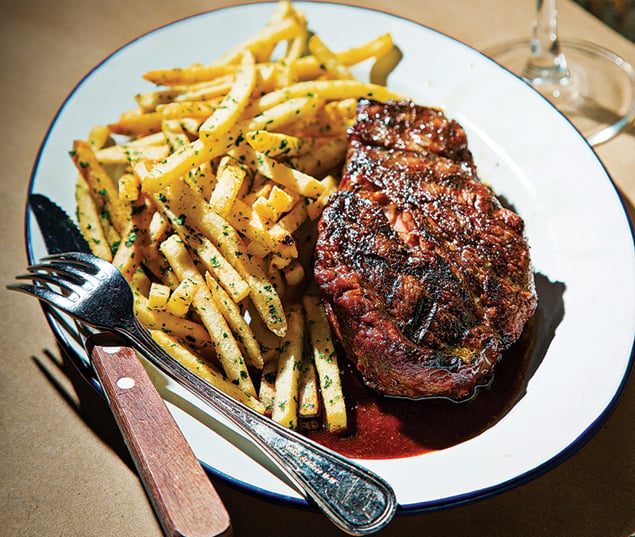 This charcoal-grilled "faux" rib eye, fashioned from two different cuts of shoulder meat, is one of the best steaks you'll find in Washington for less than $30—and one of the best steaks, period. Points for the rich, shallot-flecked wine reduction. And for crispy fries that actually taste like potato.
Baby Wale, 1124 Ninth St., NW; 202-450-3311.
For this sly twist on the French salad of frisée aux lardons—frisée tossed with bacon and a coddled egg—chef Christophe Poteaux substitutes duck gizzards cooked in their own fat. There's obviously nothing wrong with rendered bacon, but the gizzards, with their gamy intensity and meat-like heft, elevate the familiar to the memorable.
1201 N. Royal St., Alexandria; 703-519-3776.
Fried quail with grits at Gypsy Soul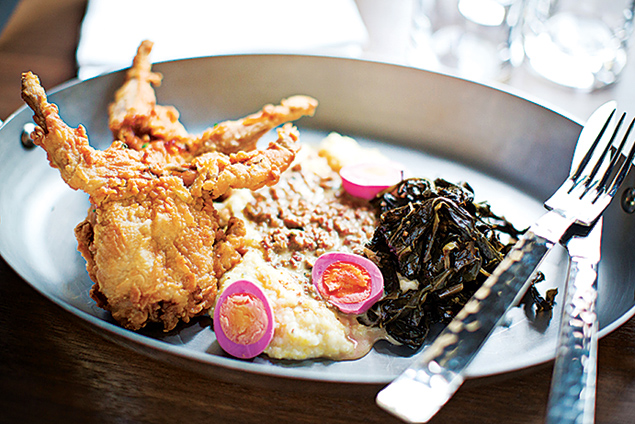 In these parts, there may be no finer expression of Southern comfort than chef RJ Cooper's exuberant riff on chicken-fried steak. The accompaniments are just as good as the tender brined and battered bird: creamy grits, a rich gizzard gravy, and tangy collards.
Gyspsy Soul, 8296 Glass Alley, Fairfax; 703-992-0933.
Fruits de mer plateau at Le Diplomate
In a town now swimming with decadent shellfish platters, this bistro rendition stands above the rest with bracingly fresh, meaty shellfish—thick king crab legs, citrus-marinated fluke, briny Belon oysters—plus superb house-made sauces such as horseradish-packed cocktail, rémoulade, and mignonette for dipping.
Le Diplomate, 1601 14th St., NW; 202-332-3333.
If you've grown bored with too many mail-it-in preparations of Kung Pao chicken, think of this dish—a long-ago Thai-Chinese mash-up—as a thrilling alternative. It's rare to find a stir-fry as addictive as the grease-free toss of crunchy battered chicken, toasted cashews, and chili paste.
Kob, 11315 Fern St., Wheaton; 301-942-0288.
Lamb-brain karahi at Khan Kabob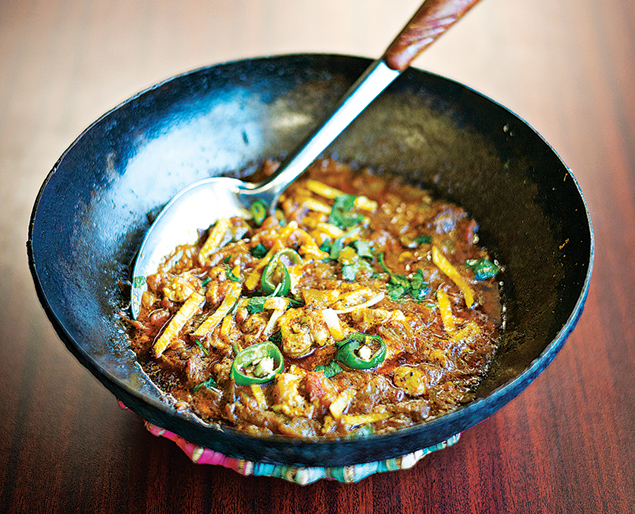 If you're squeamish, don't think of them as brains. Think of them as curds, or scrambled eggs, sizzled in a fragrantly zesty sauce of tomatoes, onions, garlic, chilies, and ginger. With fabulous, sesame-seeded naan for scooping.
Khan Kabob, 4229 Lafayette Center Dr., Chantilly; 703-817-1200.
Uni panini at Barmini
In truth, this small sandwich at José Andrés's whimsical cocktail lounge (adjoining Minibar) amounts to about three bites. But what bites! The meringue-like bread, so light as to be insubstantial, is simply there to hold together the lobes of uni, or sea urchin; thin slices of avocado; and crushed corn nuts.
Barmini, 855 E St., NW; 202-393-4451.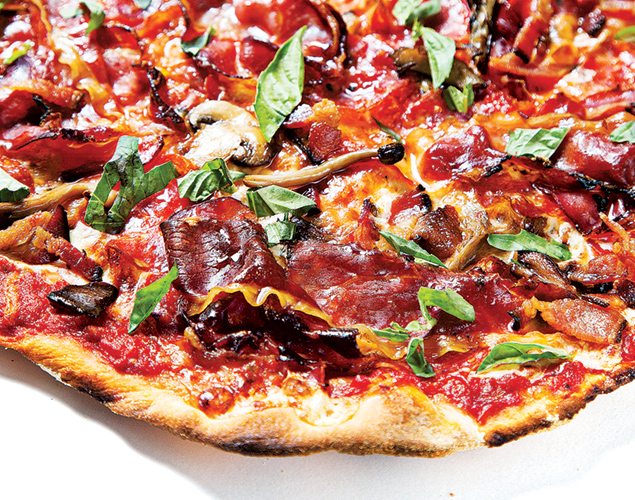 This Craftsman-style bungalow slings the best pizzas in the area, and of all those we feasted on here this past year, this is the one that made us want to pick up the phone and invite everyone we know to come over and taste. Topping a pie with soppresatta, mortadella, and wild boar might have spelled doom for other pizza makers, but this is miraculously not overly rich. And the glorious crust—thin, crunchy, and salty—is never lost amid all the meat.
Vin 909 Winecafé, 909 Bay Ridge Ave., Annapolis; 410-990-1846.
Butterfish three ways at Sushi Sono
The plate of flayed fish arrives with a skewer through its midsection. On either side of it are nigiri—with (yes, buttery) white fish layered atop a pad of rice and garnished with ginger and green onion—and sashimi. When you're done, the server will take away the carcass, returning it five minutes later hot from the deep fryer. Salt the bones and munch 'em like popcorn.
Sushi Sono, 10215 Wincopin Cir., Columbia; 410-997-6131.
Gnocchi with crab, fenugreek, and snap peas at Komi
It's hard to best the tasting menu's most climactic course—a platter of roasted goat or suckling pig—but these velvety gnocchi manage to do it (chef Johnny Monis played with the pasta formula for seven years before putting it on the menu). Although the sweet blue-crab topping is available only during crustacean season, the ethereal pasta often makes a showing with different accompaniments.
Komi, 1509 17th St., NW; 202-332-9200.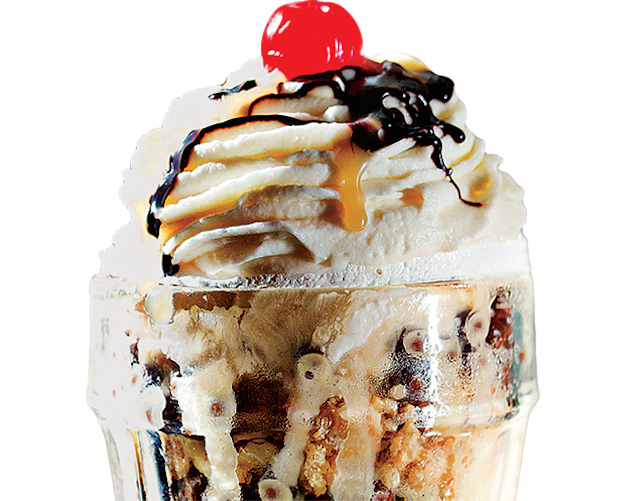 Gratis popovers and gargantuan portions make saving room for dessert difficult at this power steakhouse. Still, you don't want to miss the playful old-fashioned sundae with malted ice cream, crunchy cocoa nibs, whipped cream, and a cherry on top.
BLT Steak, 1625 I St., NW; 202-689-8999.
Beef-and-cheddar sandwich at Red Apron Butcher
Banish all thoughts of gray cold-cut roast beef and picture instead juicy, crimson slices of steak. Now add a riff on Cheez Whiz that actually tastes like aged cheddar and a slathering of ranch-dressing-seasoned mayo. There you have it: the stuff of frat boys' (and our) dreams.
Red Apron Butcher, Union Market, 1309 Fifth St., NE, 202-524-6807; 709 D St., NW, 202-524-5244; 8298 Glass Alley, Fairfax, 703-676-3550.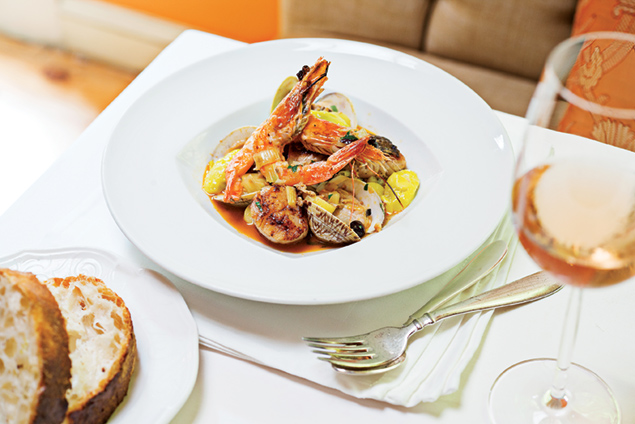 Imagine a bouillabaisse—a dish, by the way, that chef Cathal Armstrong has mastered in his decade in the kitchen here. Now make it heartier and lustier, with a richer stock and more garlic, and punchier with the addition of espelette peppers. On a cold winter's day, there are few dishes we crave more.
Restaurant Eve, 110 S. Pitt St., Alexandria; 703-706-0450.
Fish and chips at the District Fishwife
For her take on the pub staple, Fiona Lewis often eschews the usual cod and goes for the more flavorful blue catfish from the Chesapeake. Like the rest of the fish sold at her seafood counter, it's supremely fresh. And its sheath—a beer batter fried to a golden-brown crackle—accentuates rather than obscures it.
District Fishwife, Union Market, 1309 Fifth St., NE; 202-543-2592.
Garlic and shiso fried rice at Izakaya Seki
Just as it's customary to end a Japanese kaiseki tasting with rice, we can't leave a freeform parade of chef Hiroshi Seki's stellar small plates without an earthy bowl of grains sprinkled with toasted garlic and bright slivers of citrusy shiso.
Izakaya Seki, 1117 V St., NW; 202-588-5841.
Mushroom tacos at Chaia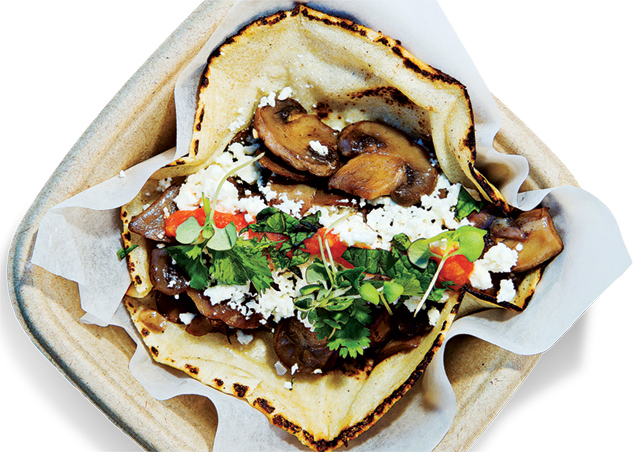 Some of the best tacos in Washington are coming from this farmers-market stand, where fresh corn tortillas are griddled to or-der, then stuffed with a kaleidoscope of vegetables. Our favorite is the mix of local mushrooms, tangy feta, and salsa roja.Thursdays at the White House Fresh Farm Market (810 Vermont Ave., NW) and Sundays at the Dupont Circle Fresh Farm Market (20th St. and Massachusetts Ave., NW).
Crabs at Wild Country Seafood
This Eastport seafood shack serves the best crabs in the Chesapeake, harvested by the father-and-son watermen owners. Massive, crispy soft-shells come at a bargain $14.95 for two, while pricier hard crabs are the heaviest and sweetest we've found.
Wild Country Seafood, 124 Bay Shore Ave., Annapolis; 410-267-6711.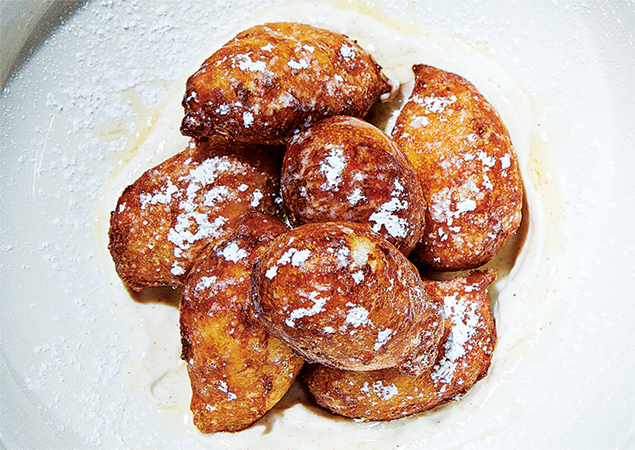 John Manolatos dabbles in a variety of cuisines on this Adams Morgan bistro's new small-plates menu, but these Mediterranean-style yeast doughnuts—on the menu for eight years—hark back to his childhood, when he cooked at the annual Saint Sophia's Greek festival. The fried dough is dressed up with cinnamon-spiked yogurt and honey.
Cashion's Eat Place, 1819 Columbia Rd., NW; 202-797-1819.
Haneeth at Saba
This Yemeni standard is a lamb dish, but in this instance in name only. The reason you keep picking at the plate long after you're full is the rice. The chef, Taha Alhoraivi, makes sure that every grain is fluffy and that the juices of the slow-cooked meat have penetrated them to the core.
Saba, 3900 Pickett Rd., Fairfax; 703-425-1130.
Inside this Old World cottage, you'll find such antique recipes as Châteaubriand, venison with roebuck sauce, and, most memorable of all, this gently poached lobster dish. The plump and sweet crustacean is stuffed with lump crab, then bathed in an elegant vermouth-butter sauce. A scattering of grapefruit and orange segments cuts through the richness.
L'Auberge Chez François, 332 Springvale Rd., Great Falls; 703-759-3800.
Pineapple Express pizza at Graffiato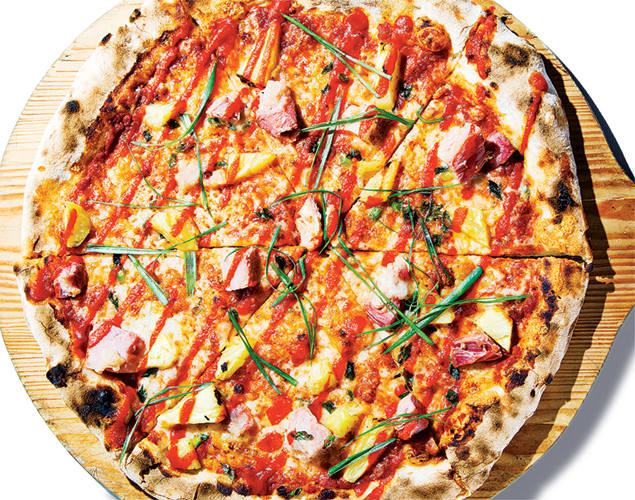 Mike Isabella's Italian spot gives the ho-hum Hawaiian pie—typically made with canned pineapple and lackluster meat—a winning makeover using country ham, charred slices of sweet fruit, scallions, mozzarella, and Virginia-made Korean hot sauce.
Graffiato, 707 Sixth St., NW; 202-289-3600.
Corn with Manchego and lime at Estadio
Amazing corn in December? Not gonna happen. Luckily, Haidar Karoum's deconstructed elote (Mexican street-style corn) comes back every summer. We can't wait for the mix of super-sweet kernels, cilantro, and grated Manchego bound with aïoli and a good dose of chili powder.
Estadio, 1520 14th St., NW; 202-319-1404.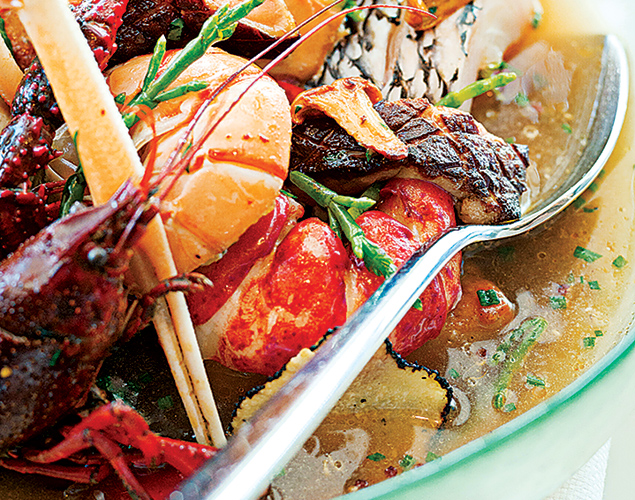 Fiola Mare is the steakhouse of seafood places, and you can think of this big, bountiful bowl of languoustines, clams, mussels, prawns, and fish (with a lobe of foie gras, just to luxe it up a little more) as the piscatory equivalent of the cowboy cut—the big-ticket item on a menu of expensive indulgences. It also happens to be the most fully realized expression of chef Fabio Trabocchi's globe-spanning ideal, a seamless synthesis of Italy, France, and Japan.
Fiola Mare, 3050 K St., NW; 202-628-0065.
Maple custard at the Red Hen
Picking a favorite on chef Michael Friedman's rustic Italian menu is tough, so let's just say the best way to finish is with this silky maple custard topped with roasted hazelnut crumble. Get an order of house-made amaro, the bitter after-dinner sipper, alongside it.
Red Hen, 1822 First St., NW; 202-525-3021.
When fusion goes wrong, it goes very wrong. But these whimsical dog joints nail it by marrying two of our favorite things—Peking duck and hot dogs—inside a toasty, buttery bun. The dogs are split and crisped on the griddle, then slicked with hoisin and laid with sliced cucumbers and scallions. The result is a little salty, a little sweet, and ridiculously good.
Haute Dogs & Fries, 610 Montgomery St., Alexandria, 703-548-3891; 609 E. Main St., Purcellville, 540-338-2439.
This article appears in the December 2014 issue of Washingtonian.