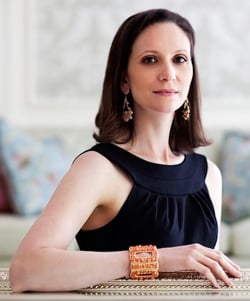 Marika Meyer understands the need for practicality. While she's a professional decorator, she's also mom to two small boys—and frequently ends up balancing her clients' need for family functionality with a desire for elegant sophistication. Here, Meyer spills some of her best tips for creating spaces that are both kid- and designer-friendly.
What's your go-to source for high-design kids' products?
For high-end children's rooms, I often source from the same vendors we use for adult spaces. Fabric is always my starting place for kids' rooms. For fabrics, I always love to work with China Seas, Quadrille, Schumacher, and Cowtan & Tout. I like to use unexpected fabrics that are sophisticated with a bit of whimsy and that create a timeless space that can age with the children.
What's the one design element you never skimp on in a nursery or child's room?
Fabrics! It is easy to find clean-lined furniture, but fabrics really set the overall tone for the space. Window treatments, upholstery, and pillows are great opportunities to express your point of view. Again, think of patterns and colors that will last and be able to grow through different stages with the child.
What's the key to creating kid-friendly spaces with plenty of adult style?
For kids' rooms, it's important to think of how the room will grow with the children, and about the time you will spend in the room. For nurseries, do you want a space that will be soothing for 2 AM feedings as well as interesting for marathon nursing sessions?
Try using unexpected pieces or repurposing items. I reused the base of our old kitchen hutch as a changing table and use the extra storage space for blankets, out-of-season clothes, and extra diapers and wipes. When my son gets older, I will put the hutch back on top to serve as a bookcase and place to display his artwork.
Family spaces that are kid-friendly can be just as sophisticated as the rest of the home. It's all about using the right materials to bring style and functionality together. We use durable materials like indoor/outdoor fabrics on upholstery and fabrics with texture and pattern for drapes, side chairs, and pillows. For furniture, think of materials that may have some distressing so you will not notice the areas your family uses often.
What's your favorite design trend for children's spaces?
Using unexpected patterns and colors in combination. We are pairing a lot of pastels with grays and taupes, which has a very sophisticated feel.
How about the one trend you are totally over?
Overly ornamental cribs and nursery furniture. Sometimes less is more! A classic and simple crib is timeless, and you will not get tired of it or regret that it's too trendy.