Ballston gets a new pizza joint on Thursday with the arrival of Pizza Vinoteca. The 100-seat join aims for an approachable price point—dishes under $19, wines at $10 and below—with a few fancy gadgets on the side, and special wine-infused pizza crusts. Here's what you need to know.
The cooking method: Grilled to order, inspired by the Rhode Island tradition of making backyard pies. The restaurant needed a more high-tech device than a Weber to produce the thin-crust, rectangular pizzas—hence a custom-made contraption that employs 16 burners on the bottom to cook the crust, six infared versions above to melt the cheese, and three wood-smoking boxes filled with mesquite chips to impart a smoky flavor. The combination is intended to create a tasty balance of caramelization, char, and chew.
The crust: Wine-y. The 900-degree grilling method called for a heartier mix than the traditional flour and water, so the kitchen adds rye flour, barley malt, and a generous amount of Merlot to the mixture. The alcohol gets cooked off—so yes, the pies are kid-friendly—but leaves a reddish hue and a hint of flavor.
Toppings: "Classic" or "modern." The menu, divided into those two categories, includes traditional pepperoni alongsides riffs such as nduja meatball (made with the spicy Calabrian spreadable salami), Brussels sprouts and ricotta, and mushrooms with goat cheese and leeks. A number of vegetarian varieties appear in both categories.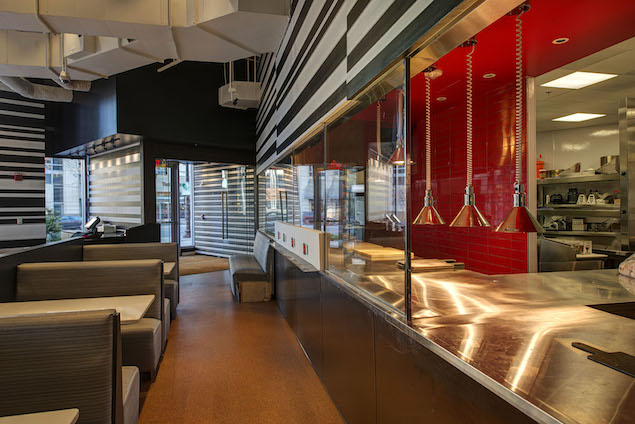 Other stuff: Eggplant Parm, grilled salmon. Pizza is the focus, but diners who want to skip the pies can get by with a concise list of appetizers, entrées, and sides.
The vino: Abundant. All 36 wines are offered by the glass, in both full- and half-pours. An argon-gas dispenser is employed to keep the varietals fresh and at a regulated temperature. The list includes a variety of lesser-known labels in an effort to keep prices at $10 and under, so there's plenty of opportunity to experiment around the 30-seat circular bar.
More gadgets?: The original Pizza Vinoteca opened in New York City as a high-wired concept employing iPads for ordering, but founder Ari Malcom says the process was a "nightmare" when it came to customizing dishes due to taste or allergies (that location has since closed). The Ballston eatery operates like a typical sit-down restaurant, though there's a chance the iPads may reappear as wine lists so guests can have excess to extensive information about the vino.
In the future: Delivery, and more area locations for Pizza Vinoteca. Malcom says he's looking around Washington for another space for a version of the restaurant that will focus on takeout. Stay tuned.
Pizza Vinoteca. 800 N. Glebe Rd., Arlington; 703-567-1056. Open daily for lunch and dinner.