The small green house at the top of Maple View Place in Anacostia has endured a lot of drama.
Businessman and landowner Henry Griswold built the two-story Queen Anne in the 1880s. By the start of this century, it was in rough shape. The elderly woman who lived there had sewage problems, and in 2012 she sold the decaying structure to a house flipper who was soon overwhelmed. The city ordered him to stop work—much of which was illegal—but not before he had ripped out load-bearing walls, further jeopardizing the home's integrity.
At this point, tearing the place down would have been the easiest and cheapest solution. However, 1347 Maple View is in Anacostia's historic district, meaning that wasn't a likely option. It seemed destined for the same fate as many other vacant buildings caught in the neighborhood's real-estate purgatory: too dilapidated to fix up and sell; too significant, according to the Historic Preservation Review Board's standards, to raze.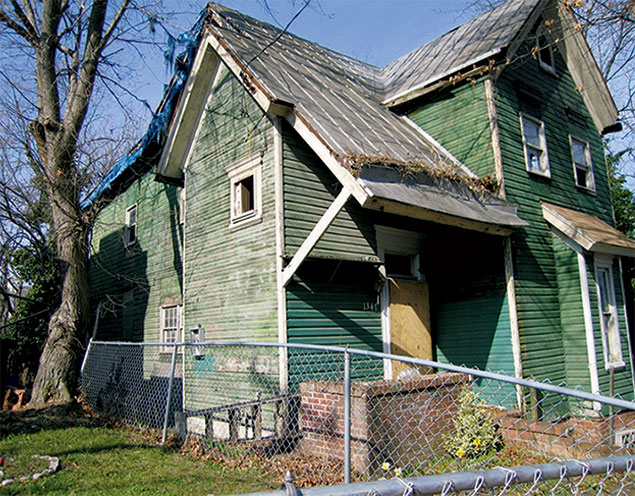 Then came a lucky break. The L'Enfant Trust, an organization that since 1978 has focused on preserving DC's architecture, launched its Historic Properties Redevelopment Program last year, essentially becoming the city's first nonprofit developer with a primary goal of historic preservation. The Maple View house was just what the group had in mind for its inaugural purchase. It bought the home from the flipper in August of last year for $125,000 and set out to save it—all with the understanding that it wouldn't make any money on the property.
Everyone knows that Washington's real-estate market is booming. But in historic Anacostia, things are complicated. Dozens of buildings and lots sit empty. DC's Department of Housing and Community Development (DHCD) owns 36 of them, including at least one home the agency has held onto for a decade.
The city can sell its properties for well below market value, thus making them more feasible to rehab for a profit—so why are they still abandoned? DHCD spokesman Marcus Williams says physically stabilizing the properties, conducting "highest and best use" studies, soliciting community input, and leadership changes within his agency can all contribute to prolonging the process.
And for better or worse, historic-preservation laws are among the reasons some stretches of Anacostia streets remain darkened: "If developers could knock down these houses and build them new without design review, sure, they'd be doing it," says David Maloney, DC's state historic-preservation officer.
Buyers, it seems, would be waiting. Just as in trendier neighborhoods, bidding wars and escalation clauses have become the norm in Anacostia. The Zip code's median home price was $300,000 as of September, up from $238,750 a year before, according to data collected by RealEstate Business Intelligence.
Anne and Cody McNeal, a consultant and an architect who used to rent at 14th and U streets, Northwest, bought another home renovated by the L'Enfant Trust's program this year. The McNeals previously lost three other Anacostia properties to higher bids. "Inventory was extremely low. We were at it for seven months," says Anne. "We saw maybe one home come on every other week that fit our needs."
While relaxing the historic-district rules would likely speed development, preservationists argue that doing so would come at a major cost to Anacostia's character. Carol Goldman, president of the L'Enfant Trust, and Lauren McHale, its preservation director, helped found their redevelopment program on the belief that rescuing the homes "both honors a community's past and supports its sustainable future."
When they—with architect Jonathan Kuhn and general contractor John Moody—got to work on 1347 Maple View, they found that the house wasn't tied into the city's sewer system (which explains its former owner's complaints) and was resting on unstable soil. Its entire back was gone, too.
They brought in structural engineers to make the place safe and built a new rear section. Enviroshake, which manufactures a material that mimics old cedar shingles, donated the roof. Sherwin-Williams and Tech Painting Co. supplied the paint, and Ikea contributed bathroom fixtures.
In total, purchasing and rehabilitating the home topped $580,000. L'Enfant put it on the market this October for $365,000 and received eight offers. The three-bedroom, 1½-bath house sold for $390,000—though well over asking, still a nearly $200,000 loss. L'Enfant has completed two homes so far—1347 Maple View and the house bought by the McNeals, on 14th Street, Southeast. Goldman hopes future projects won't be so expensive for the trust. One way to reduce costs would be if DHCD handed over some of its long-vacant properties.
Asked why she couldn't acquire any of those houses rather than buying the two from private owners, Goldman gives a politically correct answer: "The city didn't understand us yet. We felt it was fair that we prove ourselves."
The now pristine green house at the top of Maple View Place sure looks like solid proof.