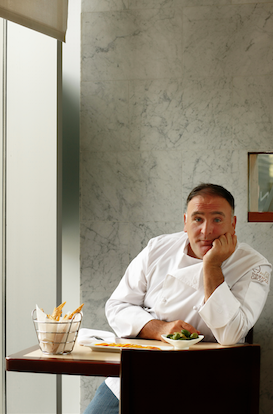 2015 was already looking to be a big year for chef/restaurateur/goggle-wearing talk show fixture José Andrés, who will open both his veggie-friendly Beefsteak and the Chinese/Peruvian-themed China Chilcano in the coming months. Today, he announced plans for an even more ambitious undertaking—a dining room in the glitzy Trump International Hotel, scheduled to open in downtown DC's Old Post Office in mid-2016.
There are scant details about the project—no concept or name yet—first reported by the Washington Post's Tom Sietsema. But Andrés, the mastermind behind such local restaurants as Minibar, Jaleo, Oyamel, and Zaytinya, is no stranger to big-ticket hotel dining. He's opened attention-getting spots in SLS Hotels in Vegas, Los Angeles, and Miami, including the Bazaar, a trippily decorated, critically beloved showpiece in Beverly Hills.
We'll update with more information as it becomes available.