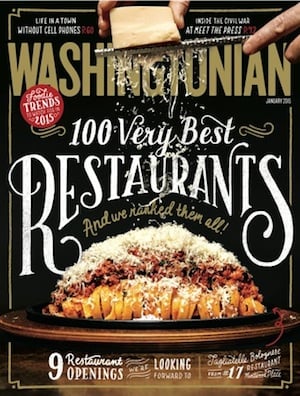 Komi—the tiny Dupont Circle townhouse known for leisurely Mediterranean tasting menus—is officially Washington's very best restaurant, according to, well, us.
Since 1969, Washingtonian has assembled an annual list of the region's best dining spots. Over the years, the list has grown from 50 eateries to 100, and moved from a few pages inside the magazine to the cover story of each January's issue. This year, we ranked all 100 of the winners in order.
The whole list—which includes reviews, highlights, and tips on food news—is on newsstands now. It's also available to digital subscribers through our iPad app.
In the meantime, here are some of the top winners of 2015:
1. Komi, Johnny Monis's tasting-menu destination in Dupont Circle.
2. Minibar, José Andrés's 25-course modernist thrill-ride in Penn Quarter.
3. Rose's Luxury, the Capitol Hill hotspot that channels both the American South and Southeast Asia.
4. Fiola Mare, Fabio and Maria Trabocchi's luxurious Georgetown seafood dining room.
5. Rasika, the pair of modern-Indian restaurants in Penn Quarter and the West End.
6. Little Serow, Johnny Monis's fiery Thai place in Dupont Circle.
7. The Red Hen, the rustic regional Italian restaurant in Bloomingdale.
8. Fiola, the opulent Italian dining room in Penn Quarter.
9. The Restaurant at Patowmack Farm, on a 40-acre farm in Lovettsville, Virginia.
10. Vin 909 Winecafe, an Annapolis hangout with the area's best pizza.
11. Seasonal Pantry, Dan O'Brien's dinner party-like communal table in Shaw.
12. Del Campo, a Latin-themed steakhouse in Penn Quarter.
13. Casa Luca, the sophisticated trattoria in downtown DC.
14. Le Diplomate, a Franocophile fantasy of a bistro in Logan Circle.
15. Central Michel Richard, the buzzy Penn Quarter dining room that handles gougères as well as it does fried chicken.
16. Ananda, a palatial Indian restaurant in Fulton, Maryland.
17. Mintwood Place, a cozy French/American bistro in Adams Morgan.
18. Plume, the luxurious modern-American hideaway in downtown DC's Jefferson Hotel.
19. Izakaya Seki, the spare, father-and-daughter-owned Japanese izakaya off U Street.
20. Marcel's, the bastion of old-world elegance in Foggy Bottom.
While some of the selectees are perennial high-flyers, some notable newcomers made strong debuts: extravagant Georgetown seafood restaurant Fiola Mare came in at #4, and Fulton Indian dining room Ananda landed at #16. Close readers will also notice some striking departures—1789, the Source, Vidalia, Makoto, and Blue Duck Tavern, all places that have been on the list for years, didn't make the cut.
The most dramatic change involves last year's winner: The Inn at Little Washington, which had been ranked #1 for the past two years, fell out of the top 20. What went wrong? Among other things, our critics cited flaws in the kitchen and the recent shift to a tasting menu-only format, which results in smaller portions and "strips away a lot of what made the restaurant so memorable: its too-muchness."
Check out the 2014 Very Best Restaurants list here, and find all our food coverage here.