var chart = new google.visualization.BarChart(document.getElementById('chart1_div')); chart.draw(data, options); } // ]]> var options = { title: 'Congressmen Who Now Lobby', hAxis: { title: 'Year of Departure' }, vAxis: { title: 'No. of Congressmen' } }; var chart = new google.visualization.LineChart(document.getElementById('chart2_div')); chart.draw(data, options); } // ]]>
Total Members Who've Left = 697
This figure includes 324 Democrats, 368 Republicans, 2 Independents, and 3 affiliated with other parties.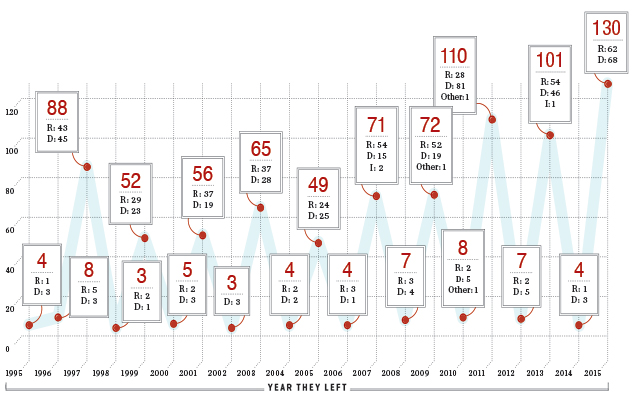 Why They Left
From defeats and resignations to a few major scandals, these are the top reasons why Congressmen leave their seats.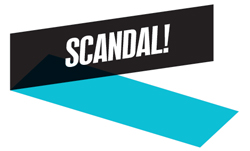 New York representatives Christopher Lee and Anthony Weiner both left after sexual scandals—Lee for appearing shirtless in a response to a Craigslist personal ad, Weiner for sexting women not his wife. James Traficant Jr., Democrat of Ohio, was expelled in 2002 after conviction for bribery. He died in 2014 in a tractor accident.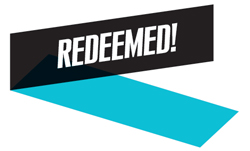 Gresham Barrett, a Republican from South Carolina, gave up his seat to run for governor in 2010. After Sarah Palin endorsed his opponent, Barrett's campaign crashed and he accepted Jesus Christ, making a testimonial video for New Spring, a megachurch with multiple locations throughout South Carolina. He now works as a policy adviser.
Number Who Now Lobby
Over the past decade, the number of ex-Congressmen who lobby continues to spike, despite attempts to discourage it.
Where Do They Live?
Though many Congressmen turn to lobbying, they don't necessarily call DC home. Only 126 Congressmen live in the DC area (this doesn't include Md. and Va. Congress members still living in those states.) 343 Congressmen live in their home states, and 27 live elsewhere (including China, South Africa and Guam).
What Do They Do?
Our nation's Congressmen don't only work in law and politics. One became a restaurant investor, another opened a funeral home, and one more went back to his family business—a firework company.

David Bonior: After briefly selling investments, the Michigan Democrat invested in two restaurants, Zest Bistro on Capitol Hill and Agua 301 near the Navy Yard.
Harold Ford Sr.: The retired Democrat of Tennessee, opened Serenity Columbarium and Memorial Garden—a funeral home—in 2013.
Felix Grucci Jr.: The New York Republican returned to his family's fireworks company—which holds the Guinness record for largest fireworks display—after his 2002 defeat.

Here are a few other career fields Congressmen have worked in:
Legislative Affairs, Lobbying
33 Democrats and 40 Republicans made the move to K Street.
Politics or Government
National government: 19
State/local government: 34
Recently lost election: 17
Running for other office: 1
Law
Consulting
Journalism/Writing
Think Tank
Energy and Climate
Education
Rancher/Farmer
Medicine
Nonprofit
This article appears in the January 2015 issue of Washingtonian.