To many locals, Adams Morgan is where college kids go to get hammered at dumpy, swill-serving bars and soak up their inebriation with a greasy jumbo slice. The reputation isn't entirely undeserved—most Fridays and Saturdays, the sidewalks are filled with young revelers, some less upright and coherent than others.
But the arrival of new restaurants and worthwhile taverns—along with renewed interest in the shops that dot 18th Street—has given the "devil's playground" a fresh coat of respectability. Not that it's lost its sense of fun—the mural advertising the mainstay blues bar Madam's Organ (2461 18th St., NW; 202-667-5370) looms as buxomly as ever.
At the same time, the neighborhood is slowly losing its character as the hub of the District's Latino community, with rising real-estate prices and high-end condos pushing working-class residents north and shuttering hole-in-the-wall taco and pupusa joints. Former dives are being rechristened with craft cocktails, and a recent decision by DC's Alcoholic Beverage Control board to lift a moratorium on liquor licenses means more drinking and dining options could arrive quickly.
Yet even so, the area isn't as chichi as the rebuilt 14th Street, Northwest. The biggest change in Adams Morgan is that you can actually make a day of visiting while the sun's still up or stay out late without channeling your frat-party days.
Start in the afternoon at the bottom of the hill where 18th Street connects with Florida Avenue and seek out coffee and something sweet at either Pleasant Pops (1781 Florida Ave., NW; 202-558-5224), featuring house-made popsicles in flavors like peach hibiscus and Mexican sweet cream, or the CakeRoom (2006 18th St., NW; 202-450-4462), full of indulgent baked goods.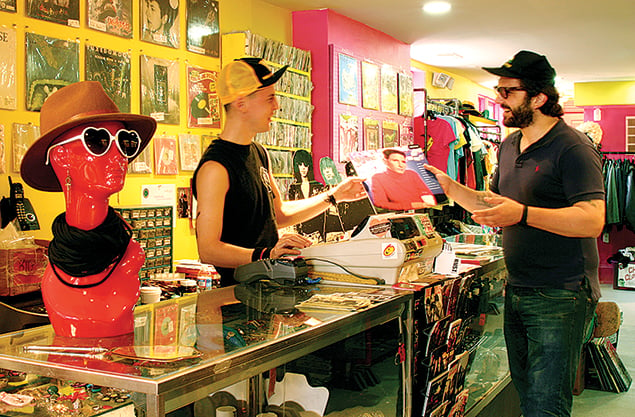 Once you're sated with sugar and caffeine, hike up 18th Street and drop into one of AdMo's reliable record shops. Crooked Beat (2116 18th St., NW; 202-483-2328) stayed ahead of cratering music sales by going vinyl-only in 2010. The encyclopedic selection spans every genre from classic-rock rarities to new major- and minor-label releases to exotic world music, with plenty of LPs from local labels such as Dischord. A few blocks up, you'll find Smash (2314 18th St., NW; 202-387-6274) and its library of punk and hardcore treasures.
If you're thirsty for something visual, seek out the latest exhibit at Hierarchy (1847 Columbia Rd., NW; no phone), a former basement bar turned sleek gallery filled with contemporary installations. Or get tickets for a show at DC Arts Center (2438 18th St., NW; 202-462-7833), a black-box theater that hosts some of the city's most daring stage productions as well as a gallery showcasing local artists.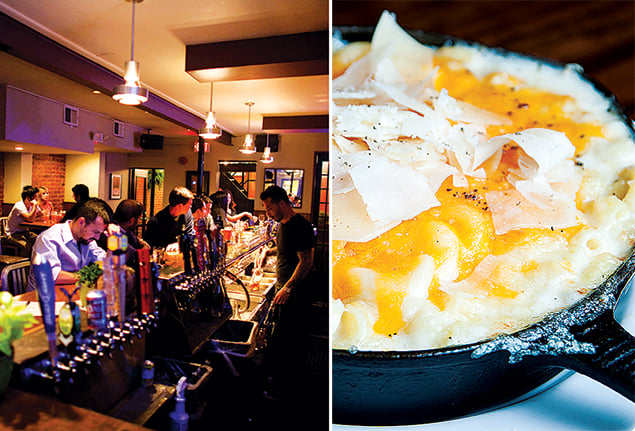 When it's drinking time, pick your poison and head to one of several spirit-specific bars: Scotch aficionados flock to Jack Rose Dining Saloon (2007 18th St., NW; 202-588-7388) and its floor-to-ceiling shelves of rare bottles. Bourbon (2321 18th St., NW; 202-332-0800) presents its biblical selection of American whiskeys in a heavy, copper-bound menu. Libertine (2435 18th St., NW; 202-450-3106) caters to more bohemian tastes with its perfumy lineup of absinthes and draft cocktails. The Black Squirrel (2427 18th St., NW; 202-232-1011) pairs lardy bar snacks like macaroni and cheese (made with five kinds of cheese) and poutine with a deeply sourced and frequently changing roster of bottled and draft beers.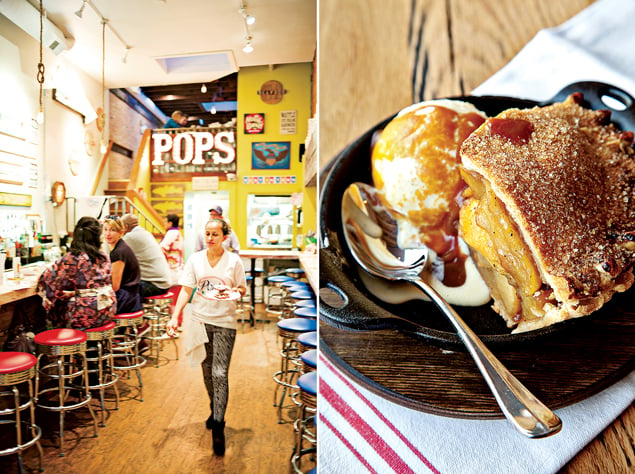 Nineteen years after opening, Cashion's Eat Place (1819 Columbia Rd., NW; 202-797-1819) still impresses. Cashion's seasonal American menu makes for lively dinners and lusty weekend brunches. (We wish it would revive the late-night cheesesteak, though.) A few doors down, Mintwood Place (1813 Columbia Rd., NW; 202-234-6732) is always packed for its Francophile twists on comfort fare. Or if you're going more casual, wade into Pop's SeaBar (1817 Columbia Rd., NW; 202-534-3933) a Jersey Shore-inspired seafood shack—thankfully, without the tanning oil and hair spray (but you can take home your beer Koozie for a buck—or get one free by exchanging it for a Koozie you bring in).
Some of Adams Morgan's good restaurants aren't always easy to spot. You'd probably walk right by the subterranean Sakuramen (2441 18th St., NW; 202-656-5285) if not for the line that snakes down the sidewalk every night, full of people anticipating steaming bowls of ramen soup garnished with pork belly chashu, rib-eye bulgogi, and fresh vegetables. Across the street and tucked into the doorway of the DC Arts Center, the 14-seat counter at Donburi (2438 18th St., NW; 202-629-1047) serves terrific Japanese rice bowls topped with raw fish, braised meats, and pickled vegetables.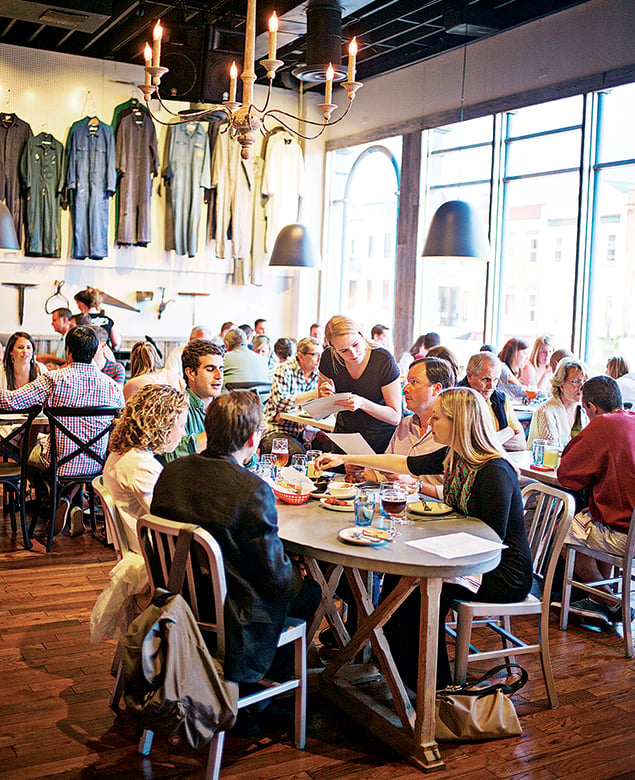 Where regrettable dives once reigned, established chefs are moving in. Marjorie Meek-Bradley of Cleveland Park's Ripple turned the former Reef into Roofers Union (2446 18th St., NW; 202-232-7663), where you can nibble on house-made veal-heart sausages or pig-ear salad while sipping a cask-fermented ale.
Not too long ago, Adams Morgan's nighttime economy depended almost entirely on Jell-O shots and other rotgut. While the party crowd still rules weekend nights, the neighborhood is no longer a forbidden zone for anyone over age 23.
And, hey, if you do want a jumbo slice, the best one's at Duccini's (1778 U St., NW; 202-483-0007).
This article appears in the January 2015 issue of Washingtonian.